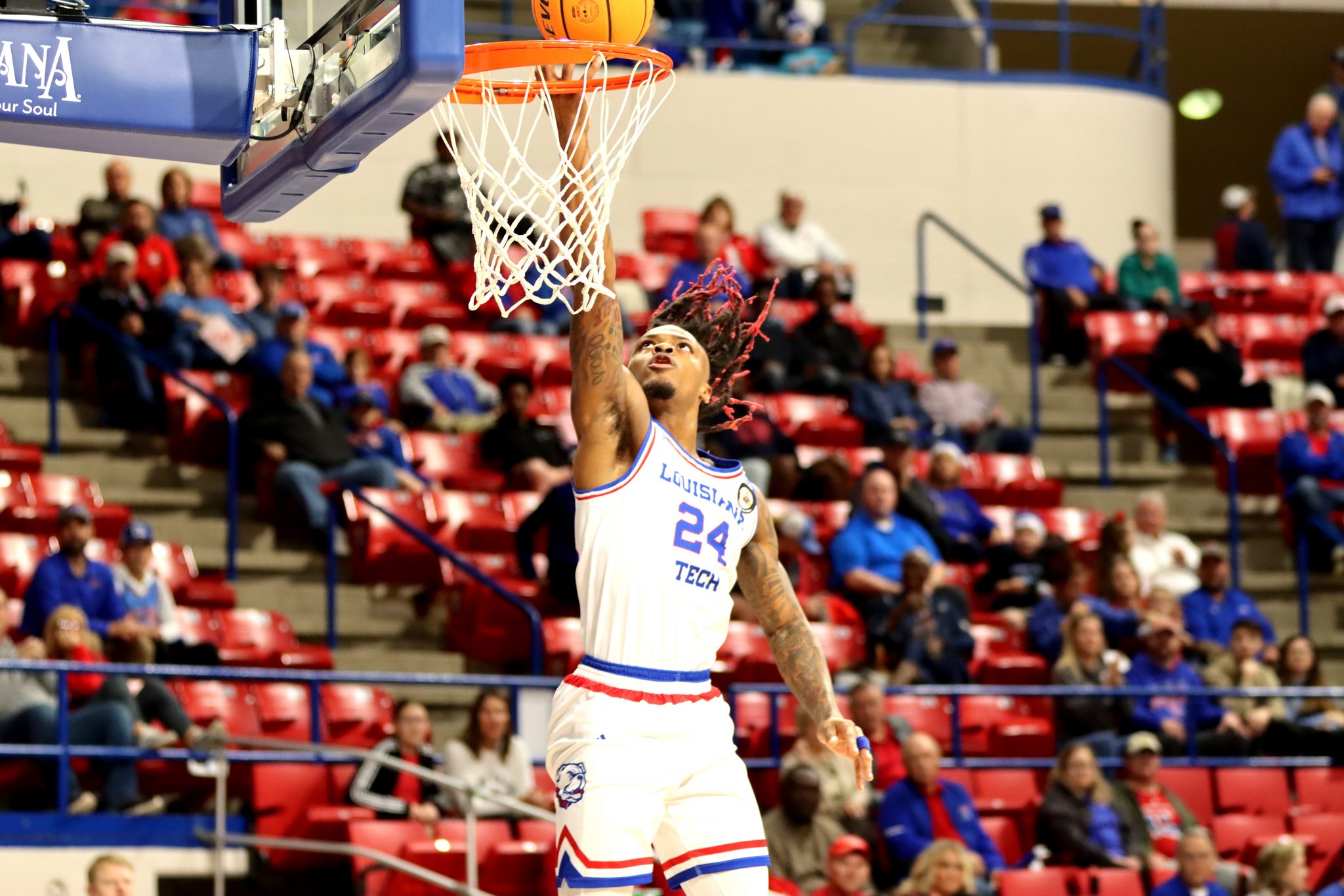 RUSTON — Louisiana Tech overcame foul trouble and poor shooting in the first half to storm back and defeat UL-Lafayette, 78-69, on Saturday inside the Thomas Assembly Center on Karl Malone Court.
Two quick fouls apiece for Exavian Christon and Kenneth Lofton, Jr. in the first stanza, combined with an 0-for-13 shooting effort from beyond the arc and the difficult of guarding Jordan Brown, put LA Tech (7-2) in the hole.
Down as much as nine points on three different occasions, the cold-shooting Bulldogs found a late 6-0 run in themselves to get to within three at 34-31 at the midway point of the game.
It was not until the 17:28 mark in the second half that the 'Dogs took their first lead of the game at 39-38 after a fastbreak layup by Cobe Williams who finished with a career-high 20 points and a season-high seven rebounds.
The lead was short-lived though as UL-Lafayette (5-4) countered with a 9-3 run, including four of Brown's game-high 30 points, to hold a 47-42 edge.
Tech started to heat up on offense, getting a deep 3-pointer from Keaston Willis as well as an up-and-under three-point play by Lofton, to go on a 10-0 run and grab a 52-47 advantage.
The game was neck-and-neck going down to the wire.
With LA Tech holding a slim three-point lead with two minutes to play, Archibald scored a layup on a back-door pass from Lofton.
The fifth-year senior then got back-to-back steals in the span of 20 seconds on the defensive end and sank all four free throws on the offensive end to help seal the victory.
The team made 20 of their 24 free throw attempts, getting a season-high 18 points from Archibald and a sixth double-double from Lofton, who ended with 17 points and a game-high 10 rebounds.
"I thought a couple of our looks in the first half were open, we just missed," said Tech coach Eric Konkol. "Then, we took some tough ones and a little doubt creeped in. UL-Lafayette has a lot of size and has been a team that has defended very well this year. We just needed to keep moving on to the next play, find the next open shot. We were fortunate with the foul trouble we had (in the first half) with Christon and Lofton to be down only three at halftime."