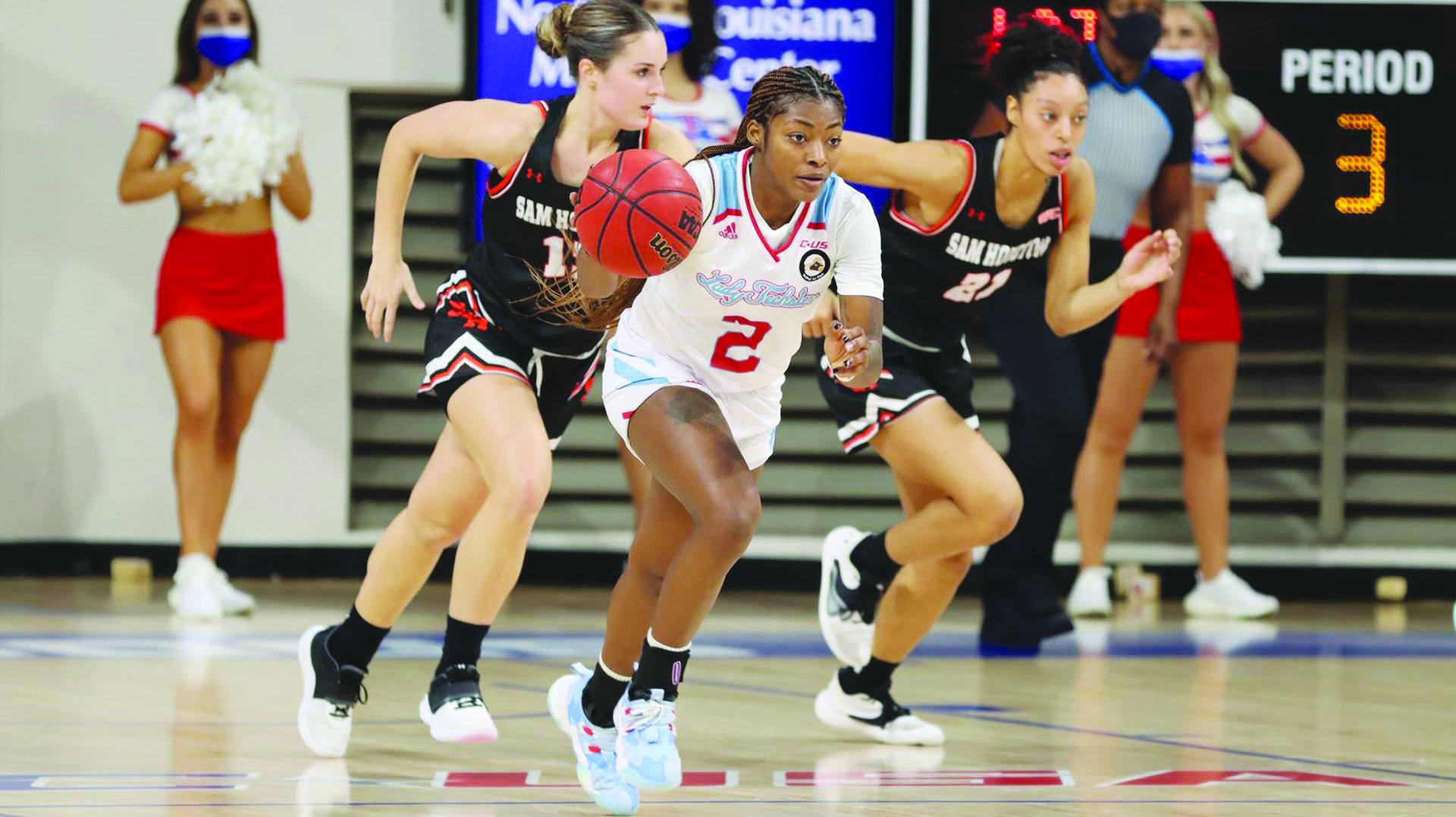 RUSTON — Junior Keiunna Walker tied her season-high with 26 points as the Lady Techsters shot 57 percent from the field to blow past Sam Houston, 77-52, Friday night inside the Thomas Assembly Center.
The Lady Techsters improve to 7-2 on the year with the win, its best start since the 2003-04 season (8-1), while Sam Houston falls to 4-4 overall with the loss.
Despite tough defensive pressure by the Lady Techsters to start the game, Sam Houston jumped out to an early 12-8 lead midway through the first quarter. Trailing by four with 5:07 remaining in the opening frame, Tech sparked a 18-0 run to take a commanding lead with 8:18 left in the second quarter. Five Lady Techsters contributed to the run, led by six straight point from sophomore Anna Larr Roberson and four each from Walker and sophomore Lotte Sant.
Sam Houston answered with six straight points to cut the deficit down to ten at 30-20 with 3:54 left in the second quarter. A pair of baskets by Walker and a buzzer beating jumper by sophomore Salma Bates gave Tech a 39-25 advantage entering the break.
The Bearkats cut the deficit down to 11 at 49-38 with a 9-4 burst, but would not get any closer. Second year freshman Kate Thompson scored the next six points for the Lady Techsters to take a 57-42 lead into the final frame
Tech's lead ballooned to as much as 24 at 73-49 with a 10-0 run, on layups by Thompson, Walker, Robyn Lee and Jadon Davis.
The Lady Techsters closed the game with a pair of free throws and layup by Silvia Nativi to claim the 77-52 win over the Bearkats.
"I loved our focus this week in practice and we were locked in from the get go today," said Tech coach Brooke Stoher. "I was very pleased with our effort today and that started with Keiunna Walker. She set the tone for us on both ends of the floor.
"Our energy defensively, was as good as it has been all year. We were able to get a lot of high percentage shots tonight. We shot 57 percent fwrom the field because we got layups and good looks inside. I though we got really good production from everyone that stepped onto the court tonight."
The Lady Techsters have a nine-day break before hitting the road to take on UL-Lafayette at 4 p.m. Dec. 19 inside the Cajundome.