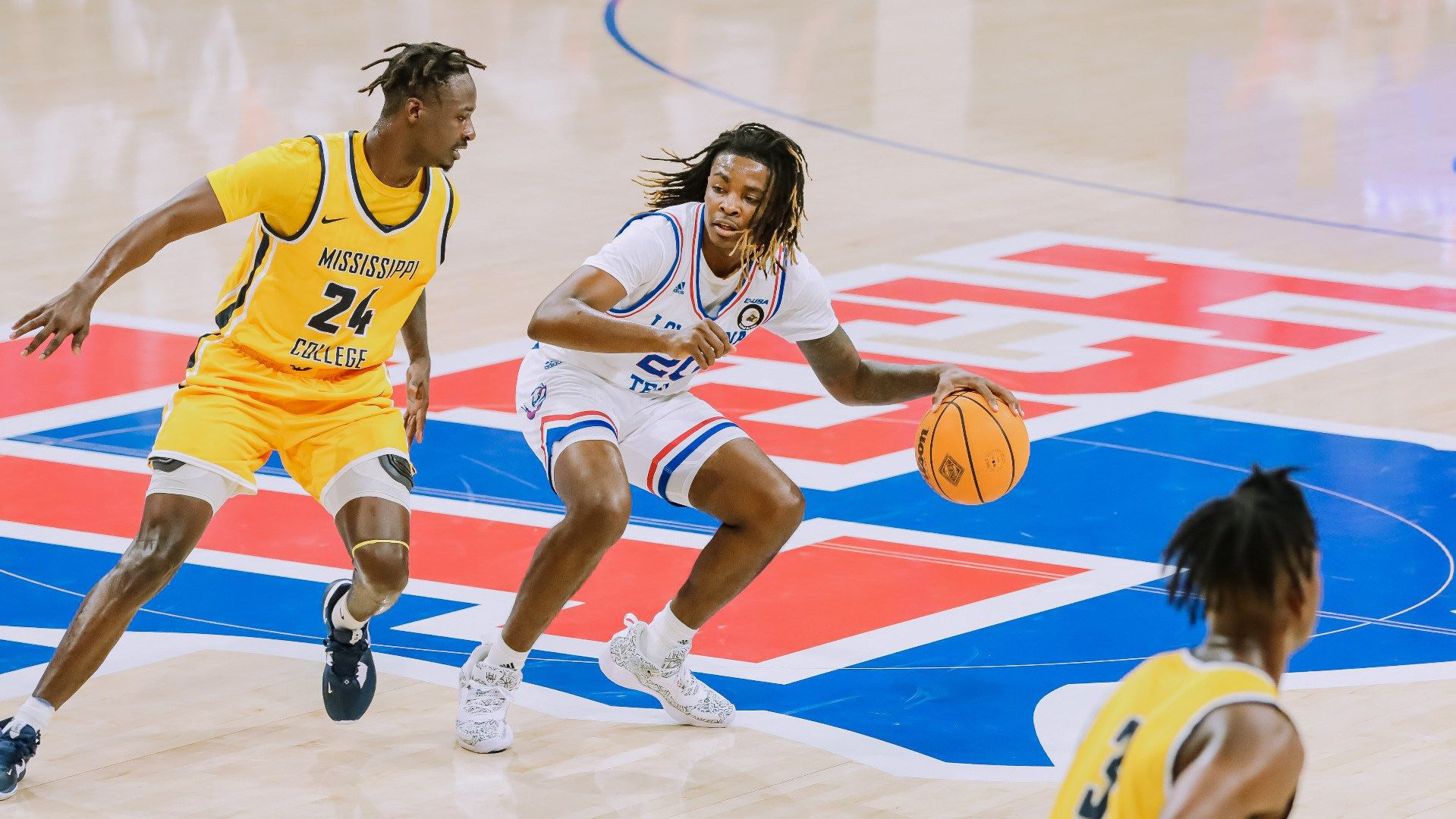 Jordan Crawford (20) poured in 20 points in his first game as a LA Tech Bulldog in Monday's 78-61 home win over Mississippi College. (Photo courtesy of LA Tech Athletics Communications)
Press-Herald Sports Services
RUSTON – The Talvin Hester era began with a victory for the Bulldogs as Louisiana Tech handed its first-year head coach a 78-61 win over Mississippi College on Monday night inside the Thomas Assembly Center on Karl Malone Court.
LA Tech (1-0) was at its best the last 10 minutes of the first half and the first 10 minutes of the second half, building as much as a 24-point lead over Mississippi College.
The Bulldogs missed four of its first five shot attempts, but then went on a stretch where they made nine of the next 10 baskets. One of those was a 3-pointer from the wing by freshman Jordan Crawford to give the home team its first lead of the 2022-23 season at 13-12.
The points started to come in waves, thanks to the lockdown defense of allowing just two made field goals in the final 10 minutes of the first stanza. The scoring primarily came from the trio of J. Crawford, Keaston Willis, and Cobe Williams as they combined to score 26 of the team's last 33 points before halftime, resulting in a 43-26 advantage at the break.
Isaiah Crawford, seeing his first action almost a year after suffering a season-ending injury, got in on the scoring early in the second half. The forward scored seven of his 12 points to help the 'Dogs build as much as a 63-39 lead with 10:53 to go in the game.
LA Tech ended up forcing 22 turnovers, scoring 21 points off those turnovers. Offensively, they shot 46.8 percent from the field (29-62) and 31.0 percent from beyond the 3-point arc (9-29). Four Bulldogs ended in double figures – Willis (20), Williams (16), J. Crawford (15), and I. Crawford (12).
The Choctaws shot 23-of-54 for 42.6 percent, getting the bulk of their scoring from Tradavis Thompson who finished with a game-high 28 points.