Minden dug a hole for themselves early during the opening game of the 2019, and spent most of Friday night playin catch-up against Parkway in a 48-28 loss in Bossier City.
"The first quarter we started out with some mistakes that put us in a hole," Minden coach Spencer Heard said. "I thought we showed a lot of resiliency after that. We were down but we came back."
After spotting the Panthers 27 points to open the half, Justin Richardson returned a kickoff 83 yards to put the Tide on the board to start the season. From there, Seth Johnson caught a 17-yard pass from Trenton McLaughlin that cut the lead to 13 heading into halftime.
"We had a point when we could have really gotten the game within reach," Heard said.
Minden was putting together a nice drive early in the third quarter as the momentum was beginning to shift in favor of the Tide after a dismal opening 15 minutes.
Minden ran a sweep left to Kentravion Lister, which broke out into a fifty yard run.
"At the tail end of the play, one of our players made a shove and they called a penalty," Heard said. "That was kind of a turning point in the game. We could have gotten the game to seven [points]."
Parkway scored on a 55-yard pass to Peyton Lewis from Gabriel Larry on the ensuing possession, and Parkway scored again on the possession after to put the game out of reach.
"Parkway is a good program, they're going to win a lot of games this year," Heard said. "We need to work on containing on defense, and our coverage broke down a few times, we'll need to fix that up."
Despite the loss, Minden's offense looked excellent at times. Johnson caught two touchdown passes, and McLaughlin was poised under center after an unlucky start to the game.
"Seth [Johnson] is definitely a mismatch for opposing teams," Heard said. "We want to get him the ball more for sure."
McLaughlin was 14-for-22 for 239 yards, two touchdowns and three interceptions.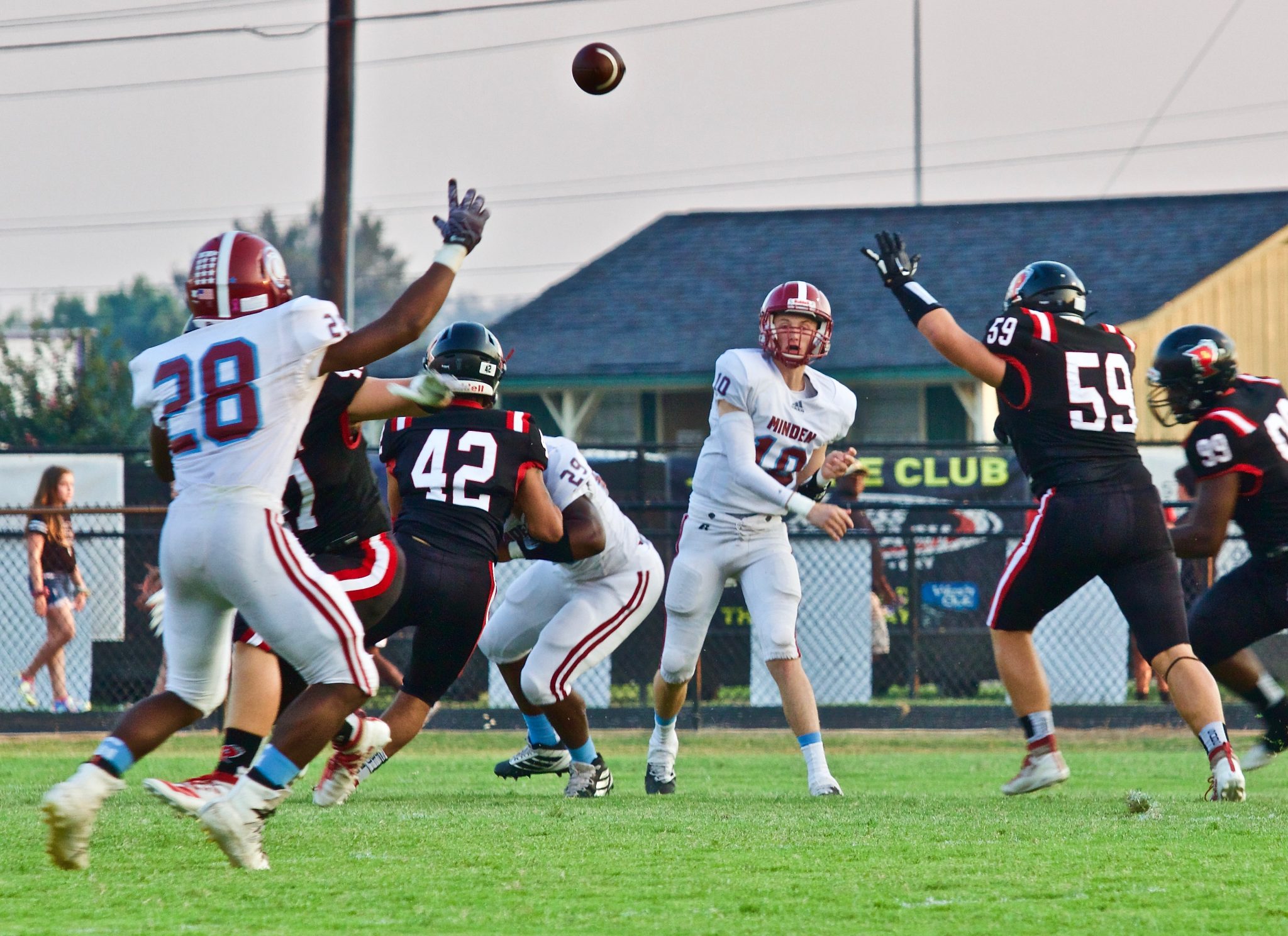 Lister led the Tide with 88 yards rushing on ten carries.
"Our offense got going eventually, we just had some unfortunate turnovers early," Heard said. "McLaughlin and Johnson have a good chemistry that they've made from playing together."
The team stats were even for the most part with Minden out-passing Parkway, and the Panthers leading the way on the ground.
Minden had 18 first downs to Parkway's 17.
Turnovers clearly cost the Tide, and against programs like Parkway, those can be the difference in a win and a loss.
Minden (0-1) will play at Haynesville (0-1) on Friday night at 7 p.m.