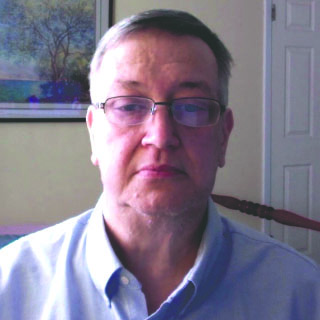 Today's Echo of Our Past will center around one of the aspects of the old "Code of Honor" that has thankfully disappeared, dueling. Yet, more than just the story of a local duel of 150 years ago this will be a story of two families. Families that came to Minden from diverse locations, became a vital part of the community, and were scarred by the tragic circumstances that developed as an outcome of that duel. The impact not only the duel, but also the families and their contributions to Minden are part of the Echo of Our Past.
Philomela Alden was born in Ashfield, Massachusetts on December 10, 1783. Later she moved with her parents to western New York State, where at Williamstown she married Dr. Joel Rathbun on August 22, 1802. She and Joel had nine children, the last of which, also named Joel, was born in January 1821, five months after the death of his father, on August 20, 1820. Widowed with nine children, Philomela was eventually persuaded in about 1835, to move south, to the area that is today Webster Parish, where three of her brothers had settled. Among the children accompanying Philomela was her 20-year-old daughter, Dorliska. Dorliska Rathbun became a schoolteacher in the area of Minden and Overton.
About the same time as the Rathbuns moved to Louisiana, another emigrant from New England also arrived in our area. Luther Easton Pratt had been born in Vermont in 1815. His family later settled in Massachusetts where Luther received a quality fundamental education. He felt the urge to move west, so in 1835 he came south and settled in the village of Overton, just south of Minden along Bayou Dorcheat. He and Dorliska Rathbun became acquainted, and eventually romance developed and the couple was married in 1837 at Overton. Luther and Dorliska Pratt had eight children, among these were: Edward Eugene, who died at age 23 while in camp with the Minden Blues near Manassas, Virginia in September 1861; Clarence Byron, who was the participant in the duel we will discuss; Daniel Webster, who served two terms as Sheriff of Webster Parish; Laura Belle, who married Dr. Thomas Jefferson Vance of Minden and died here on August 26, 1933; and Alice Arimintha Pratt, who married William Alexander Sugg in 1874.
By the late 1840s, when John Langford Lewis came to Minden from Georgia, the Rathbuns and Pratts were already among the leading citizens of our community. Lewis too proved to soon be listed among the leaders of the local community in its political life. However, at this time few, if any, of the local residents knew of his background. Born in Georgia in 1807, he had studied law and been admitted to the bar. After his marriage to Martha Smith, he became very active politically in Muscogee County and particularly the city of Columbus, Georgia. Lewis served as an Alderman and as Mayor of Columbus as a very young man, and by 1841, had become Solicitor General of Muscogee County, an office that corresponds to the District Attorney in our area. In 1842, during a very high-profile bank robbery case, Lewis was alleged to have received a portion of the money taken in the robbery in exchange for taking part in a scheme to allow the accused robbers to escape. Rather than stay and face charges, John L. Lewis moved west. He fought in the Mexican War and soon after came to Minden, hoping to leave his career in Georgia in the past. Lewis never practiced law here in Minden, and, in what may have been a plan to protect his assets from any outstanding claims, made all property purchases in his wife's name. During the 1850s, although he didn't seek office, he became one of the leading figures in the Democratic Party in our area and in the state. He served as a delegate to the Democratic National Conventions in 1856 and 1860, and was an active opponent of secession. He was one of the Claiborne Parish delegates to the Louisiana Secession convention of January 1861. Because of his views on the issues, he was named to the select committee that wrote the Louisiana Declaration of Secession, as it was felt that he would serve as a moderating influence on the language in that document.
Once the state approved the secession declaration, Lewis lined up with his state. He was the original commander of the Minden Blues and commanded the unit in the First Battle of Bull Run in the summer of 1861. That fall he was a candidate for the Confederate Congress from our district and lost a disputed election to Henry Marshall of DeSoto Parish. Lewis had already gone to Richmond to take his seat in Congress when a recount declared Marshall the winner. Lewis reluctantly gave up the fight for a seat he thought he had won, and rather than return to the Blues, came home to Minden.
Back in Minden, Lewis served several terms as Mayor of Minden during the war. He entertained the leading Confederate officers, including French General Polignac in his home, and was commissioned a Colonel and placed in charge of recruiting the home guards for all of Northwest Louisiana. Soon after the end of the war, Lewis had a sudden change in political affiliation. He joined the Republican Party and openly worked against his former friends and allies, who were fighting the forces of Reconstruction. With his previous political prominence, he became an important figure as Military Reconstruction came to old Claiborne Parish. In 1868, he was appointed Judge of Claiborne Parish. It is at this point that the stage for our duel is set.
One of the Confederate veterans returning to Minden at the end of the Civil War was Clarence Byron Pratt. Pratt had served under Lewis in the Minden Blues and was wounded at the Battle of Antietam in September 1862. After being furloughed home, he then enlisted in the 1st Louisiana Cavalry. While fighting with this unit he was captured in the battles along the Rappahannock River on November 11, 1863. Pratt was sent to the Camp Morton, Indiana, where he remained a Federal prisoner until parole on October 10,1865. Pratt was held for so long after the end of the war because he refused to take the Oath of Allegiance to the United States. Once he took that oath he was released.
Clarence Pratt returned to Minden as a young man of 23, ready to resume his work as a printer he had begun before the war. He also had developed a taste for politics and set out on a career in the public sector. Pratt and an associate established a local newspaper called the Public Sentiment, intended to express the opinions and ideas of the Confederate veterans, and fight the forces of Reconstruction. In 1869, Clarence Pratt was elected to the Louisiana Legislature from Minden and Claiborne Parish, at the age of 27. At about the same time, John Lewis gained his appointment as Parish Judge. In his dual capacity as editor and legislator, Pratt decided to do a little investigation of the mysterious background of John Lewis. After a little checking, he found the details of Lewis public record back in Georgia. Pratt made that information public, not only in his newspaper, but also in a speech on the floor of the Louisiana Legislature. The effect on Lewis was two-fold. Not only did he face the embarrassment of the long-ago charges of public bribery that he had never settled, but also under the existing law, passed by the same Congress that had impeached President Andrew Johnson, he stood to lose his judgeship. The Federal Law said that anyone who had held a public office at any level prior to the Civil War, and then participated in the war on the side of the Confederacy, was ineligible to hold public office after the war. The rule didn't affect men such as Clarence Pratt, who had held no office before the war. So far as anyone in our area knew, it didn't affect John Lewis, as his first local office was Mayor, and he took that office after secession. Pratt's revelation forced Lewis to be removed from the bench. In addition to revealing Lewis' past, Pratt had also made comments about the value of a man who turned his back on his friends and his cause as quickly as Lewis had in the wake of the war.
Publicly, Pratt was viewed as a hero, but understandably, the Lewis family had an entirely different view of the situation. Yet, the Lewis family still had a good reputation and no one expected violence to become a problem. The wildcard in this situation was Robert Lewis, the youngest son of John and Martha Lewis. He felt that his family honor had been besmirched and demanded satisfaction. Robert Lewis issued a challenge to Clarence Pratt to face him in a duel. Raised with the same sense of family and personal honor as Lewis, Pratt accepted the challenge without hesitation. A date was set and the duel was scheduled for the Pratt property at Overton. Future Louisiana Supreme Court Justice Lynn B. Watkins served as Pratt's second in that duel. Details of the course of the duel are sketchy, but it is known that both men fired their weapons, although we have no record to indicate if the firing was simultaneous or one man fired first. Whatever the circumstances, Pratt's shot missed, but Lewis bullet hit Pratt in the side. With his family's honor now satisfied, Lewis, in the strange sense of chivalry involved in dueling, provided his mattress so that the wounded Pratt could be carried back to Minden.
Although Pratt lived for 5 months after the duel, he eventually died from infection created by the bullet wound in December 1869 at the age of 27. The premature loss of such a talented young man is reflected in the obituary on his tombstone in the Minden Cemetery: "At morn the dew shall deck his grave, and shadow mantle it at noon, where lies the ever good and brave, whose hour of parting came too soon."
Robert Lewis would also meet a violent death. After the death of John Lewis, his children relocated to Red River Parish, where the oldest son of John and Martha Lewis, Will Lewis had married and owned a plantation. In November 1881, Will Lewis died, leaving the management of his plantation and the care of their Mother to his brother Robert. Robert apparently expected this legacy to include the widow of Will Lewis. When Robert Lewis announced his love and his intentions to marry his sister-in-law on New Year's Eve 1881, she quickly turned him down and informed him that she and her sister would be leaving the plantation to live in New Orleans. Enraged, Lewis went to his room, returned to his sister-in-law's room with a pistol and a knife. He shot and mortally wounded the sister-in-law who had rejected his affections, and also seriously wounded her sister. After this deed, Robert Lewis placed the pistol in his mouth and died at his own hand. The rashness that had sparked him to duel seemed to have also carried forward and brought an end to his own life.
Despite the tragic deaths of these two young men, the legacies of the two families are still seen here in Minden. The original land for the Old Minden cemetery was given to the town by John and Martha Lewis, the very land where both Robert Lewis and Clarence Pratt are buried. As for the descendants of Luther and Dorliska Pratt, in addition to Daniel Webster Pratt serving as sheriff, descendants in families such as the Vance, Suggs, and Wileys, among others have taken leading roles in our town. Clarence Wiley, a Pratt descendant, served for so many years as Clerk of Court for Webster Parish. So not only does that duel in a field at Overton in 1869, give us a picture of the intense feelings generated during the years of Reconstruction, one is left to wonder what these young men could have achieved if not for that meeting that changed the course of both of their lives.
Webster Parish Historian John Agan's column appears Tuesdays in the Minden Press-Herald