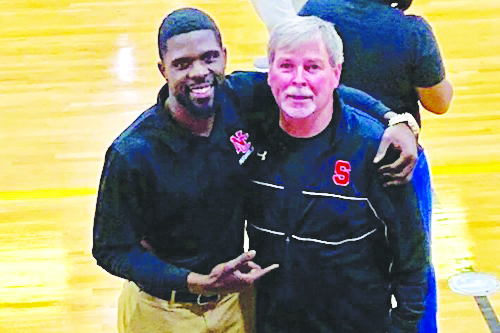 Randy Carlisle, who starred for the Minden High School basketball team in the 1970s before moving on to Louisiana Tech, junior college in Los Angeles and East Texas Baptist University, has taken over as head hoops coach at Simsboro.
Carlisle, who graduated from East Texas Baptist College and coached for 17 years in Texas before returning to his native Louisiana, has a career coaching record of 932-239.
He has directed teams to 10 state championships, including seven in basketball, with 11 of his squads advancing to a state title game.
Carlisle has guided teams to 27 district titles in 29 years of coaching and has been named a Coach of the Year 26 times at either the district or state level.
He played at Minden High from 1972-'75, leading Minden to the state semifinals in 1975 under the direction of his father and Minden basketball legend, Clyde "Buster" Carlisle.
During that time, Carlisle gained a reputation as a gifted passer and went on to set a national record for assists with 1,592.
"Back then, they would take like eight busloads of students to our games," Carlisle said. "It was crazy. You could hardly even get into our games — the atmosphere was so good. That was right after Minden merged with Webster.
"Those years at Minden were special."
In his past two seasons as Anacoco's head coach, Carlisle coached the team to a record of 67-14, with the Indians advancing to the Class B state semifinals last year and the state title game in 2021, when they lost 56-53 to Simsboro.
Carlisle previously coached for 17 years in Texas before returning to Louisiana and coaching at Castor, Hosanna Christian Academy in Baton Rouge and Summerfield before Anacoco.