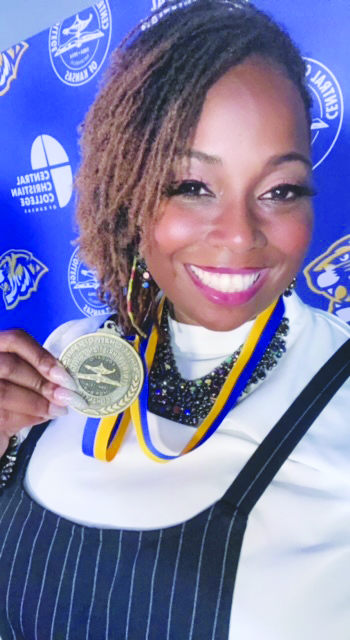 Former Doyline High School hoops standout Audria Lynette Musgrove was inducted as part of a National Runner-Up National Christian College Athletic Association Championship team into the Central Christian College of Kansas Hall of Fame on May 21.
Originally born in Riverside, California, to Gaytha Bryant and James Musgrove, Musgrove moved to Doyline with her mother to live with her grandparents around the age of 7.
Her older brother Charles Black ignited her love of basketball when she was 8, and he dedicated much time training her to become a solid competitive hoopster.
Musgrove played on many AAU team under the guidance of Coach Gay of Plain Dealing and was received multiple all-district and MVP awards during her high school career as a Doyline Lady Panther.
After being trained by Coach Johnny Jackson in her last two years of high school, Musgrove in 2005 was recruited by Coach Brian Minnich to play guard/small forward for Central Christian.
"Special thanks to my brother Charles Black for teaching me the craft of basketball and how to compete on all levels," Musgrove said. "I also want to give special thanks to Coach Johnny Jackson for helping me to improve my abilities by pushing me toward success.
"Together those two gentlemen taught me how to handle life and how to adjust when things don't go as planned. I am forever grateful for all of the encounters I've had during this phase of my life because those encounters led me to success and helped create the person I am today."
The Lady Tigers broke many records during Musgrove's sophomore year in college, finishing as NCCAA Regional Champions and 2007-08 National Runner-Up under Coach David Bryant.
That 2007-08 National Runner-Up team was inducted as a whole into the Central Christian College of Kansas Hall of Fame on May 21.
Musgrove currently resides in Shreveport and is a licensed mental health counselor.