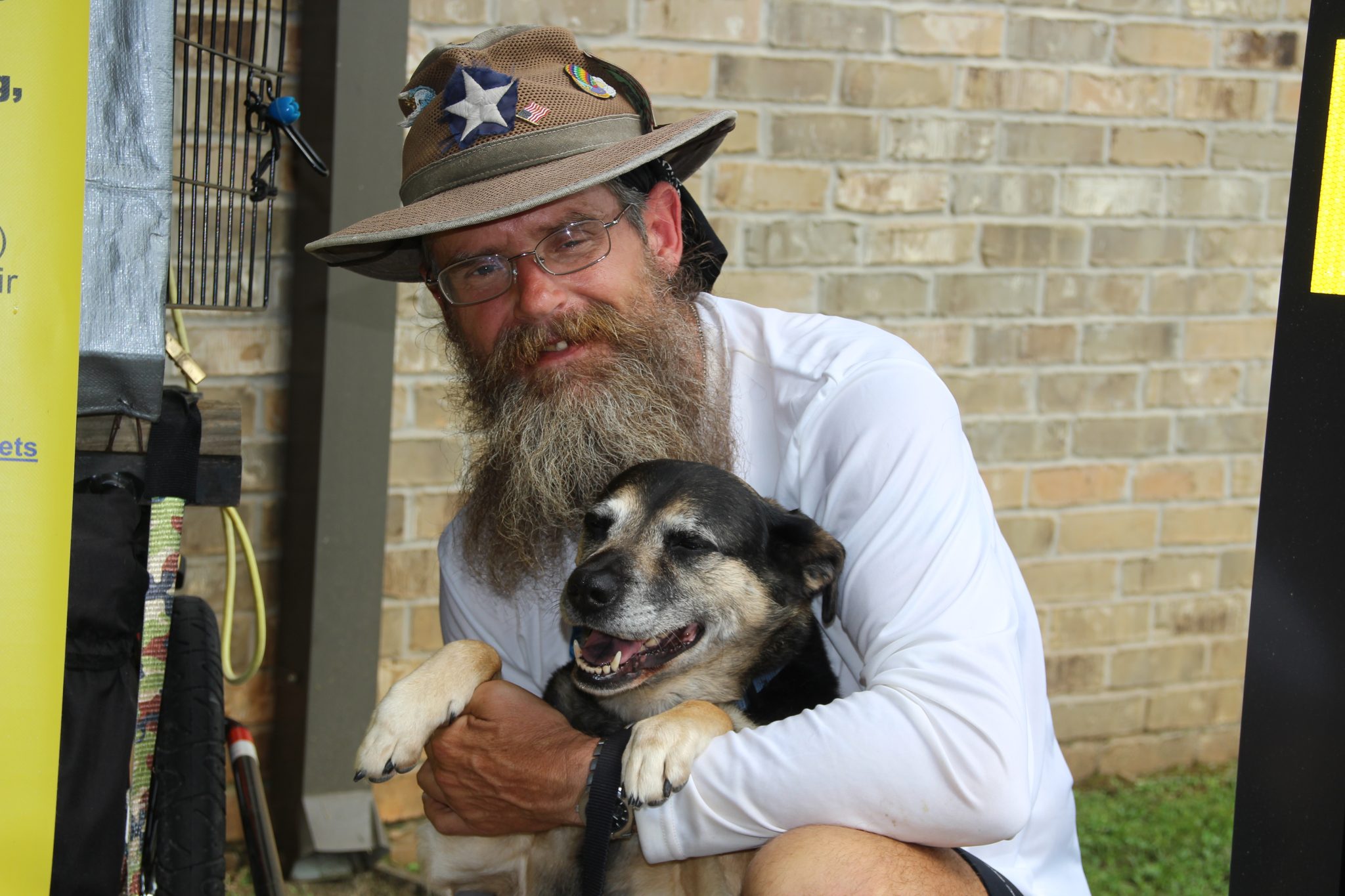 Homeless vet bikes cross country for worthy cause
Harold Palmquist, an Air Force veteran who served in the Gulf War, has been homeless the past few years, living with no one but Daisy the dog, his best friend. Despite many difficult challenges, life has given him a new mission.
Palmquist and Daisy are currently on their second biking tour of the country, raising awareness for homeless veterans who are not receiving care because they cannot be parted from their pets. They began this trip in St. Simon's Island, Georgia, and they are winding their way to California. Last week the pair stopped in Minden and were welcomed and supported by Calvary Missionary Baptist Church.
"Here in America, there are veterans who do not get the help they need because of their pets," Palmquist said. "And we're a perfect example."
In 2014, Palmquist could not find a homeless shelter in Phoenix that could accommodate pets.
"My kids are grown and gone – it was just me and the dog, and I'm not getting rid of the dog," he said.
After calling a crisis hotline, Palmquist discovered Veterans and Their Pets, a Phoenix-based nonprofit organization dedicated to providing temporary housing, veterinary care, and food for animals of veterans in need. They took care of Daisy, from fostering to fixing to getting her shots up to date, while Palmquist stayed in the shelter, visiting often. After a week, they had to head to Los Angeles so Palmquist could be with his father, whose health was failing.
"I was holding his hand when he died," he said. "It was at that time I said, 'what do I do now? Go back, take another bed up, and be a burden?' So I decided to call up Vets with Pets, and I said, 'Send me a banner and some business cards, and I'll ride for you.'"
With little more than a bike, a duffel bag, and a bike trailer for Daisy, Palmquist set off on a 5,000-mile tour of the country from April 2015 to April 2016. Now the pair are well into their second trip, this time from the Atlantic Ocean to the Pacific Ocean, with Louisiana becoming their 19th state visited. All the while, they have been spreading the word about Vets and Their Pets.
"My goal is two-part: to raise funding for these guys so they can help veterans, and to reach out to veterans and let them know that there is help for them," Palmquist said. "I'm blessed to have met them. Here I am, homeless, and I'm still able to make a difference in this capacity."
According to the Vets and Their Pets website, whether veterans need medical care, psychiatric care, or simply a place to stay for a while, Vets and Their Pets will take care of their animals until the owners get back on their feet.
After receiving four of the six grants they applied for in 2016, Vets and their Pets found it more difficult to acquire funding in 2017. Palmquist said he meets many interested veterans with pets on his travel, and he hopes to be able to raise enough funds to meet the increase in demand. Anyone interested in donating to Vets and Their Pets can learn more at www.gofundme.com/vetsandtheirpets.
Throughout their travels, Palmquist and Daisy have become something like minor international celebrities, making news headlines all across the country. On January 30 this year, while biking through Mississippi, Palmquist and Daisy were hit by a truck at high speed. They spent months recuperating, and a new bike and trailer were built and funded for them by generous people following their journey. The pair have only recently recovered enough to continue the trip.
For her part, Daisy, an 11-year-old mutt of unknown breeding, still enjoys her time riding across the country in her kennel, always eager to encounter new things.
"She's always up, looking around and smiling," Palmquist said. "Just taking it all in."
Before he met Daisy, Palmquist was teaching English as a foreign language at a community outreach center in Mesa, Arizona.
"I'm teaching there, and she wanders into the classroom," he said. "I ask, 'Whose dog is this?' They didn't know, so I say, 'That's my dog.' I've had her ever since she was a pup – I'd hold her in one hand, and her little paws would dangle down."
With Palmquist around, Daisy is friendly enough to strangers, despite barking loudly at every opportunity. However, Palmquist said it is another story when Daisy is on her own with other people.
"She's a one-human dog," he said. "When I took her to Vets and their Pets, they had to put a sign on her kennel that said 'No contact.' They couldn't even feed her because she was chewing through the fence to get at people. "
Palmquist said before their travels, if he had died, Daisy would have been put down. However, their fame and support assure him that his companion will always be cared for.
"But now, if I become a greasy spot on the roadside if we get run over again and she survives, there are thousands of people across the country who would snatch her up in a heartbeat," he said. "So it's been a blessing for her too, in a way."
Palmquist documents their journey on a public Facebook page called Tour de PACLANTIC. He said one of his favorite parts is seeing the kindness and generosity so many have showed him along the way.
"At the end of a hard day's ride, I got pit stains, I got crap all over me, I look dirty," he said. "A lot of people's first impressions, they want me to go away. I was blessed that these guys [Calvary] let me in here to stay. There's a lot of churches who will tell you to get off their property. But I've met a lot of folks that didn't have a pot to piss in, but they took me in and gave me dinner, let me pitch a tent in the front yard. I've seen a lot of that across Louisiana."
Palmquist knows this lifestyle is not permanent, but he said he is devoted to seeing his mission completed before moving on, despite the challenges.
"When I reach the Pacific Ocean I'll get a job," he said. "But I made a commitment, and that's what I'm going to do."