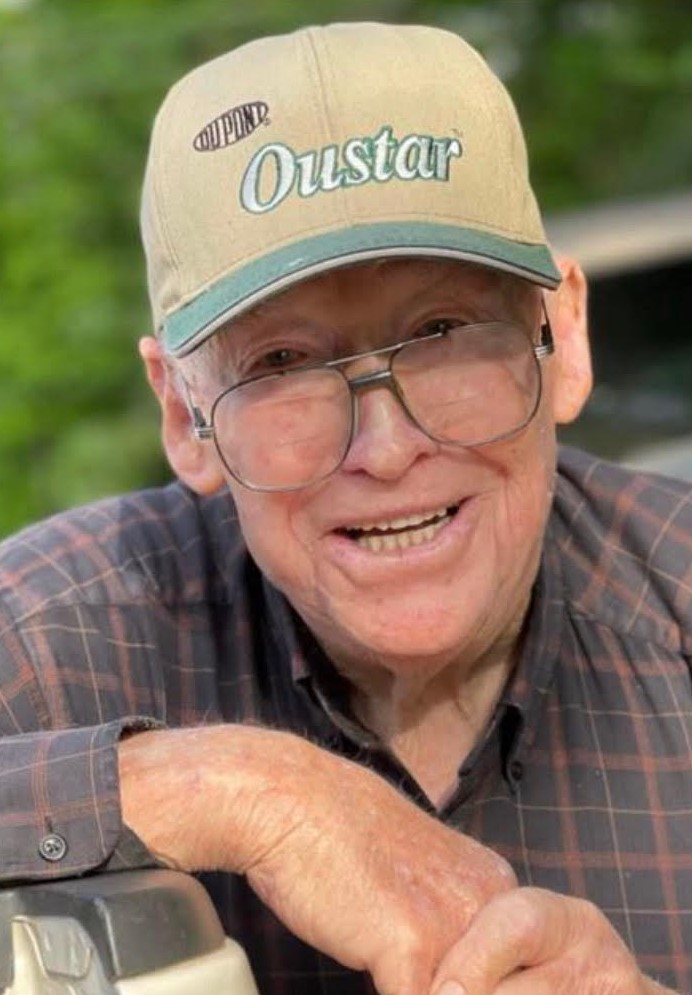 Funeral services for Fred Mabry Branch Jr. were held at 10 a.m., Saturday, May 28, 2022 at the Bailey Funeral Home Chapel in Haynesville, LA. His nephew John Randall Dickerson and Rev. Jeff Clark officiated. Interment followed at Old Town Cemetery under the direction of Bailey Funeral Home of Haynesville.
F.M. passed away Sunday, May 22, 2022 at Savannah Court Assisted Living in Minden.
F.M. was born to Fred Mabry Branch, Sr. and Susie Ellen Burrell Branch on February, 9, 1929 in the Branchville Community of Attala County, Mississippi. The fourth of eight children, FM lost his father at the age of 15 and left school after eighth grade to work the family farm and support his mother and younger siblings. He began working in the local oilfields between crops to supplement the family income. In 1949, FM moved to Haynesville to join his two older brothers working full-time for Cook Drilling Company. FM would eventually meet and fall in love with a local girl, Catherine Cline. They married in 1954, spending the remainder of their lives in Haynesville raising their two sons and building life-long relationships.
F.M. would go on to be drafted by the United States Army and spent two years in Europe. Following his service, he joined R.A. Fowler Trucking Company as an oilfield truck driver. He eventually became a truck pusher before becoming the Operations Manager under the I.E. Miller ownership group until his retirement in 1996. He was known for his strong work ethic, incredible memory, and willingness to do anything for his friends and co-workers.
Retirement was a great experience for F.M. He rediscovered his passion for crappie fishing and bonded with two special friends, Barry "Nub" Mayfield and Jerry Lee Clements, while fishing on Lake Erling. They solved all the lake problems, as well as world problems, during their early morning coffee sessions and were nicknamed the "Lake Commission." They were often joined by special friends Jimmy Moore, Lum Edwards, and Dude Davenport. These men along with long-time friend and neighbor Herbert Taylor were always there for him, doing everything from plumbing & electrical work to doctoring his wounds. F.M. also returned to his farming roots in retirement and was known to grow pretty stands of sweet corn each year which he shared with his friends and neighbors.
He was preceded in death by his parents, his wife Catherine Cline Branch, sisters Maxine Simons and Ruthie Jean Cox, and brothers Hoye Branch, Lamar Branch, and Earl Branch.
He is survived by his two sons, Pat Branch and girlfriend Jody Tietjen, of Shreveport, and Mike Branch and wife Lyn Branch, of Minden; grandchildren Kaylie, Blake, and Macie Branch, all of Minden, and Jordan Branch of Summerfield; sisters Billie Merle Dickerson of Byram, MS and Tommie Sue Kilpatrick of Leton; a special cousin who was like a sister to him, Maggie Garrett of Goodman, MS, along with many nieces and nephews.
Pallbearers will be James Branch, Mike Dickerson, Scott Kilpatrick, Blake Branch, Josh Terrel and Tommy Garrett.
Honorary pallbearers will be Herbert Taylor, Dude Davenport, Jimmy Moore, and Donald Ray Johnson.
The family would like to thank his hospice caregivers Wendy Wood and Shy Howard, as well as the entire staff at Savannah Court for the patience, compassion, and excellent care that you provided for FM and the support for our family during his final months.
Memorials may be made to Old Town Cemetery Association (PO Box 381, Haynesville, LA 71038) or Seneasha Cemetery Fund. (PO Box 328, Goodman, MS 39079).
2nd Timothy 4: 7-8 "I have fought the good fight, I have finished the race, I have kept the faith. Now there is in store for me the crown of righteousness, which the Lord, the righteous Judge, will award to me on that day – and not only to me, but also to all who have longed for his appearing."
Please visit www.baileyfuneralhome.net to sign the online register book.