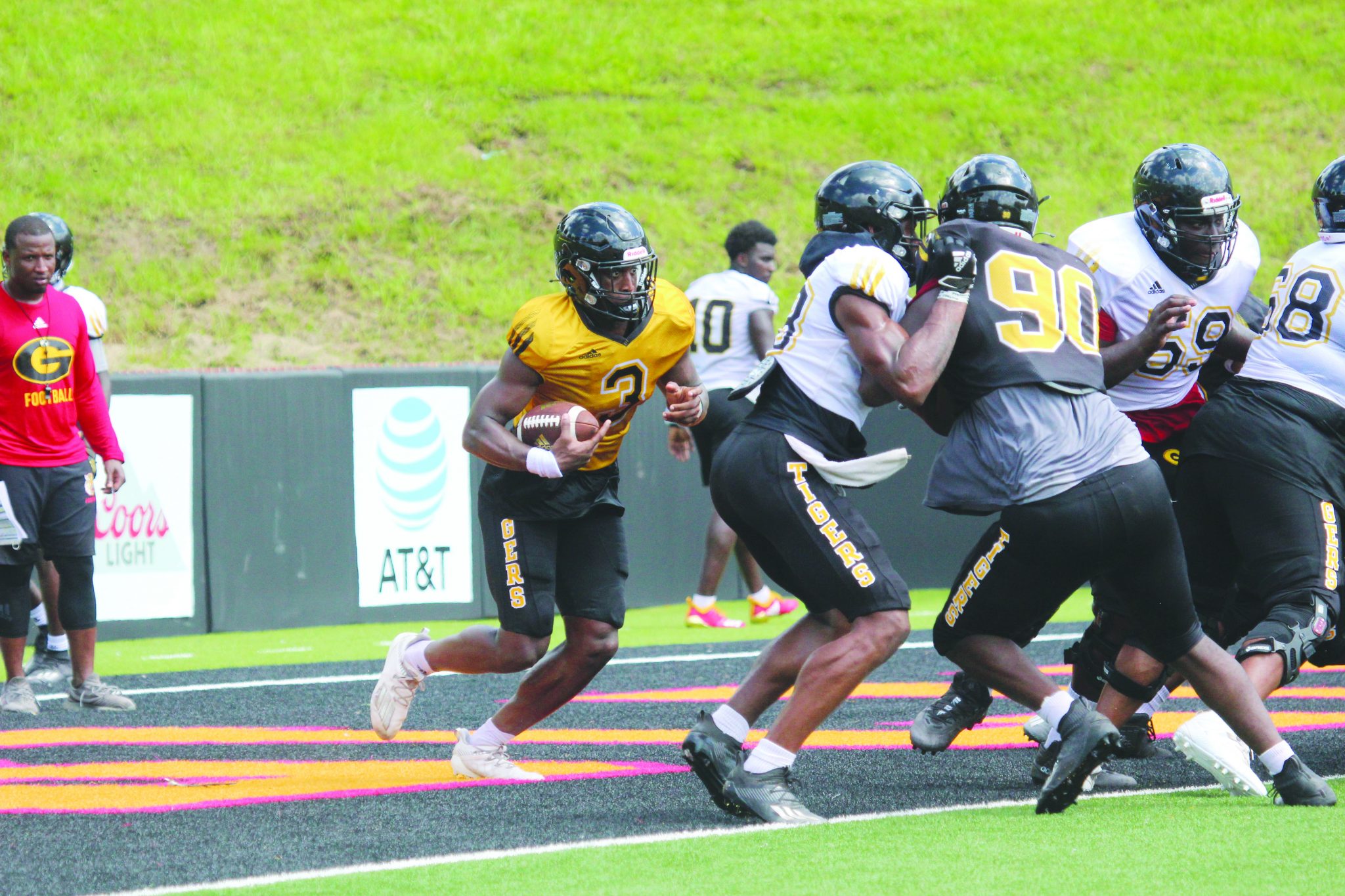 It's not easy for a football coach to be satisfied. That potentially brings the danger of complacency.
So while Grambling State's Broderick Fobbs admitted to liking some of what he saw from a situational, light-contact scrimmage held by his team on Saturday, he also added there was definite room for improvement.
And he expects those improvements to be made before the Tigers' season opener against Tennessee State on Sept. 4 in the Black College Football Hall of Fame Game at Tom Benson Stadium in Canton Ohio.
"The kids were a little sluggish today, but that's not unexpected after a really long day (Friday)," Fobbs said following Saturday's workout. "We had some early thunderstorms (Friday) that pushed back practice, so we practiced late and then did a quick turnaround for this practice this morning."
There were flashes of greatness in both practices, including a pair of long catches made by junior receiver Greg White (6-3, 205). White went horizontal on one of those catches, reaching out just far enough to haul the ball in before hitting the turf.
The G-Men saved some big plays for Saturday's scrimmage with running backs CJ Russell and Keilon Elder also catching coaches' eyes.
"Getting out in the elements was kind of tough, but the good thing is that our kids pushed through it. I think we have what it takes — we just have to clean up some things," Fobbs said, "There were some guys who showed some really bright spots and did some good things, which is what you want to see, now it's just time to tighten up the bolts and the screws. We'll be prepared and ready to play Sept. 5."
One player who has really upped his game for the Tigers this spring is junior quarterback Aldon Clark from Edna Karr High School in New Orleans. Clark has moved up to split time behind center for Grambling's starting offensive unit along with Elijah Walker, the returning junior who received the most playing time during GSU's 2021 spring season.
"Aldon has really stepped his game up," Fobbs said. "He's done a really good job of doing the extra stuff like being in the weight room a little extra and being in the film room a lot more than he's been in the past. He really believes in his new quarterback coach (and offensive coordinator Eric Marty), and Coach Marty really believes in him."
Walker said the competition behind center is benefitting Grambling's entire quarterbacking corps.
"I come to work every day and know the other guys in the (quarterback) room are going to push me, so of course it makes us all better," Walker said. "I feel good about my hold of this offense and once everyone gets comfortable, we'll be great, in my opinion.
Another player who's drawn attention this spring is receiver/running back Darqueeze Brutton, a 5-7, 178-pounder who runs tougher than his frame would make most expect and has drawn some comparisons to former GSU standout Martez Carter.
"It's hard to say that name (referring to comparing Brutton to Carter), but he does have that same type of quickness and speed," Fobbs said. "He's a little shorter, but he has a lot of those same capabilities. We hope that ends up being the case."
Fobbs has also been pleased with the better play shown by his offensive line this spring.
"In the spring we knew that the cavalry was coming," Fobbs said of his offensive line. "We knew we had some guys who could come in and play for us and really be dynamic at moving the football and moving people out of the way. The pandemic hit and we lost a lot of really good football players and we had to live with it and play with it. But we really feel good about our offensive line and about (new offensive line coach Bryant Ross) — he's doing a great job of getting those guys prepared. And also getting them in the right mindset so we can be dominant up front."
Fobbs said having a solid mix of players with varying talents and abilities combined with the hard and sometimes repetitively unexciting work they've put in this preseason has him feeling better about the upcoming season.
"The growth for us is that we're a lot more physical football team than we've been in the past, which is what you have to be," Fobbs said. "Being multiple and able to play with various personnel groupings with tight ends, receivers and various running backs really helps you. That really helps our defense as well, so everything that we're seeing on both sides of the ball really helps our entire team as a whole."
"It's all about consistency. We have what it takes. It's just about knowing what to do and being consistent with doing those things over and over again. Greatness has a lot more to do with consistency than it does with the flash of great things and great plays. So for us it's about doing the common things that can help make us consistently great each and every time."