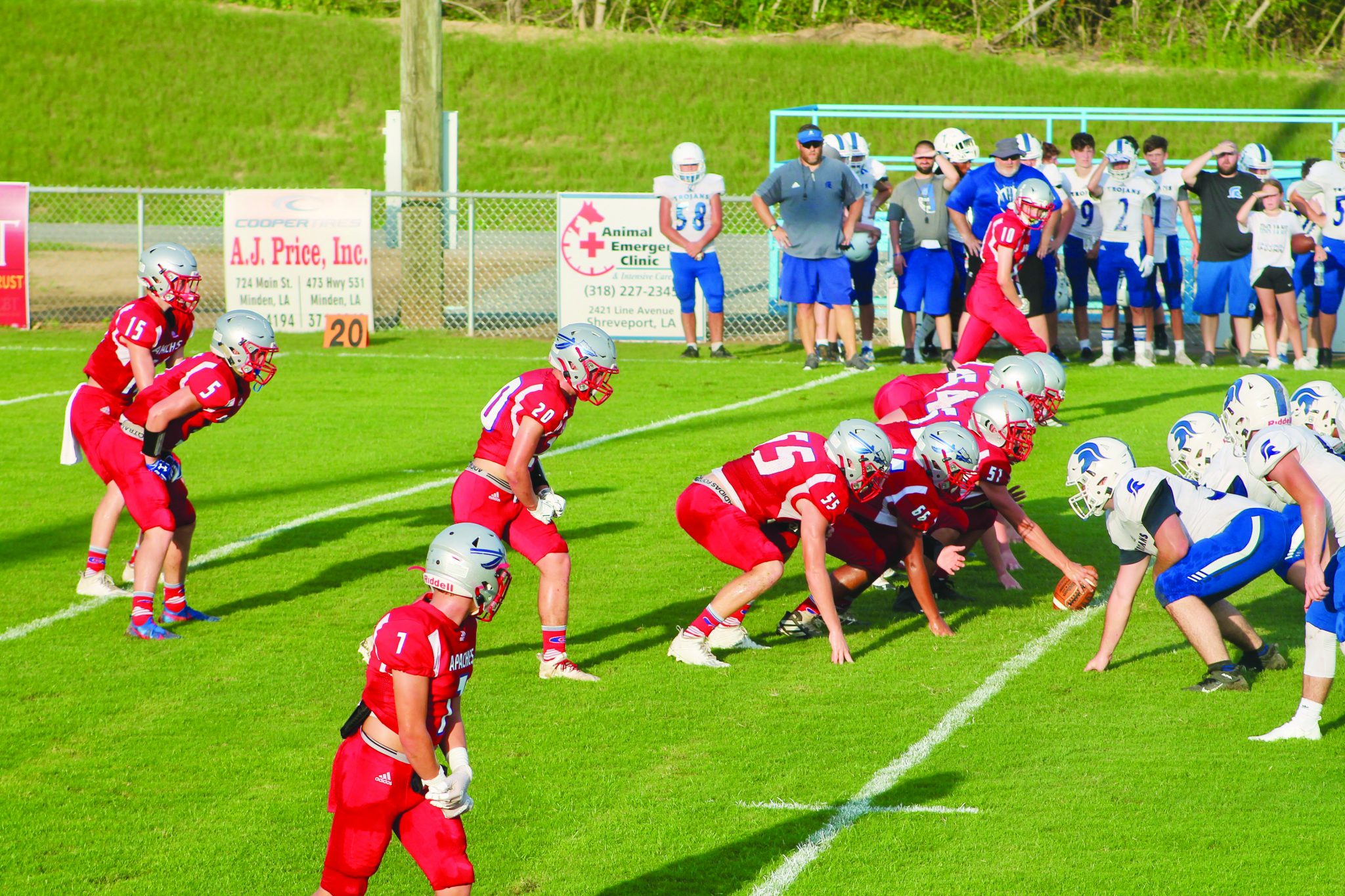 The Minden Crimson Tide put the only points on the board in Friday's timed quarter portion of a football scrimmage at Benton.
Fittingly, for the defensive-minded Tide, those two points came on a safety caused after Benton snapped a ball over the punter's head.
During the earlier 12-snap segments for first-teamers and 10-snap portion for second teamers, MHS coach Spencer Heard liked what he saw from his offense and especially the trenches.
"I thought it went well," Heard said. "I felt like we got some good work on both sides and felt that we got better from it."
"We moved the ball pretty effectively on offense. The offensive line did a good job. We had a few explosive plays. We probably had three or four occasions where we didn't execute the way we needed to execute. We could have probably had three or four more explosive plays, but I felt like we moved the ball on the ground pretty good.'
Heard said he felt his team shook off a sluggish start to the scrimmage and picked up the pace late.
"It seemed that as things progressed we started playing better offensively," Heard said. "It was bad overall. We got some good work in and this time of year you're just trying to get better and get ready for the first game."
Minden will next play at the Haynesville Jamboree on Friday when the Tide will face Homer and Haynesville for one quarter each.
"We want to see improvement from some of the little things we saw in the Benton scrimmage," Heard said. "We ran one live quarter and got to work a little bit on the kicking game, but Friday's jamboree will be a full game-like situation where we'll get to see where we stand in all phases of the game.
"Hopefully we'll see improvement and any mistakes we need to clean up before the season opener."
GLENBROOK: GHS took on a familiar foe in Parkers Chapel from El Dorado, Arkansas, in a prep football scrimmage on Friday, and the Apaches controlled the workout from start to finish.
"Parkers Chapel is down a little bit this year, so it was good for us in that it was a good confidence builder," Feaster said. "We felt like the things we thought we would be good at, we were. Defensively we've got a lot of good tacklers on the field and offensively, while our line might be small they really got after it well. They were very athletic blocking downfield.
"We've got a number of skill guys. We played a bunch of different guys. We had a bunch of different guys carry the ball and catch passes and all that. So we feel good in that regard — that we were able to spread the ball around."
Parkers Chapel only stopped North Webster one time while the Apaches hit paydirt eight times overall, including three times in the timed live quarter that closed the scrimmage out.
"We fumbled one time and they recovered," Fester said. "Other than that we never got to fourth down or anything like that."
During that timed period, the Apaches' Chase Sentell scored on a three-yard run and Ty Feaster hit Turner McClelland on a 35-yard touchdown pass while Maddox Mandino picked off a Parkers Chapel pass and raced it 60 yards back for a TD.
In the earlier controlled scrimmage portion of the night, Glenbrook's DJ Carter broke free on scoring scampers of 15 and 70 yards while Easton Sanders launched a 70-yard scoring strike to Collin Greg.
Glenbook's head Apache said he saw the night simply as a practice session against new faces.
"We take it as another practice and as a way to gauge what stuff we're doing right and what stuff we're doing wrong," Feaster said. "If every team we're going to play this season were to the same level they were, we would feel really good. But that isn't the case. We're going to be facing some really good teams this season. So we know we've got to continue to improve.
"The video we got is crucial … we can break down every step a guy takes and how their body is leaning — we break down every little aspect of every play and try to teach the kids from that, so that video is extremely important."
Glenbook will next play a jamboree against Natchitoches Central's Junior Varsity around 9 p.m. Friday on the Northwestern State University campus.
LAKESIDE: The Warriors failed to score during Friday's scrimmage at Lakeside, but that doesn't mean head coach Mike Santelices came away feeling bad about the night.
Lakeside scored on a pair of long runs during the scrimmage.
"It was OK," Santelices said of his team's night. "We had some people out with injuries and what not. The defense played really well. They were really sound in reading their keys and all of that.
"Offensively, we moved the ball but didn't score. But I think a lot of that gets eliminated once we get some people back. When we're at full strength, we'll be a lot better. We should be at 100 percent after the jamboree.
Lakeside will next take on both Haynesville and North Webster for one quarter each on Friday at the Haynesville jamboree.
"We're playing a bunch of players who've never played before — it'll be another evaluation tool," Santelices said. "We've got to use that to get better. That's why Friday's scrimmage against Lakeview was so important with so many new people — younger players who've never played before — stepping up. Film will show us the mistakes we made and the players can learn from that. That was huge and this upcoming Friday will be the same thing.
"Every week we want to learn and get better. That's the goal. You can never stop getting better so using Friday's jamboree as a game-time situation will be big for us."
NORTH WEBSTER: The Knights' defense dominated Mangham during a Friday scrimmage played at Neville High School in Monroe.
That domination included multiple turnovers as defensive back Ty'travion Mendenhall picked off a pass while defensive end Garrett Brown and linebacker Jatareon Robinson each forced fumbles while both also added sacks.
In the timed-quarter portion of the scrimmage, North Webster quarterback Colin McKenzie connected with Robinson on a scoring strike while Jarmarcus Stephens added a 15-yard scoring scamper for the Knights.
North Webster will next play in the Pineland Jamboree at Haynesville High School that begins at 6 p.m. Friday. The Knights will take on Homer in Game One and Lakeside in Game Three.