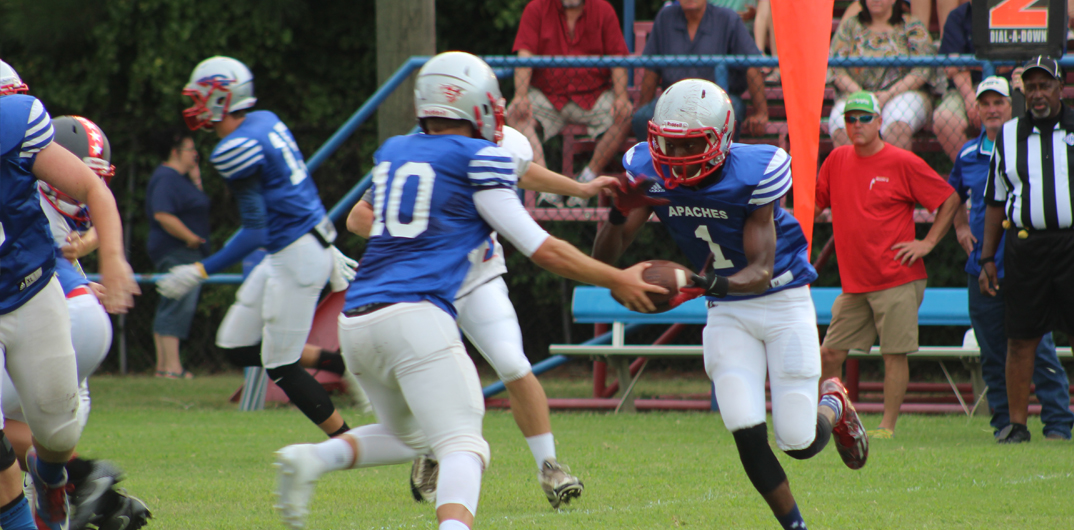 Glenbrook fans may have thought they were at the wrong game Friday night. This certainly didn't look anything like a team that went 1-9 a year ago.
The Apaches looked sharp on offense and defense against the Claiborne Academy Rebels, breaking off big play after big play and punishing Rebel runners all night.
"We definitely left with a lot of momentum," second-year head coach Caleb Carmikle said. "Last night was a great chance for us to see where we stack up against a key, district opponent. I think these kids are finally buying in that if you come out everyday and get better, eventually those days add up and you're in a position to be successful."
The Glenbrook offense took the field first and moved the ball well.
There were a few times where pass protection broke down and quarterback Seth Tyler extended the play with his feet. The junior quarterback did a good job taking care of the football and distributing touches to Glenbrook's many weapons.
"Seth Tyler stood out," Carmikle said. "His improvement has been incredible and he put on a display, making plays when things broke down."
Glenbrook had a few penalties that brought back big plays, something Carmikle hopes to fix before the Glenbrook Jamboree this Thursday.
"We still have some issues to correct," he said. "Way too many penalties. We're really close to being an explosive offense if we can fix a few issues here and there."
Da'maza Robinson and Lemoris Jackson Jr. were electric against the Rebels out of the Glenbrook backfield.
The tailback tandem took turns breaking off chunks of yardage behind an improved offensive line, led by Nick Moses and Peyton Page, and serving as excellent decoys for players like Mason Hood and Marshall Meek who also had good runs on the night.
Another key takeaway from Friday's scrimmage was the play of the Glenbrook defense.
"Defense stole the show tonight," Carmikle said. "As the night went on they got better and better. Those guys were flying around making plays."
Hunter Chotin and Albert Taylor played big in the middle and allowed linebackers Trent Albritton and Seth Gauthier to clean up. Newcomers Joseph Kidd and Cameron Fread drew praise from Carmikle for thir aggressive play.
Carmikle's highest praise went to his secondary.
"They made plays over and over," he said. "They're our most experienced and talented group. Coach Godfrey has done an excellent job getting those guys fired up about some defense."
The strong showing by the new-look Apaches was cheered on by a large following of Glenbrook fans who made the trip.
"That was an impressive crowd for a scrimmage," Carmikle said. "It just shows that people are noticing how hard these kids are working."