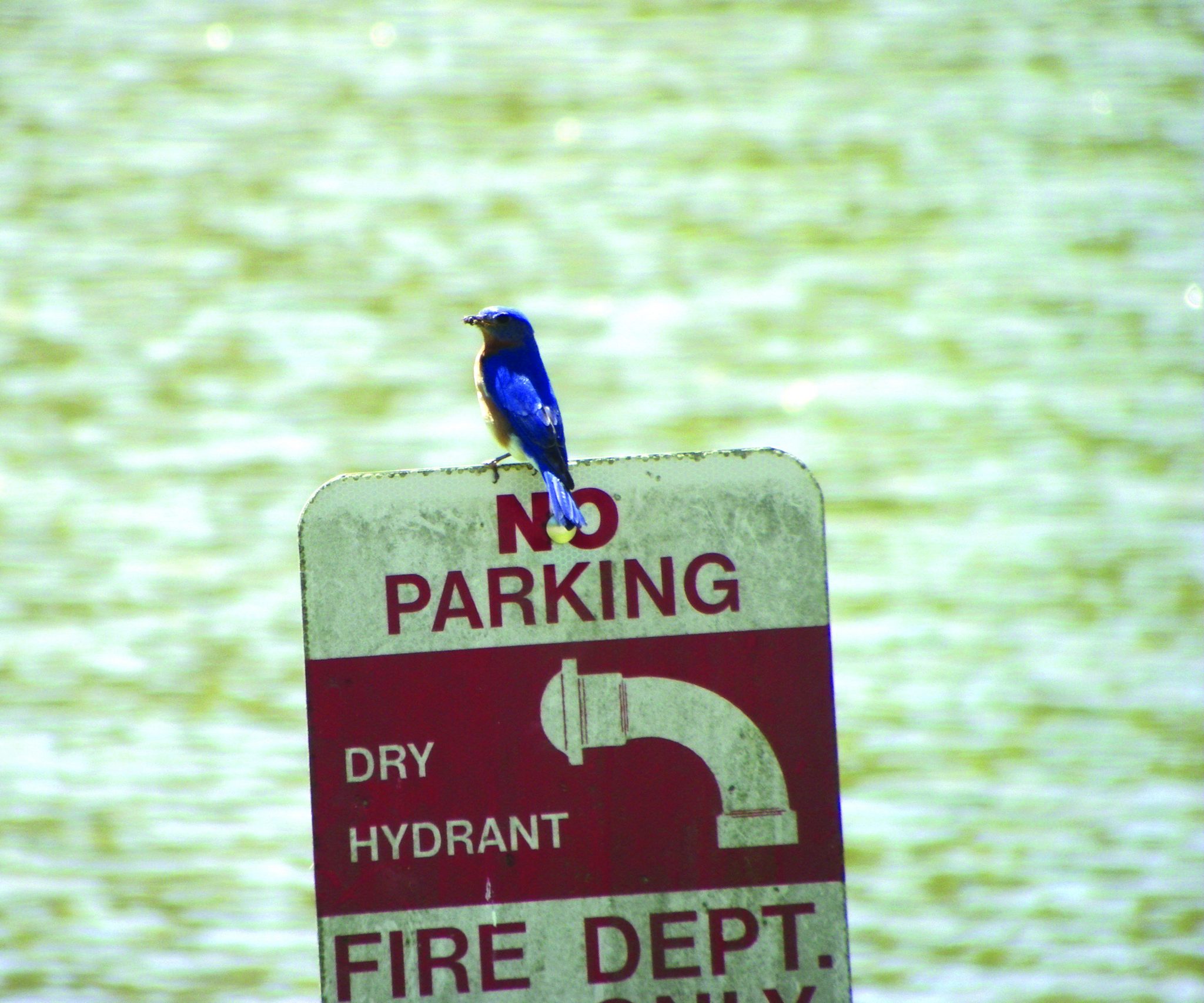 Glynn Harris | Special to the Press-Herald
If you have followed my writings for very long, there is one thing you'll notice. I enjoy song birds. I'm not an official "birder" but feeding the little sprites in my yard is something I really enjoy.
Something else is high on my list of things about birds that I enjoy and that's offering them nesting boxes to rear their young.
For years I tried to entice purple martins to a box without success. Growing up, we had no problems at all attracting these sweet singing little mosquito-eating martins and I just assumed when I grew up and had a home of my own I'd have plenty of martins to enjoy. That has not been the case as they have shunned my martin boxes. That's not the case, however, with another species I have enjoyed watching build, lay sky-blue eggs and hatch little ones. Blue birds, Eastern Blue Birds to be exact.
There was no doubt that once the weather began warming this spring, I'd see blue birds beginning to do what they have always done; build a nest in my boxes. Alas, it was not to be this year. My boxes have all been empty leaving me disappointed and frustrated.
I decided to check around to see if I was the only one with similar experiences. Posting my concern on Face Book, I was rather surprised at the responses I received.
As of now, I have received more than 40 responses to my query. A few responders reported blue birds in their boxes. The majority, however, seem to have had results similar to mine.
From those responding, several reported something rather chilling – literally. The big ice storm, snow fall and frigid temperatures we had in February apparently had a devastating effect on blue birds in our area.
"I found several dead in my boxes," one said. "I lost almost all my bluebirds due to snow that lasted so long. I believe they starved to death," wrote another. "I had five freeze in a box trying to roost out the weather" and another reported "I have heard as high as seven dead bluebirds frozen in bird boxes."
If you think about it, song birds have a precarious time rearing a clutch of young with hazards, from weather to snakes to housecats taking a toll on nestlings in particular.
Last year, I started off well when one of my boxes had four eggs that I'd check on periodically. After a couple of weeks, I determined that something was amiss as the eggs were not hatching. I recall seeing a feral housecat hanging around near the box and I determined that perhaps the cat caught the mother.
I reluctantly cleaned out the box and within a few days, another pair of bluebirds began preparing a nest and eventually I found five eggs in the box and soon I was pleased to find on fledgling that had hatched out. I checked the box a day or so later and found cracked eggs on the ground and the one that had hatched was dead. I don't think it was a snake because the eggs and baby bird would be gone; I'm at a loss to know what happened to this nest.
I ended up last season with no bluebirds to show for a couple of efforts and none, not even a nest this year. I can only assume that the absence of nesting this year was the result of the devastating winter storm we had. I hope that those fortunate folks who have successful nests this spring will produce enough to close the gap this year has seen.
Glynn Harris' Outdoors appears Tuesday in the Minden Press-Herald.
Fishing Report
BUSSEY BRAKE – Bream fishing has been good fishing worms or crickets around the trees. Bass are fair around the trees on soft plastics and spinners. Crappie are scattered and fair. For latest information, contact the Honey Hole Tackle Shop at 323-8707.
BLACK BAYOU – Bass have been fair around the edges of the grass on jigs and spinners. Bream fishing is good around the tupelo gums. Crappie are scattered and fair on shiners or jigs. Contact Honey Hole Tackle Shop 323-8707 for latest information.
OUACHITA RIVER – Lot of current in the river. Best fishing for bass and crappie has been in the river lakes. For latest information, contact the Honey Hole Tackle Shop at 323-8707.
LAKE D'ARBONNE –Crappie fishing continues to be best fishing the flats in 25 foot water fishing 8-10 feet deep on shiners or jigs with Cajun Cricket, Blue Thunder and Threadfin Shad jigs working best. Bream fishing is good on worms and crickets. Catfishing continues to be good off the banks and on the flats on night crawlers and cold worms. Bass fishing has been best fishing the deeper channel holes and old sloughs on jigs, crank baits. For latest reports, call Anderson's Sport Center at 368-9669 or Honey Hole Tackle Shop at 323-8707.
LAKE CLAIBORNE – Bass fishing has been best early morning fishing in the back of the creeks on topwater lures. Some are also being caught fishing the points on the main lake with crank baits. At night, fish around the lighted piers with Shaky Heads with finesse worm added. Crappie have been better at night around the lights in 20 foot deep water. Bream are still around the beds and catfishing has been fair on cold worms. at night fishing the lighted piers with crank baits. For latest information, call Kel's Cove at 927-2264.
CANEY LAKE – Bass have been best at night or late afternoons on deep diving crank baits or over-sized plastic worms. Some in the 8-10 pound range have been reported. Smaller fish are schooling and hitting shad imitation lures. Crappie are around the deeper tops and hitting jigs and shiners fished 12 feet deep in 15-25 foot water. Bream are on the beds and hitting crickets and worms. No report on catfish. For information contact Hooks Marina at 249-2347, Terzia Tackle at 278-4498 or the Honey Hole Tackle Shop at 323-8707.
LAKE POVERTY POINT – Bass and crappie are fair. Catfish and bream are fair to good. For latest reports, call Poverty Point Marina at 318/878-0101.
LAKE ST. JOHN – No report. For information, call Ken Mahoney at 318-201-3821.
LAKE YUCATAN – The water level is still high but slowly falling with better reports this week on crappie and bar fish fair to good. No report on bass. For information, call Surplus City Landing at 318/467-2259.