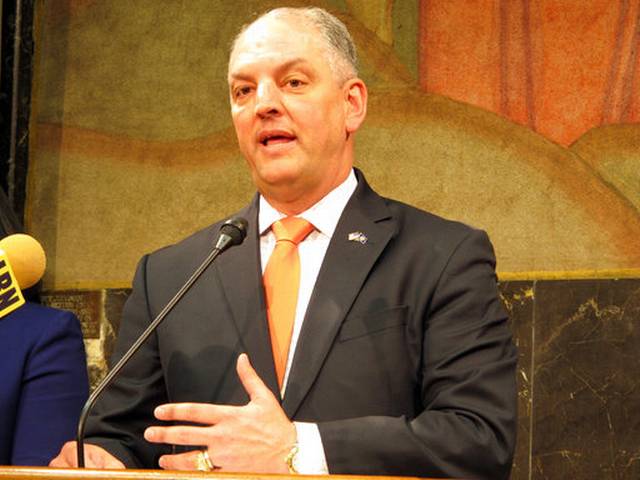 Gov. John Bel Edwards and Raising Cane's CEO Todd Graves announced plans for the ninth annual Lemonade Day Louisiana on Saturday, May 4, 2019. Additionally, Miss Louisiana USA 2019 Victoria Paul and Miss Louisiana Teen USA 2019 Emma Brooks McAllister, LED and children from the Big Buddy program joined Governor Edwards and Graves for the special announcement. Lemonade Day is a nationwide initiative that encourages entrepreneurship in children by providing tools for them to start lemonade stands in their local communities.
"Louisiana was built on a pillar of education, entrepreneurship, and community service, which is why it's important that we encourage our young entrepreneurs across the state to participate in this exciting program," said Gov. Edwards. "The young entrepreneurs who choose to take part in this program today will be the small business owners our economy thrives off of tomorrow. I applaud Todd Graves and Raising Cane's for leading such an extraordinary effort to create over 16,000 new businesses on Lemonade Day, Saturday, May 4."
Participants, ranging from ages 6 to 15, are given business lessons through Lemonade Day's interactive game platform Lemonopolis. In addition to educational gaming, teachers and parents are provided detailed lesson plans to introduce the various skills necessary for children to start their lemonade stand. Participants are taught problem-solving, communication skills, self-esteem, and philanthropy amongst other valuable lessons for self-improvement.
"Lemonade Day Louisiana has grown larger than any of us could imagine, and now in our ninth year, I hope we can reach every child in Louisiana and introduce them to entrepreneurship," said Todd Graves, Founder and CEO of Raising Cane's. "Lemonade stands gave me my first taste of business and sparked my desire to be an entrepreneur and we want kids across Louisiana to have that same experience. More importantly, we encourage everyone to support these kids on May 4."
Young entrepreneurs who participate in Lemonade Day raise an average of $150 in their first year and continue to see growth in their businesses when returning for second and subsequent years. Leaders of Lemonade Day Louisiana encourage children to divide their earnings equally amongst saving, personal spending, and giving back to their community.
In addition to raising funds and learning valuable entrepreneurship skills, each year leaders of Lemonade Day Louisiana choose an Entrepreneur of the Year to highlight an exceptional young entrepreneur during the annual campaign. Lemonade Day has chapters in over 60 cities across the United States and Canada, and over 1 million children have participated.
Children wishing to participate can register now at any Raising Cane's location in Louisiana or online at www.lemonadeday.org/louisiana.