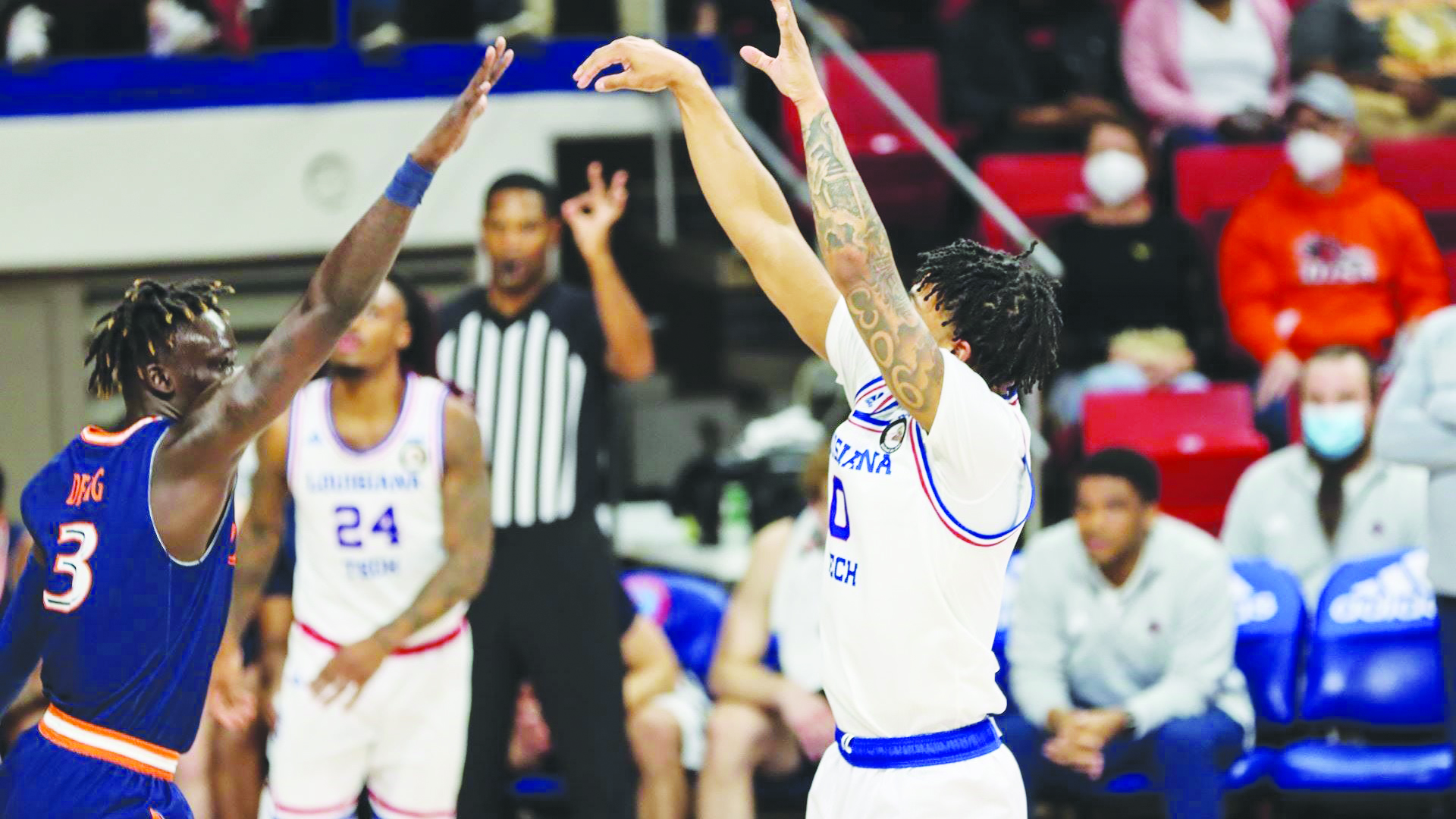 RUSTON — Keaston Willis scorched the nets and Texas-San Antonio with a season-high 30 points, to spark Louisiana Tech to a 95-71 win over the Roadrunners on Karl Malone Court inside the Thomas Assembly Center on Saturday.
LA Tech (19-7, 10-4 C-USA) opened the game with a 21-3 run and never looked back after that in the win over UTSA (9-19, 2-13 C-USA).
Willis attributed 12 of those points on four of his eight successful 3-point attempts during that run.
The Bulldogs totaled a season-high 21 assists as 10 different Bulldogs scored, going 32-of-60 from the field (53.3 percent) with 13 of those being threes.
Cobe Williams was the only other LA Tech player scoring in double figures with 19 points.
• The Lady Techsters concluded their Texas road trip in a split as they fell to UTSA Saturday afternoon inside the Convocation Center by a final score of 59-49.
Despite the loss the Lady Techsters stand only a game back of the C-USA West Division lead.
LA Tech (15-10, 7-7 C-USA) had to battle from behind most of the game but managed to take its first lead of the game on a 15-0 run during the third quarter.
Keiunna Walker topped the Lady Techsters with a team-high 15 points to go along with five rebounds, three assists, and two steals.
Walker has scored in double figures in 26 straight games and is now the only conference USA to do so in every game this season.
GSU at SOUTHERN
(W/M doubleheader)
• Grambling State's men's basketball team saved its best for last on the road Saturday as the Tigers rallied late to defeat Southern 68-65.
GSU trailed 66-65 with 11.7 seconds remaining and with the ball, but turned the ball over and Texas Southern got a layup by Yahuza Rasas with one second left.
Tra'Michael Moton's 3-point attempt as time expired nearly went in as TSU escaped with the victory.
Cameron Christon, who fouled out with 3:34 remaining, led Grambling State with 14 points and one rebound.
Eric Parrish registered 13 points, four rebounds, two steals and one assist, while Chanse Robinson, playing in just his second game of the season, scored 10 of his 11 points in the first half, along with three boards and one assist.
• The GSU women went cold in the second half as they fell 59-49 at Southern on Saturday afternoon at the F.G. Clark Activity Center.
Grambling State (10-15 overall, 7-7 SWAC), which has now dropped three straight and was seeking its first regular-season sweep of Southern since the 2008-09 season, led 36-34 with 1:52 left in the third quarter.
But Southern (11-14, 9-5) outscored the Lady Tigers 25-13 over the final 11:52 to earn the win.