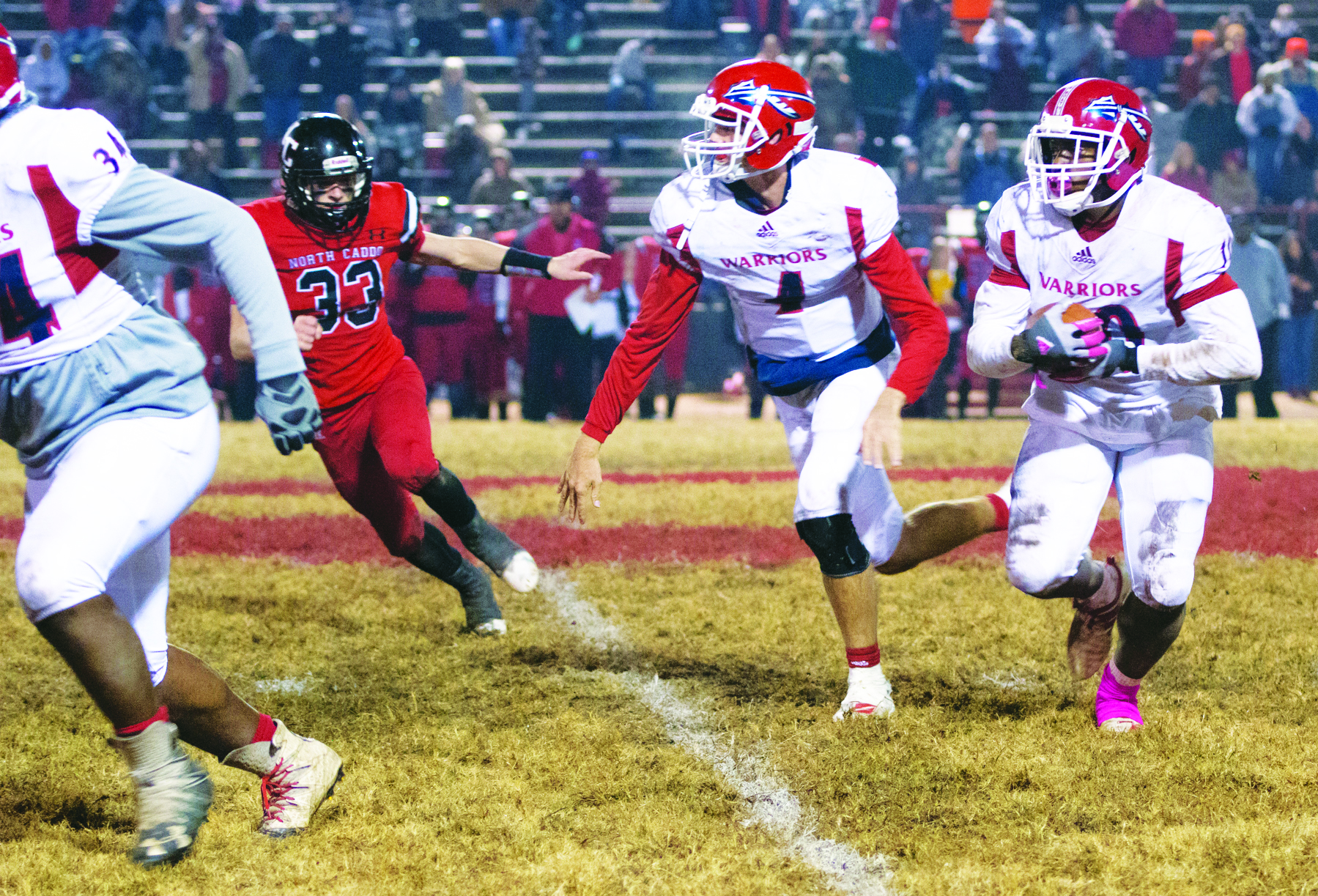 For the first time in Lakeside history, the football program will advance to the second round of the state playoffs after picking up their first ever win in dramatic fashion.
The Warriors beat #3 North Caddo 33-28 in Vivian on Friday night to turn around a season fraught with injuries and dissappointments into a legendary, historic playoff win.
"It was great, I won't downplay it," Lakeside coach Mike Santelices said. "It's probably a little better for the kids, but not by much."
Lakeside dominated the 3-seed for three quarters, leading 33-12 heading into the final six minutes.
"I expected us to play that way," Santelices said. "We finally played to our potential. I feel good about it, but I also know that we should have been at this level all season."
Heading into the game against North Caddo, Lakeside had won just two games all season against one of the toughest schedules in the state that featured bigger school after bigger school that left the Warriors hanging on all season.
But against North Caddo, first-year coach Santelices and his team finally broke through on both sides of the ball.
"Offensively we were ourselves," Santelices said. "Defensively we finally got to where we needed to be. We basically shut North Caddo down for the entire game before the last six minutes."
Quarterback Jordan Preuett once again led Lakeside offensively, doing it both with his feet and his arm.
Preuett finished the game with 102 yards rushing and one touchdown on the ground and 221 yards passing with two more touchdowns through the air.
Kris Stewart caught six passes for 105 yards and one touchdown. Bo Boley caught two passes for 89 yards and one TD.
Jocquez Lott was solid again on the ground for the Warriors with 80 yards on 16 carries for two touchdowns.
"This school and these kids have never won a playoff game. In that sense, it's great it's awesome," Santelices said. "To me, we're not satisfied. We've tasted the blood in the water and we want more.
We knew all year that we were pretty talented and pretty good, but we had a hard time believing that. Tonight was a great step toward believing in ourselves."
North Caddo scored twice in the final few minutes to make the score close and provide a thrilling ending, but Lakeside was the better team on Friday.
This is the second time the two teams have squared off, with North Caddo taking the first game in the regular season by 20 points.
"The fact that we were able to replay this team, we were able to fix some of the things that we missed in the first game," Santelices said. "We fixed our defense. Our guys got experience with some new things and schemes we'd put in, and across the board we were really close to where we think we need to be and we shut them down."
The Warriors are celebrating the huge upset, but they will shift the focus to the next game starting on Monday.
"We're so thankful for all of the support from our community," Santelices said. "There has been so much support and we're so grateful for that. But we're not satisfied with just one win. We're going to keep going."
Lakeside will travel to Baton Rouge on Friday for another tough road matchup against #19 Capitol (5-5), who bet #14 DeQuincy 40-35 on Friday.
"They're not a whole lot different than what we've seen all year," Santelices said. "They're very athletic. They have a great quarterback and athletic receivers. It's a good matchup, but we're not scared. We're looking forward to all of it."
*PHOTOS BY CHRISTINE LEE