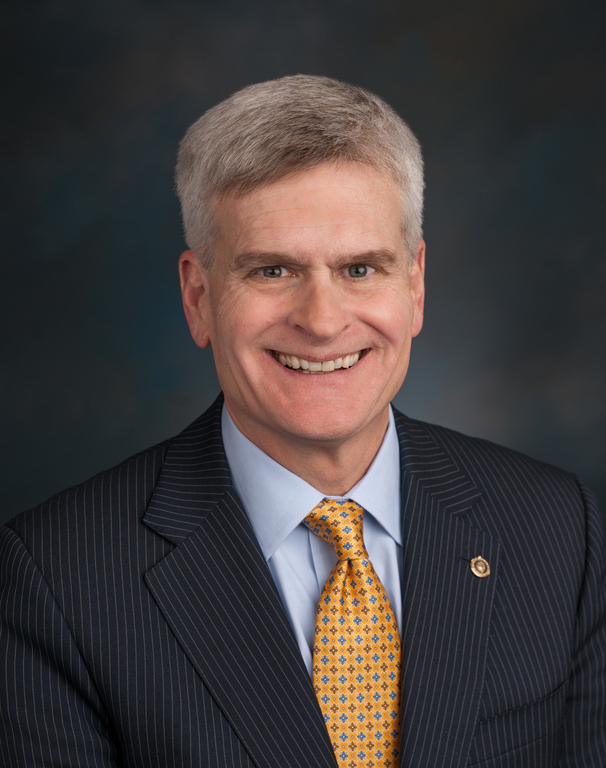 Louisiana Senator Bill Cassidy had a Zoom meeting with The Greater Minden Chamber in order to discuss legislation that could be impacting local businesses in the area. Sen. Cassidy provided insight into a variety of subjects affecting local citizens including the pandemic, the postal service, rural broadband, and more.
Starting the discussion, Cassidy addressed most people's main concern of 2020, the COVID-19 pandemic.
"Clearly the coronavirus is the main story. It's a public health crisis that has created an economic problem and an educational problem, so Congress has attempted to address that. Among the things we've already done is the CARES 1, 2, and 3 packages and 3.5," said Cassidy.
He further explained that the government had already made funds available for schools that needed to open up in order for them to purchase equipment and updates that would help them to curb potential spread of COVID-19 when schools go back into session in September.
"The school may need to retrofit, so that children can socially distance, and wash their hands by waving their hands in front of the sink as opposed to turning knobs, all the things that would help with infection control. There's money out there for that that has already been distributed, but there's more money yet," said Cassidy.
He also emphasized how much the state has received in order to fund testing for its citizens, affirming that it's a necessity in order for things to return to the way they were. He also stated that the money being given to the state by the federal government is going to be used sooner rather than later.
"Regarding testing, the state has received $192 million to test. I emphasize that because we've got to control the infection. A mother is not going to feel comfortable going on vacation with her family until she knows she can go and not get infected," said Cassidy.
"Speaking of both the President's team and the Governor and his team, I think we've all agreed that the money that has come to the state should be front loaded. Spend it between now and the end of the year, don't try to and make it last over two years, there'll be more money, there'll be a lot more money for testing, so let's front load as much as possible if we can makes folks comfortable that their children can go to school, or that the employee going to the nursing home is not infected, all these things that begin to unlock the economy, that's what that money for testing is for."
Sen. Cassidy also talked with the Chamber about the expansion of broadband internet to rural areas that don't have access. The internet has proven more important than ever during a pandemic where most are asked to stay home if at all possible. Cassidy further explained that this is a necessity not only for the pandemic, but ensuring that smaller communities can still access to the same opportunities that they would have had by moving to a bigger city.
"One of our challenges, which Minden has done better than most, is how do we continue to have families move to smaller communities where they can have the same opportunity in that smaller community as if they had moved to the larger," said Cassidy.
"We have to have rural broadband. One thing that is already available for some is grant programs through FCC and USDA that would do loan guarantees for telecom companies that would want to bring broadband to rural communities. We're trying to expand that. If we're able to get a CARES 4.0 there will be some more dollars exactly for that.
That being said, there's already money for it, but it does take some local leadership in order to get that deployed. Minden is a nice enough size community that could lower the cost basis for providing it."
When referencing some of the ways internet access helps provide services to communities who may have not had them otherwise, he explained the recent popularity of tele-health and tele-mental health, where doctors meet with their patients for appointments over a video call in order to make their diagnoses.
"Tele-health, that's allowed specialties to come into a community that formerly would maybe not be there. Tele-mental health, you have a teenager who needs counseling, maybe some medication prescribed. It's difficult to get an adolescent psychiatrist to move to any place but the bigger cities, but now with tele-mental health, she's able to come in and provide that care remotely, and we do think that's going to be important," said Cassidy.
"It's not just important or telehealth, but also for educational opportunities. If you want to have a physics teacher, or a Chinese or Russian professor, it may be difficult to have them move to a smaller community, but the professor is able to beam in through fiber optics, and the child can take physics just as if she could take it in Shreveport.
Ron Anderson from Cassidy's D.C. Office also mentioned that they are supportive of another round of PPP loans going out to small businesses.
"We are supportive of another round of PPP funding in particular to get the funding out to small businesses, so hopefully there will be another round of PPP funding. It'll be targeted towards smaller employers, 300 or less for the most part, even though that's still subject to final negotiations. You have to demonstrate a certain percentage of revenue losses," said Anderson.
Additionally, he mentioned that they were trying to get some flexibility with the PPP loans being able to allow nonprofits like the 501 (c) (6), of which the Greater Minden Chamber is one, to get access to the funding to the next round of PPP loans.
"501 (c) (6)'s and other margin nonprofit to hopefully participate in these small business programs. Obviously there are EDA grants that are available regions can apply for, and we're also looking at possibly getting more funding for state and local grants, in a larger package, but we're not sure whether that's going to come to push or not. But there are a lot of different areas that we're working on behind the scenes to try and get additional funding for folks," said Anderson.
Jana Morgan, President/CEO of the greater Minden Chamber, stated, "In order for us to continue to support local businesses and, keep promoting the things that keep continuing to fall in our laps, and giving them all the information that they may not find elsewhere, the PPP funding is just as crucial to our businesses as well as those with 300+ employers. I strongly thank you and encourage you to keep pushing that forward, not just for hambers that are 501c6's but other non-profits that fall in that category as well."
Chairman of the Greater Minden Chamber David Specht posed a question to Cassidy regarding the state's dwindling unemployment trust fund that continues to be drained due to a higher than normal amount of people claiming benefits due to the pandemic and economic hardships it brought with it. The concern is that when the fund runs out, small businesses are going to be the ones footing the bill with an increase to their taxes being made to offset the rising costs.
"Gov. John Bel Edwards has requested help from the federal government to shore up our state's unemployment trust fund. If that fund falls below a certain number, they can enact higher unemployment taxes to businesses all across Louisiana. And while we know that there is not an unending stream of money… That is a real concern for a lot of small businesses that are barely getting by. I don't think they could take another hit on their taxes if there's not some help from the state of Louisiana," said Specht.
In response, Cassidy stated, "One of the unintended consequences of providing 600 bucks a week is a lot of people filed for unemployment. And since the state has to pay their share, that drew down the states unemployment fund. Everybody thinks it's just free money from the federal government, but it actually comes back to bite the small businesses because they're the ones who fund this unemployment fund."
"The federal government already has a program whereby if a states unemployment program is running short, they can borrow from the federal government to make up their share."
"One nice thing about Democrats not agreeing to work with us on unemployment insurance, the president just made the decision to use dollars that were available to extend a $300 a week benefit. The advantage of this is that it's less generous, hopefully still supports people who need it, but some folks who can go back to work because there's a job available appear to be returning to work. All I'm doing is repeating what I'm hearing from employers," said Cassidy.
Adding to the response, Anderson clarified, "FEMA went ahead and released 375 million dollars to the state of Louisiana as of today that will allow them to get out the $300 unemployed benefits retroactive to August 1st, so that funding should be out there.
Now that funding is only going to probably last 3-4 weeks. The FEMA dollars are not going to be unending, because once the money in the FEMA disaster drops down to 25 billion, then the spending is capped.
So there is going to be a likelihood of Congress extending the unemployment compensation benefits program, but at a lower level maybe at the $300 level, in the next COVID 19 package, which we hope will get done sometime in September, even though we expect that any package that will be done will be much narrower in scope than originally envisioned."
Affirming that the number of people going back to work was improving, Jacques Lassaigne, of the Louisiana Workforce Commission said, "We get a report every Friday of how the claims are doing. The week before, we had a drop of 44,906 claims. So, what people are mentioning, about the extra bonus from the federal government running out and the 300 is not quite in yet, some people obviously decided to go back to work, so that's a large chunk that left the unemployment rows in Louisiana two weeks ago.
"I have companies calling me every week begging for applicants, and so this is a little sign that maybe some are deciding to go back to work, which would be good."