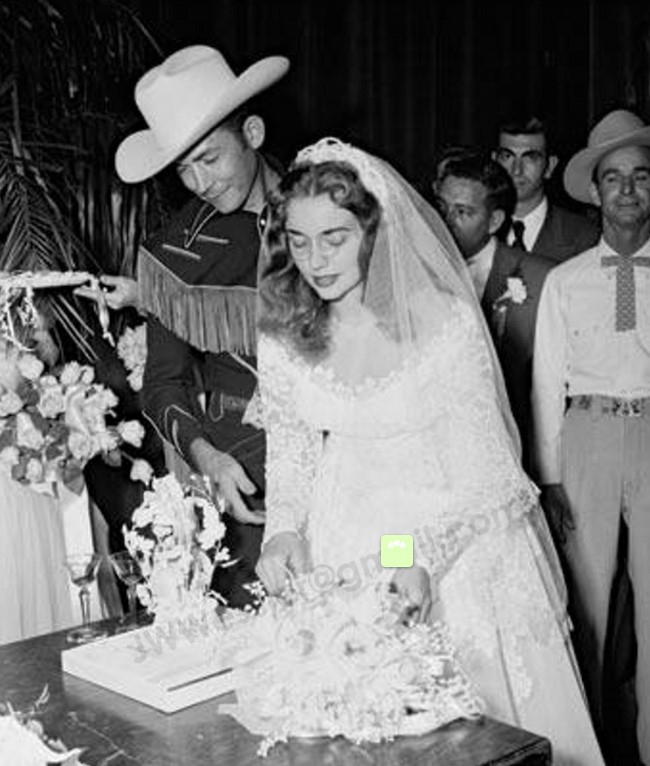 Written by Johnny Wessler
There's a lot to be proud of in Minden, Louisiana.  In addition to the attractions in Minden and the surrounding area, Minden has played a significant role in the careers and personal lives of some of America's most revered singers, songwriters and musicians.   I've been asked to share a few stories.  I hope you like them.

One of the most interesting stories is how Minden became the place where Hank Williams and Billie Jean Jones Eshliman were first married.  Minden Justice of the Peace, P. E. Burton officiated the late-night ceremony on Saturday, October 18, 1952 after Hank had performed his set on The Louisiana Hayride.
Hank and Billie Jean were already planning to be married the following day during two sold-out shows in the New Orleans Municipal Auditorium. They were afraid Hank's first wife, Audrey, was going to show up, cause a scene and contest the marriage.

They had reason to fear. Audrey had flown into Shreveport airport on Friday and she got into a fist fight with Hank over Billie Jean. You can see the bruises on Hank's head in their wedding photos. She also threatened to keep Hank from his son if he went through with the marriage.

It's easy to see why Hank was crazy about Billie Jean. She was considered to be one of the most beautiful women in the world. She was only 19 years old (Hank was 29). Merle Kilgore said she was so beautiful that cars would crash into each other when she walked down the street!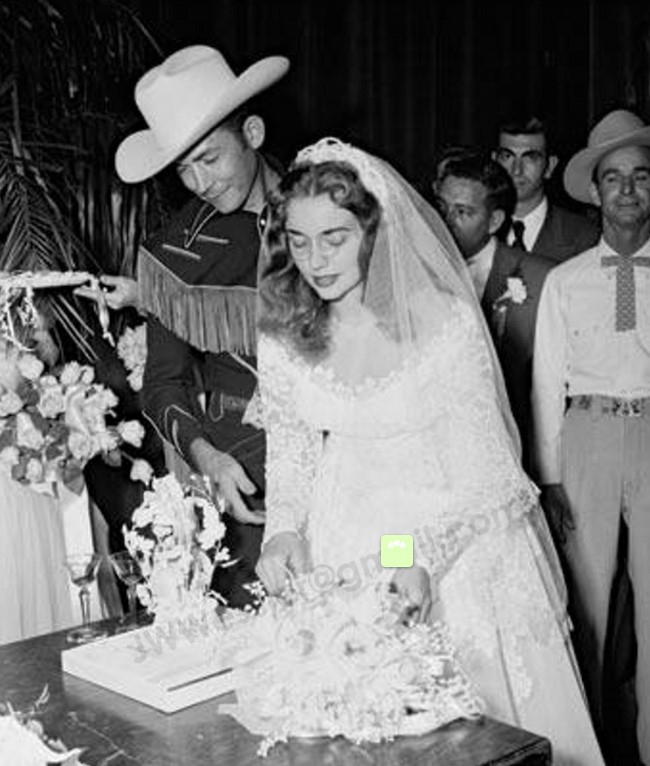 In order to make sure Audrey couldn't derail the marriage, Paul Howard, a friend and fellow performer on the Louisiana Hayride, arranged to have a wedding in Minden that night.  
Paul Howard, Hank, Billie Jean and her two brothers left Shreveport's Municipal Auditorium right after Hank's performance.  When Hank got into the car, he sat on Billie Jean's make-up case and sported a conspicuous blotch of rouge and blush on the backside of his white suit for the rest of the night.
Later that evening, while headed back on a dark Highway 80, they had a flat tire.  An airman happened along and offered to give them a lift back to Shreveport.  They left the car and all piled into the airman's car.  I can only imagine the story the airman told his kids and grandkids… "There I was, minding my own business, driving through Minden around midnight when I saw this group of people standing next to a broken-down car.  This gorgeous woman caught my eye.  Then I see this skinny guy in a white suit with the biggest stain on his backside I'd ever seen.  Would you believe it?  It turned out to be The Hillbilly Shakespeare, Hank Williams!"

Hank invited the airman to come to the house for a few drinks, but Paul Howard intervened telling Hank that wasn't a good idea since it was his wedding night.  It was probably a good idea knowing they had to drive to New Orleans for two weddings the following day.
Hank died a few months later leaving Billie Jean a widow.  Billie Jean became a performer and found success with "Ocean of Tears" which made the Billboard top twenty list.  Billie Jean married Johnny Horton a year after Hank passed away and is known as Billie Jean Horton.  As of this writing, she is still living and resides in Shreveport.
There have been a lot of documentaries and movies about Hank Williams. It was no surprise that Minden was used in some of the scenes for "I Saw the Light," released in 2015, 63 years after his death. "I Saw the Light" is also the title of one of Hank's most iconic songs.
Even today, Hank has fans all over the world.  His songs about love and pain are an indelible part of our music culture.  So, the next time someone finds out you're from Minden, ask them if they know that Minden is where Hank Williams married Billie Jean.   

Johnny Wessler offers historic music tours and presentations. For more information contact him at johnny.wessler@gmail.com or 318-393-3274.