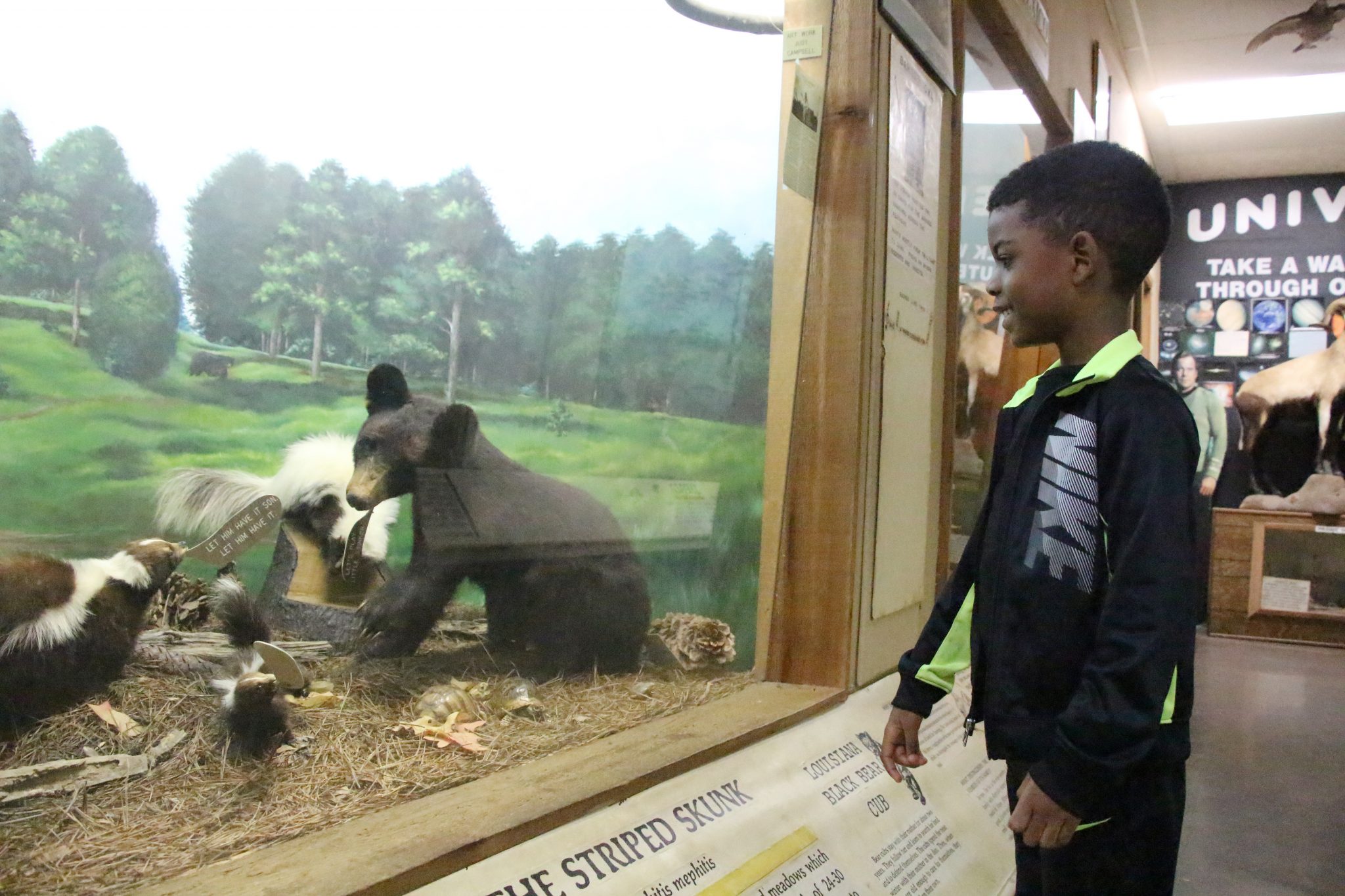 HAUGHTON — One of Bossier Parish's hidden gems is running out of time.
The Touchstone Wildlife & Art Museum has been a roadside attraction for more than three decades in Haughton.
Opened in 1981 by the Touchstone family, the museum has two floors packed, floor to ceiling, with taxidermy displays, showcasing animals from all over the world.
Business has slowly declined to where current owner Lura Touchstone said the museum is barely keeping its doors open.
"We're just barely making it," Lura said. "We used to get a lot of school groups, but we don't get many anymore. I'm not sure why. We need people to come in to keep the lights on."
Lura said the museum was something her husband, Sam, always wanted for their community.
"He had a little museum set up in his taxidermy business, but nothing of this scale," Lura said. "He had always dreamed of having a large museum and we needed one in this area."
Sadly, Sam passed away in 2002. Lura and their daughter, Samantha Olson, are now in charge of doing everything he once did.
"He was quite a people person," Lura said. "He would walk around with people and talk to them about the animals."
The Touchstone Wildlife & Art Museum initially opened with only a few displays. They kept mounting animals and setting up new displays as the days and weeks passed. Today, there are hundreds of animals to see, including a family of full-size zebras and a rare snow leopard, just to name a few. They even have giraffes and an eland, the world's largest antelope.
"They were too big to come in the door," Samantha said. "We had to bring them inside in sections, piece them together and then do the taxidermy inside the case. They had three or four people working on them at one time."
The display backgrounds are each hand-painted by local artists in order to show the animals in their natural habitat. Sam and Lura also put a lot of thought into how each animal is positioned inside its display.
"We didn't want them just standing there," Lura explained. "We tried to have them interacting and showing some kind of action. They look a lot more lifelike (that way)."
Not much has changed in the years since Sam passed away. They've added new displays, including a memorial for Sam, and have plans to add more displays in the future.
"We don't have a cheetah. I'd like to have one of those," Lura said. "[Sam] always wanted a big alligator, too."
Walking through the museum brings back a whirlwind of memories and emotions. Many hours were spent piecing together animals by hand. Lura admits it's hard to pick a favorite.
"There' a great sense of accomplishment when you finish a piece and add it to a display," she said.
George and Gloetta Williams of Magnolia, Ark. recently made a trip to the museum with their five-year-old grandson, Nathan. It was as though they were taking a stroll down memory lane.
"We used to bring our children here on our way to Shreveport," Gloetta said. "We've been to zoos and different things, but [Nathan] asked to go to a museum. This was the perfect place for us to come. We can see the animals up close and for as long as we want."
Those are the comments Lura loves to hear. She particularly enjoys seeing people come in and feeling their excitement as they look around.
"This gives people something to do around here," she said. "They can come in and see us any time."
The museum is also home to an extensive collection of Native American artifacts historical displays featuring war relics and a section on the notorious outlaws Bonnie and Clyde.
"It's a wonderful, educational experience," Samantha said.
The Touchstone Wildlife & Art Museum is located 2.2 miles east of Harrah's Louisiana Downs on Highway 80.
Seasonal hours are February – September, 10 a.m. to 4:30 p.m. Tuesday through Saturday; and October – January, 10 a.m. to 4:30 p.m. Thursday through Saturday.
Admission is $5. Children age three and under are admitted free with a paid adult ticket. Group reservations are available for schools, scout groups, church groups, etc.
For more information or to reserve a group trip, call 318-949-2323. You can also visit their website at www.touchstonemuseum.com or their Facebook page.