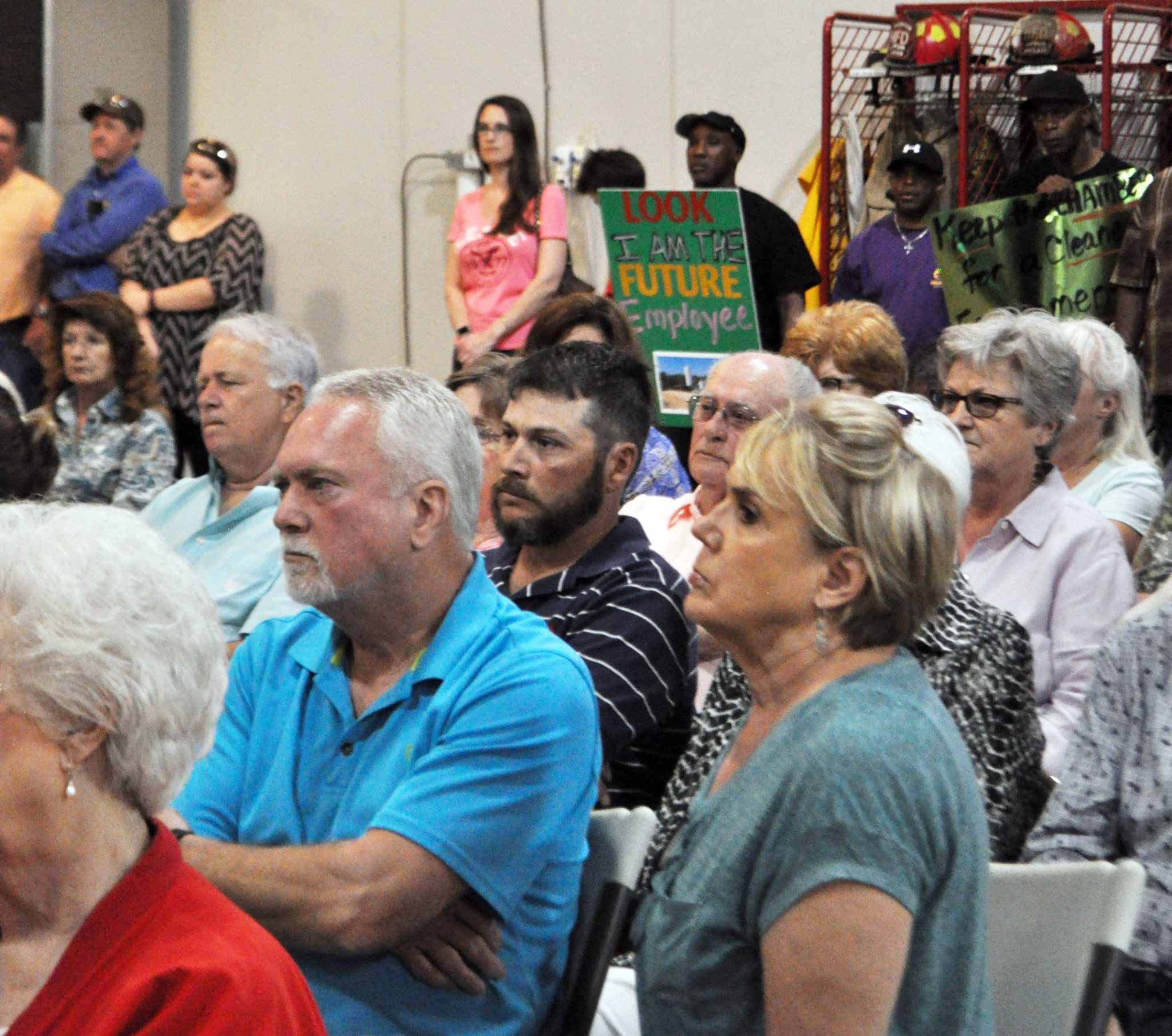 HAUGHTON – Residents from Haughton and Bossier Parish heard more about the contained burn chamber at Camp Minden Tuesday and were given an opportunity to decide for themselves whether it should stay once the destruction of the M6 is complete.
Following a meeting at the Haughton Fire Department, Haughton Mayor Jack Hicks, who's been in office since Jan. 1, said he has his own opinion about the chamber, but more important, it's what the people want.
"That's why we had this meeting, to inform the people and get everyone educated on it," he said. "Personally, I have no problem with it, but it's what the people want. There were a lot of good questions and answers tonight."
Many concerns and questions brought out Tuesday were the same concerns Webster citizens have had – property values, proximity to schools and homes and health risks.
Bossier Parish Superintendent of Schools Scott Smith said his concerns were for the students in and around the area as well as the evacuation plan that would have to be put in place for Haughton students. Not to mention the cost of that, he said.
"If we have to have busses in the area, if we have to have an evacuation procedure in place, if we have to move our students out in a very expedient fashion, this will cost money," he said. "If there is the smallest chance that something tragic could occur, then we will have to implement procedures."
Dr. Eddie Moore, a Haughton veterinarian who led the meeting, applauded Explosive Service International, the contractor tasked with ridding Camp Minden of the improperly stored M6, calling them a top notch company, but he just doesn't want the chamber near Haughton due to the proximity to the new Haughton Middle School and surrounding homes.
Others shared concerns about transporting munitions into Camp Minden.
Dean Schellhase, ESI project manager, spent a great deal of time addressing reports about several different topics, including the process by which they will have to go through before and after they destroy waste other than M6. He also talked about the permitting process, what they must show and when and who will hold them accountable.
There was also a question about what types of materials they would take in once the M6 project is complete.
"We're not planning on burning anything that we can't test on stack emissions," he said. "In our regulations our permit would dictate that. When we list out all the materials we think we want to put through this chamber, every one of those has what can be generated off of them. When we look at what can be generated off of them, we have to prove it again and do a comprehensive performance test."
Schellhase made it clear they would not – and would put it in writing – take in any medical waste.
"It's regulated by a permit, and you have to list everything that you would ever want to put in there," he said. "You have to demonstrate that you can perform and meet all the emission quality with all those materials that you list. You can't put anything that you feel like into this system."
Any waste material brought into Camp Minden will not be done by rail, he said.
"It would come in by tractor trailers and semis, off Interstate 20 on Goodwill Road and come in through the freight gate at Camp Minden," he said. "It would be placard as explosive, just like anything else that comes and goes through Camp Minden for these other contractors."
Another issue brought up during the meeting was the negative readings on the emissions. Schellhase explained the negative results are due to calibration. He said the results are plus or minus 3 percent of the actual result.
"When you see a negative value, and we're operating at a zero, sometimes it's in calibration and it's so far below zero that it comes out as a negative number," he said. "The accuracy of the meter is its limitation."
While many questions were answered, some said ESI could not guarantee human safety 100 percent due to human error. Others just want the company to honor its contract.
Melissa Downer, a Minden resident, said she was resolved to see the chamber dismantled, as the contract states it must be.
"Follow through with the contract," she said. "Y'all signed the agreement. It should be honored. We brought you here because we knew you were the best. We knew you would take care of (M6) in a safe way. We thank you and applaud you for what you've done for us. But it was temporary, and that was in the contract."
To date, 14.7 million pounds, or 92 percent, of the M6 has been destroyed.