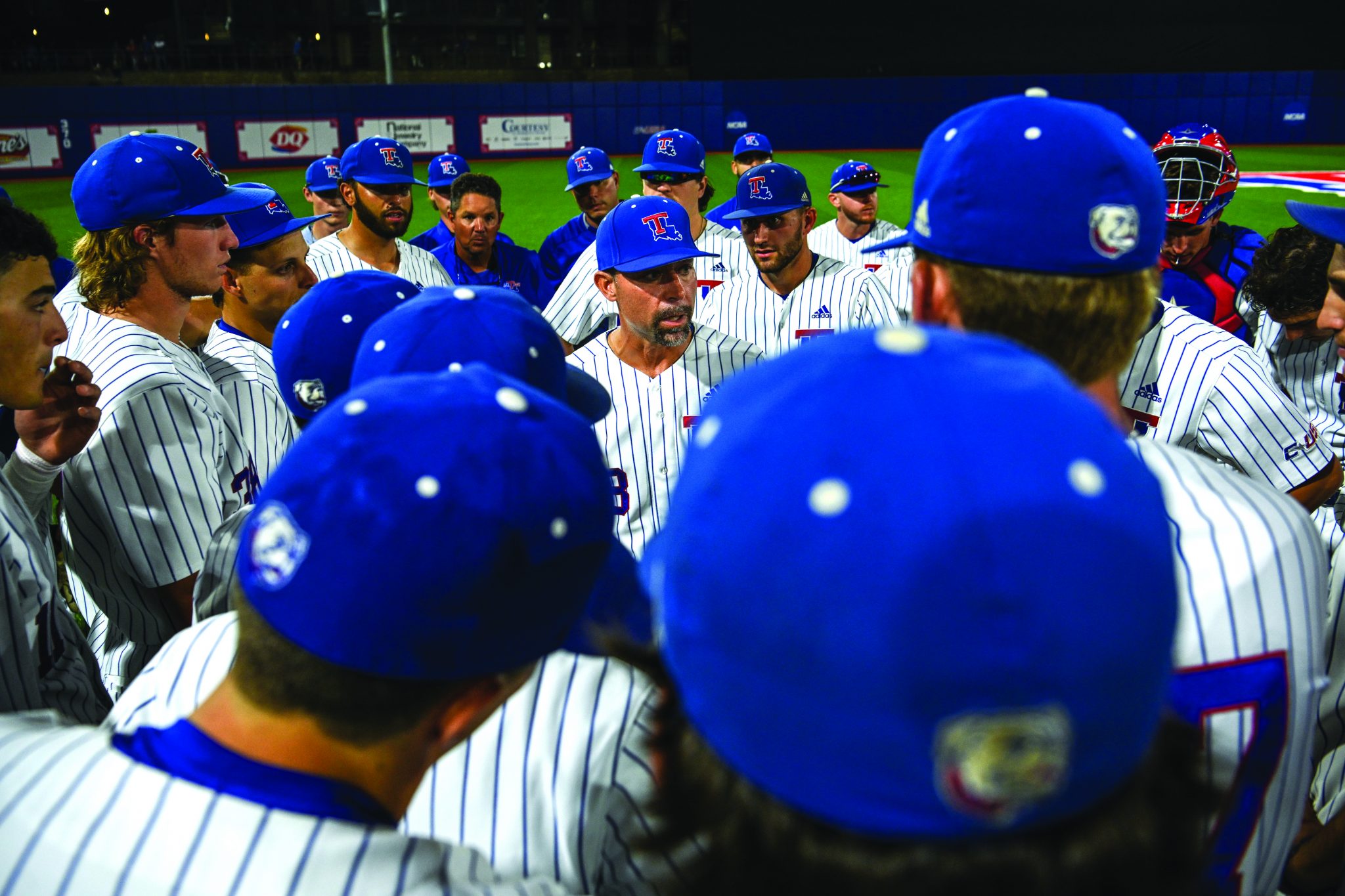 Burroughs, Wells highlight list of Bulldogs honored by LSWA
Special to the Minden Press-Herald
RUSTON, La. – Louisiana Tech head coach Lane Burroughs was named the Louisiana Sports Writers Association's Baseball Coach of the Year, as announced by the organization on Tuesday morning.
Along with their skipper, third baseman Hunter Wells was named the LSWA's Hitter of the Year to headline a list of six Diamond Dogs to earn LSWA honors. Wells, centerfielder Parker Bates, second baseman Taylor Young and starting pitcher Jonathan Fincher all earned First Team All-Louisiana honors after standout seasons. All four Bulldogs have also already notched All-America accolades after helping lead the Bulldogs to a 42-20 record in 2021.
Outfielder Steele Netterville and utility man Manny Garcia earned Second Team All-Louisiana honors to join the quartet of first-team honorees.
Burroughs, who signed a contract extension through the 2025-26 season earlier this month, led the Bulldogs to their sixth 40-win season in program history in 2021. The Bulldogs not only competed in their first C-USA Championship game this past season, but they also hosted an NCAA Regional for the first time in program history.
Under Burroughs tutelage, LA Tech recorded an 11-4 record against in-state opponents in 2021, recording sweeps over Southern, McNeese State, Tulane and ULM. Burroughs also guided LA Tech to its first division title since 1992 by winning the Conference USA's Western Division title on the final day of the C-USA season.
Wells, who earned his fourth All-America honor on Monday, ranks second in the nation with 101 hits and sixth in the country with 70 runs scored. The Katy, Texas native set four program records as a senior, including the all-time hits record and all-time triples record. Wells also led Conference USA with a .385 batting average and 169 total bases, which is a new LA Tech program record for total bases in a single season.
Bates, a Third Team ABCA/Rawlings All-American, led the C-USA in on-base percentage (.471) while also leading the Bulldogs in RBI (62), triples (four) and HBPs (14). The Tyler, Texas native led the C-USA with a .406 batting average and a .523 on-base percentage in conference play. The senior outfielder did not commit an error over his final 79 games as a Bulldog.
Young, the Division I ABCA/Rawlings Gold Glove Award winner at second base, sported an incredible .993 fielding percentage at second base in 2021. The defensive standout did not commit an error until his 55th game of the season, finishing the season with just two fielding errors on 268 defensive chances. He also ranks first in the nation with 83 runs scored with just a few games left to play in the college baseball season.
Fincher, a First Team All-Conference USA honoree and Dick Howser Award Semifinalist, led the Bulldog pitching staff in strikeouts (85), innings pitched (100.1) and the lowest opposing batting average against him (.219). The Shreveport, Louisiana native posted two complete-game shutouts in 2021, including a one-hit shutout at Tulane where he allowed just two baserunners in a Friday night start. The Shreveport native logged nine straight quality starts from March 5 to April 30.
Netterville, a Conference USA All-Tournament Team honoree, ranked second on the Bulldog roster with 12 home runs despite missing 10 games due to injury. He also ranked third on the team with 57 RBI and fourth on the team with 14 doubles and 45 runs scored. The fellow Shreveport native logged 17 multi-hit games and 15 multi-RBI games in 2021, including a three-double performance in a win at Tulane on March 21.
Garcia, a First Team All-Conference USA honoree at the utility spot, stepped up for the Bulldogs in clutch moments throughout 2021. The Caguas, Puerto Rico native capped off a 4-for-4 day at the plate with a two-out, two-run walk-off home run in the bottom of the seventh inning to secure a regular season series victory against Southern Miss. Garcia finished his senior season with 20 doubles, which tied for first on the team.
LSWA HONORS
Hitter of the Year – Hunter Wells, Louisiana Tech
Pitcher of the Year – Landon Marceaux, LSU
Freshman of the Year – Dylan Crews, LSU
Newcomer of the Year – Drake Osborn, UL-Lafayette
Coach of the Year – Lane Burroughs, Louisiana Tech
FIRST-TEAM ALL-LOUISIANA
P – Connor Cooke, UL-Lafayette
P – Will Dion, McNeese
P – Jonathan Fincher, Louisiana Tech
P – Landon Marceaux, LSU
C – Bennett Lee, Tulane
1B – Tre' Morgan, LSU
2B – Taylor Young, Louisiana Tech
SS – Collin Burns, Tulane
3B – Hunter Wells, Louisiana Tech
OF – Parker Bates, Louisiana Tech
OF – Dylan Crews, LSU
OF – Clayton Rasbeary, McNeese
DH – Jarrett McDonald, LSU-Eunice
UT – Brayden Jobert, Delgado CC
SECOND TEAM
P – Jerry Couch, LSU-Eunice
P – Keagan Gillies, Tulane
P – Ma'Khail Hilliard, LSU
P – Joe Taylor, Nicholls
P – Will Warren, Southeastern Louisiana
(*) – Tie for second-team; five pitchers are included
C – Drake Osborn, UL-Lafayette
1B – Andrew Mills, Bossier Parish CC
2B – Jack Merrifield, LSU-Eunice
SS – Jordan Ardoin, LSU-Alexandria
3B – Cade Doughty, LSU
OF – Gavin Dugas, LSU
OF – Pearce Howard, New Orleans
OF – Steele Netterville, Louisiana Tech
DH – Ben Fitzgerald, UL-Lafayette
UT – Manny Garcia, Louisiana Tech
HONORABLE MENTION
P – Brennan Stuprich, Southeastern Louisiana
1B – Michael Calamari, Loyola
2B – Nate Fisbeck, McNeese
2B – Payton Alexander, Loyola
OF – Kody Kolb, LSU-Shreveport
OF – William Veillon, Baton Rouge CC
DH – Taylor Fajardo, LSU-Shreveport
UT – Preston Ludwick, Centenary College