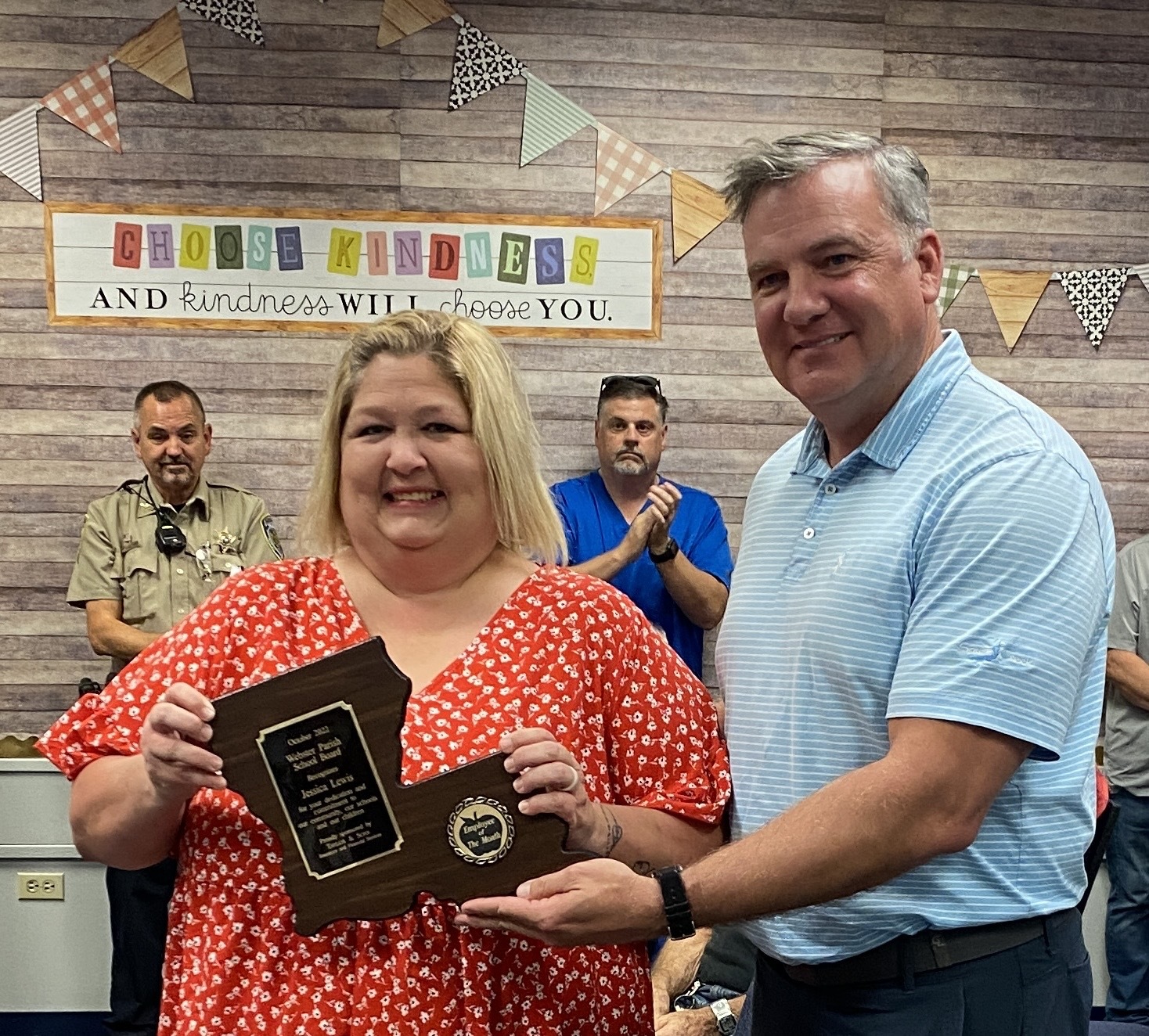 At the October meeting of the Webster Parish school board, Jessica Lewis was named the Employee of the Month.
Lewis works at Doyline High School as a special education teacher. Special Education Coordinator Jill Hunter wrote a glowing recommendation for the award, which was presented by Scott Walker of Taylor and Sons.
Ms. Hunter stated in her letter:
"I would like to nominate Jessica Lewis, special education teacher at Doyline High School, for the Webster Parish school board Employee of the Month. I've known Ms. Lewis for over ten years, having been a fellow special education teacher with her at a school in a previous district. What has always been evident about Ms. Lewis is that she is all about doing what is best for students, no matter what their needs may be. If Ms. Lewis has a vision or an idea of something she wants to incorporate in her classroom, she does not hesitate to make it happen. Joining the DHS team in November of 2020, Ms. Lewis immediately saw areas where she could make a difference. With approval from administrators, she started the garden club, giving students and staff opportunities to create the beautiful flower beds you see as you enter the front of the school as well as the raised beds in the garden in the courtyard. Her vision of developing a calm, reflective space for students and staff came to life with the addition of picnic tables in the courtyard that were built by DHS students. This school year Ms. Lewis and her team opened up the Panther Coffee House. This on-campus business provides opportunities for students with disabilities to apply their pre-vocational skills as well as communication and social skills to real-world work situations. The first time I visited the coffee shop I was greeted by a student who previously would not say 'hello' to me or even look in my general direction without heavy prompting. This student confidently told me about his job and explained every step of the coffee making process to me. He and his classmates were aware of their duties and worked with such pride as they completed orders made by staff and students for the morning. Through the Panther Coffee House, students with significant disabilities are thriving — growing job skills and independent living skills that they will need after high school in both the workplace and in the home. Ms. Lewis deserves to be recognized for always searching for ways to improve outcomes for students. When she tells you she is going to do something or has something in the works, you can rest assured that it won't be long before that idea or dream is a reality. Her leadership skills, persistency, and advocacy for students make her a true asset to Webster Parish schools."
The next school board meeting will be held on November 7, 2022, at 6 p.m. The public is welcome to attend.