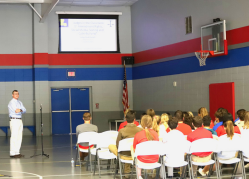 Judge Sherb Sentell recently visited Glenbrook School to teach information about 1st Amendment Rights as part of the Judges in the Classroom program.
Judges in the Classroom was started twenty years ago by Judge Benjamin Jones as an outreach program with the goal of assisting teachers in educating students about government and the court system. Judges visit schools to teach lessons or classes come to the courthouse to see the process in action.
As part of the program, students study the U.S. Constitution and the Declaration of Independence as well as the branches of government and how they interact. They also learn about Louisiana's Constitution and our state's judicial system. Students can participate in mock trials to get some hands-on experience in how the system works.
"It's very interesting that children as young as 4th grade can understand most of these concepts fairly well, and they can ask some very interesting and surprisingly deep questions," said Judge Jones about the program.
When Judge Sentell visited Glenbrook, he used "Crime, Consequences and the Power of Choice" by Louisiana Supreme Court Justice Scott J. Crichton as the premise for how social media, cyberbullying, and sexting relate to our 1st Amendment rights concerning free speech.
"Judge Sentell's presentation was sensational," said Dr. Naomi Coyle, Assistant Headmaster in Charge of Instruction for Glenbrook School. "The students not only enjoyed his presentation but also learned a lot."
Chief Justice John Weimer feels like this program is incredibly important. In an email to all Louisiana judges he stated, "I suggest that more time spent in classrooms, demystifing for inquisitive young minds how cases are decided, might result in less time spent in the courtrooms, to the benefit of all society."
For more information about this program, you can contact the Louisiana Center for Law and Civic Education at lalce.org.