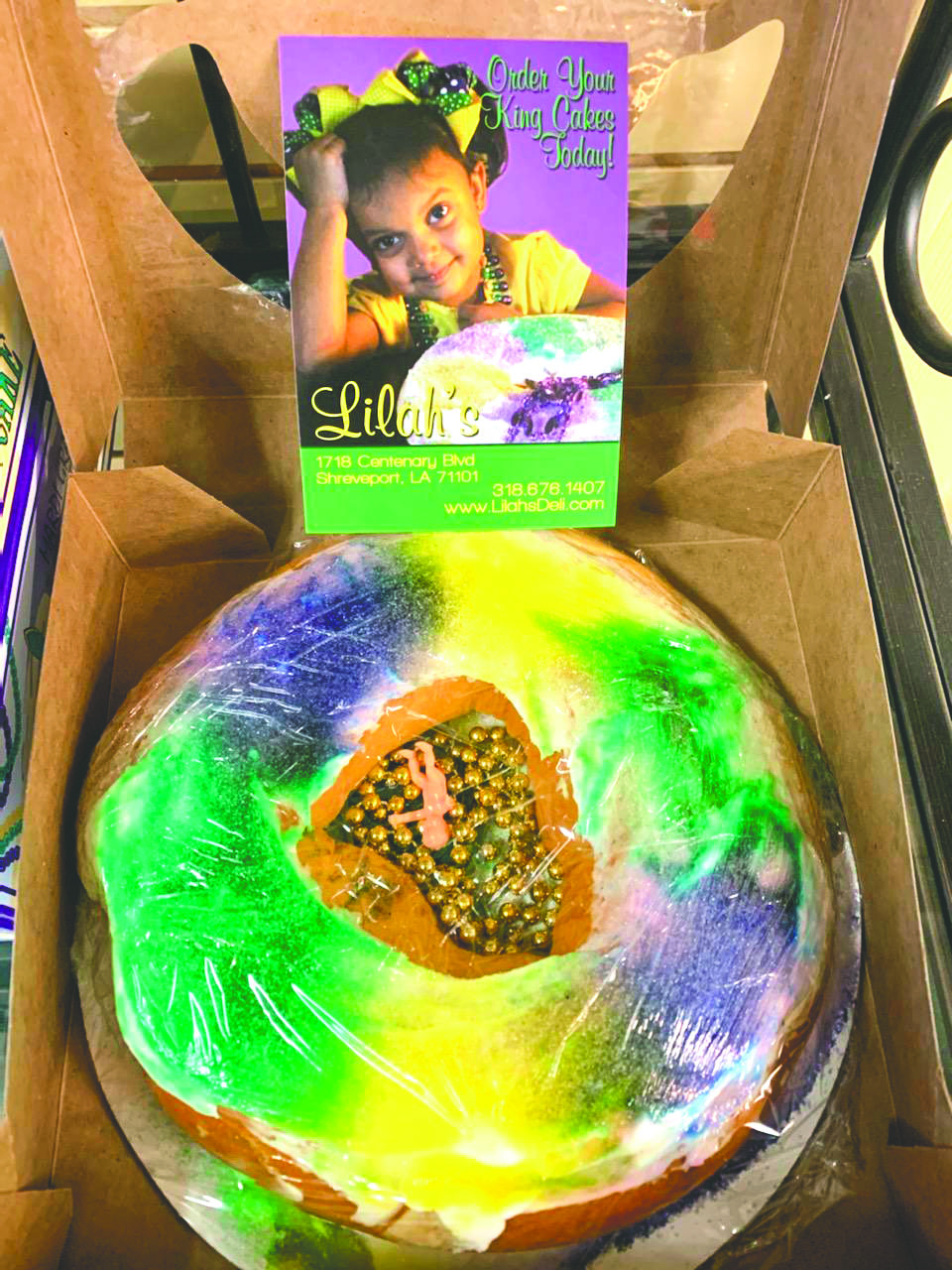 The tradition of the King cake is about 300 years old and began in France. King cakes are a celebratory sweet that honors the three kings who visited Jesus. The original cake was made with a french bread dough with a bean hidden inside. Today we hide a baby.
The person who finds the baby is usually designated to host the next king cake party. King cakes can come in a variety of shapes, sizes, and flavors but they all are made for a little taste celebration.
For those taking part in the festivities, many local Minden businesses are selling a wide variety of different King Cake brands and flavors, meaning everyone should be able to find something that fits their fancy.
Merle Norman is selling king cakes from Lilah's bakery of Shreveport. Lilah's offers 29 different flavors, uses danish dough, and are baked in the classic ring shape. "They're just amazing, I don't know how else to put it," said Stacy Jones, owner of Merle Norman in Minden.
She typically keeps in stock cream cheese, cinnamon and cream cheese, praline and cream, and strawberries and cream, but if people want to try Lilah's more unique flavors, they can simply ask Stones and she'll have one special ordered.
Ace Hardware joined the king cake game last year when they started providing King Cakes from Lowder, a bakery owned by a couple in Shreveport. They're currently offering regular sized king cakes and mini ones as well, in the flavors of cream cheese, strawberry, praline, blueberry, and traditional chocolate chip, and nutella.
Minden Floral has also hopped into the King Cake Market, selling Tubbs Extreme King Cakes."We're selling the Tubbs brand of King Cake. He got to the point where he was selling more than they could produce, so he now produces his own King Cakes and has several retailers selling them here in Minden," said Paul Brantly of Minden Floral.
The flavors they are offering are cinnamon, cream cheese, strawberry & cream cheese, blueberry & cream cheese, and praline.
Red Blooms is selling king cakes from the World Famous Gambino's Bakery. They are offering pecan praline, pecan praline & cream cheese, strawberry cream cheese, and chocolate. Hugh Wood Catering is also selling king cakes from Gambino's, offering traditional, cream cheese, praline, and strawberry flavors.
Geaux Fresh offers a fresh twist on the Mardi Gras favorite with their low-carb, sugar-free, and gluten-free king cake bars for the health-conscious reveler. The base of the bar is made with almond flour and it has less than 10.12 carbs. There are also traditional king cake bars made with sugar.
Jodie Martin, owner of Geaux Fresh has also developed a king cake cheesecake. It has a cinnamon bread crust base. Martin has changed her original cheesecake recipe to mirror a sturdy Bavarian cream which is often used in king cakes.
Super Donuts is also trying their hand at making King Cakes, made fresh every day in their store. "This is our first year trying it out. I've tried several samples from places to try and get close to that flavor. And what it is is cinnamon, cream cheese, and dough made fresh every day," said William Khu of Super Donuts, "We tried selling it today(Wednesday) for the first day and we sold out, and we're having pre-orders for Friday and Thursday."
Khu nailed down the recipe for the King Cakes he's making by giving out samples and getting community feedback. "I've been getting good feedback, telling me what I need to add and what I need to take out, so I'm trying to make it as good as I can," said Khu.
If you're grabbing coffee, The Broken Bean offers a king cake latte with a vanilla bean base, hazelnut flavoring and caramel with cinnamon sprinkles. The cafe also offers king cakes by the slice to have with some morning joe or full king cakes through provided through a local distributor.
As one can see, there are plenty of places for the citizens of Minden to get the King Cake they desire, so there are no excuses for those who found the babies in the cakes last year to not fulfill their end of the bargain.