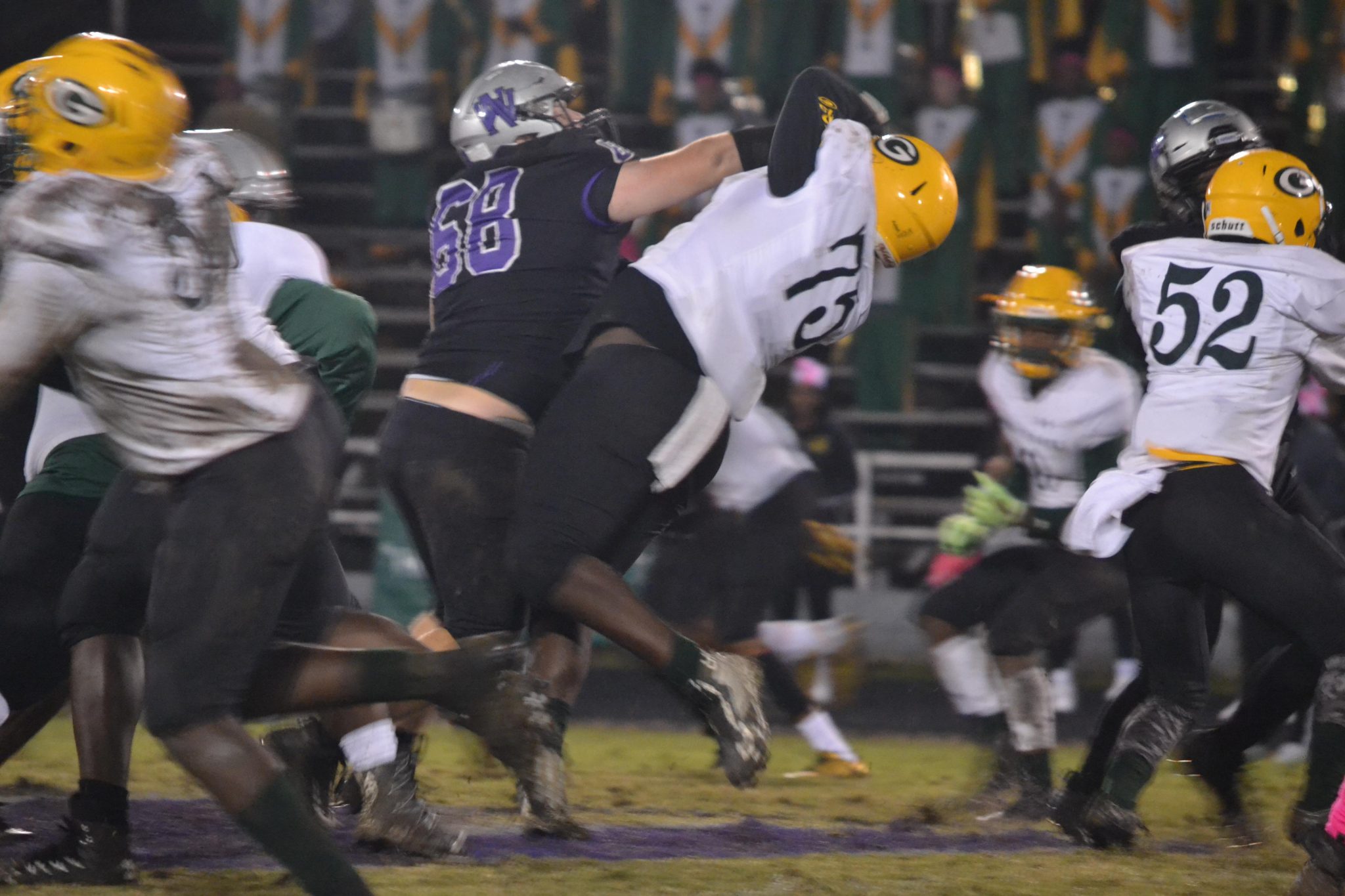 North Webster are district champions after beating Green Oaks 37-35 Friday night in Springhill.
"First of all, our special teams won that game," North Webster head coach John Ware said. "We were put in great field positions all night. We didn't start one drive on the wrong side of the field all night."
The Knights will have at least a share of the district title with the win. North Webster needs to win against Loyola on Friday to win the title outright.
"We will be in the top ten in the state power ratings if we win," Ware said.
The Giants staged a late comeback, but North Webster held on for victory after a wild game.
North Webster was up 37-21 with seven minutes left in the game when Green Oaks started to get back into  it.
"They got the ball and made so many big plays," Ware said. "We got the ball and drove a little but ended up having to punt. They came down and scored another touchdown to make it 37-35. They didn't get the two-point conversion, though."
The game wasn't over yet. With thirty seconds left in the fourth quarter, Green Oaks lined up for an onside kick and recovered it.
The Knights held on and deflected a hail mary pass to end the game and take the win.
"They scored 21 points in the first quarter," Ware said. "We changed a few things up to stop them. We started the game out in zone but had to switch to more man coverage."
Ware said the switch was part of the game plan.
"We felt comfortable with our defensive line being able to stop the run," Ware said. "They scored 35 points, but in a funny way, our defensive line was able to stop the run and that allowed us to cover up on the back end a little better."
The Knights' defensive line has been a huge strength all season.
North Webster's secondary has been depleted with injuries, which is a concern. Green Oaks, just like Logansport earlier this season, found success in the air all night. Against Loyola next week, the Knights will have to find a way to stop the pass if they want the district title.
"Green Oaks threw the ball 45 times against us," Ware said. "About seven of those were just jump balls. Fade passes that are one-on-one with the receiver and the defensive back. We can't do much about those, even when our guys are in good position.
"I feel better about defending the pass than I did earlier in the season, but it's just something we have to keep improving."
Lorenzo Johnson led the Knights running the ball with 72 yards on 16 carries.
Quarterback Tyrell Markray had another steady game under center.
Markray was 9-of-19 passing for 128 yards and two touchdowns. The senior quarterback also ran for 40 yards on nine attempts.
One crucial player for the Knights who may go under the radar is Jordan Nelson, who kicks and punts for North Webster.
"I try to play field position," Ware said. "Jordan Nelson does such a great job kicking and punting for us. All year long we can back teams up and play the game that way. We've come out good on that all year and against Green Oaks was no exception."
Scottie Johnson had another impact night for the Knights on both sides of the ball. Johnson ran for 24 yards out of the wildcat and caught four passes for 78 yards.
Loyola lost to Green Oaks two weeks ago, but with a win against North Webster, the district title would be split among the teams.
The Flyers have an outstanding offense, led by quarterback JAcob Allen.
"Loyola is a very, very solid football team," Ware said. "It's definitely a challenge. They are so good on offense. The quarterback is a three-year starter. They have great receivers who are experienced as well.
"They beat us last year, and the year before," Ware said. "It's been close, but they beat us. It's going to be a good atmosphere and a lot is on the line."