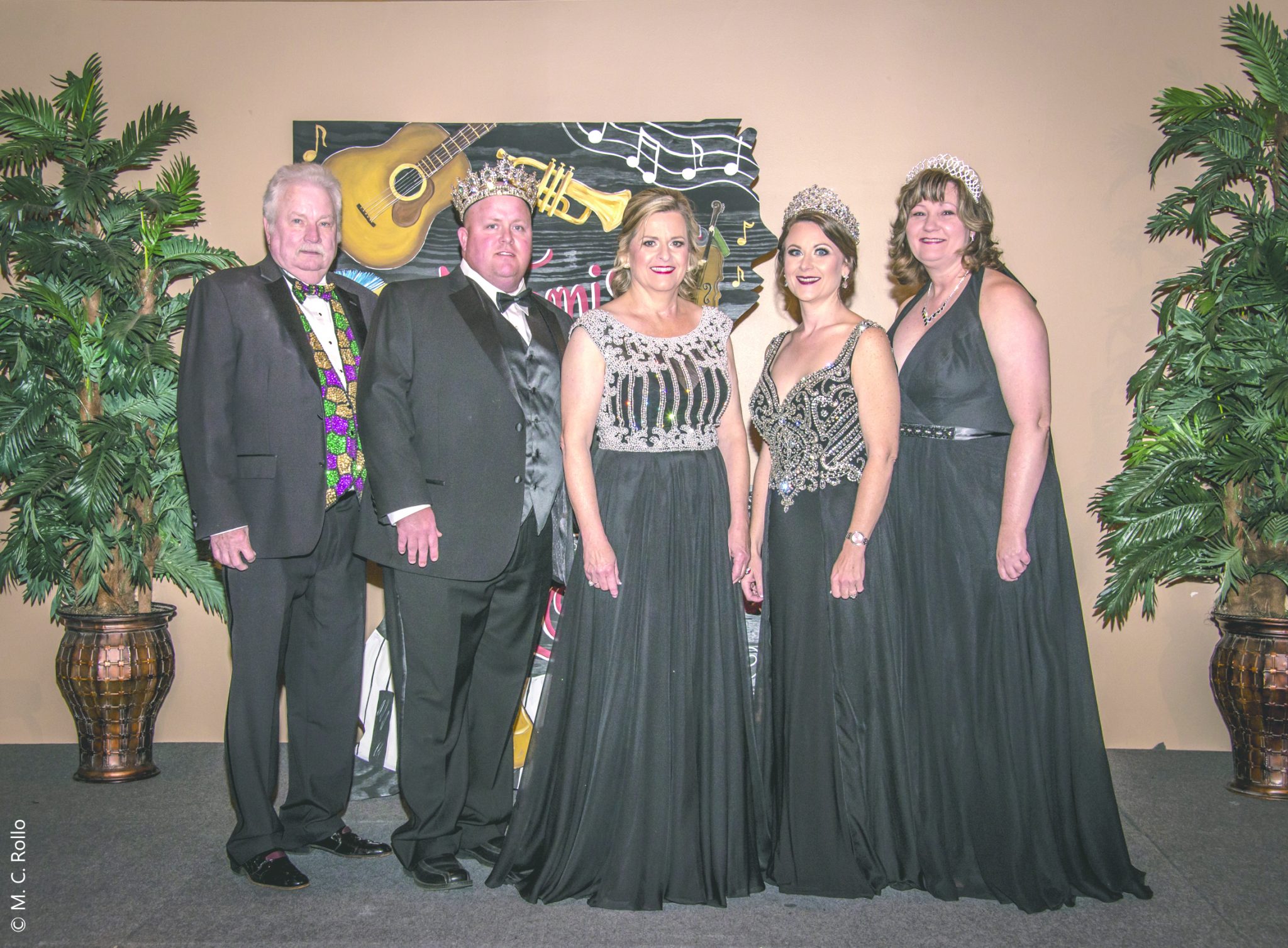 Annual bal held Saturday, January 12 in Bossier City
Janet Gray Reeves
Special to the Minden Press-Herald
On Saturday night, January 12, at Louisiana Downs Red River Room in Bossier City, the Krewe of Artemis-Springhill brought the house down with their Louisiana Hayride music! American country-western songs pleasantly simmered in the background as Captain Diane Marie, King Artemis XVII Kevin Dinkins, Queen Artemis XVII Kari Dinkins, Duke of Music David Jeane and Duchess of Music Debbie Cody formally greeted their invited guests. These royals were attired in flowing gowns and conservative tuxedos.
Upon entering the long, narrow entertainment center, one's eyes focused on all the dazzling, well-heeled party goers, some decked out in spectacular Mardi Gras gaudy, others in splendid formal attire and a few chose down home "after five" western duds. The tables were adorned with arrangements in the colors of red, gold and white upon black tablecloths.
The food was displayed in typical buffet fashion as to efficiently serve many people.
The menu was extensive and was available all night! An appetizer of chicken and sausage gumbo began the dinner with several tasty salads, entrees and vegetables to select from. Finger food platters were abundant and dessert was a scrumptious bread pudding topped with a whiskey sauce.
Throughout the evening, Photographer M. C. Rollo rambled around capturing singles and groups enjoying themselves. A number preferred to pose in front of a special Artemis backdrop for their treasured keepsake. Also, in this technical age, "selfies" were most popular and common.
As at every Artemis event, the Master of Ceremonies, the ever in demand, Eric Simmons, signaled the beginning of the festivities. Emcee Simmons, who writes, directs and produces a multitude of activities including rodeos, was wearing a glittery black tuxedo, cowboy hat, and his well earned Artemis three-timed Captain Gorgets (official Artemis royalty silver throat pieces). He started this extravaganza with an invocation, followed by the posting of our American Flag by Artemis member and Retired Air Force Master Sergeant Rob Robinson. Artemis member Janet Gray Reeves led the singing of the National Anthem as a majestic American Bald Eagle seemed to soar onto the stage. The audience was silent in awe. Rusty Scarborough of the Caddo Parks and Recreation is her handler. After the tableaux (program), Mr. Scarborough posed with the eagle for pictures. There was a long line for each person to have their own photo made with this unique attraction.
Following this magnificent Eagle was no easy task! However, Captain Diane Marie out shown this honored bird! She received a standing ovation when she entered the stage in a red designer evening gown from France. This snug, figure flattering full length sheath with see through lined lace overlay depicted everything graceful. Bringing the golden age of Hollywood to mind were features such as the sweetheart, plunging neckline; the netted backless look with tiny buttons appearing to float and not be attached to anything; and the long lace unlined skirt fabric bellowing out at the sides and trailing in the back as one moved. This creation highlighted femininity. Each person could visualize some elegant country music movie star gliding onto a set wearing such an unforgettable, designed piece of clothing!
This much loved Captain, who must be given all the credit for this one of a kind Artemis Grand Bal, toasted her adoring fans and her table before taking her place at the helm of this night's production.
A fun moment was when a name of one of the attending guests was pulled from a big gold tumbler! This lucky and surprised person, JoAnna Robinson, was named Grand Marshal of the gala and was honored to observe the celebration from ­­her designated spot on stage.
When the Louisiana Hayride music rived up and Artemis Duchess of Music Debbie Cody appeared portraying the legendary American County-Western singer and songwriter Margie Singleton, the stage was now hers. Duchess Cody was dressed in understated black and white with a glimmer of rhinestones and studs. She carried the traditional guitar and was swinging in a black fringed vest over a white feminine shirt, black jeans and black boots.
In 1958, Ms. Singleton, who is originally from Coushatta, Louisiana, and worked at the ammunition plant on Highway 80, made her radio and professional debut on the Louisiana Hayride. She was a popular duet and solo recording artist who worked with George Jones, Faron Young and many others. Her first single was "One Step (Nearer to You)" and her first album was with George Jones in 1962. She was a backup singer for The Jordanaires and her songs have been covered by fellow legends like Charley Pride, Tom Jones, Kenny Rogers Tammy Wynette, among a few. She recorded the first version of "Harper Valley PTA" that was later a huge crossover hit by Jeannie C. Riley. Ms. Singleton is now 83 years young and still performing. Her latest release is "Heaven or Hell."
Emcee Simons announced that the Krewe of Artemis Duke of Music, David Jeane would be joining him on stage. Immediately, the 1959 song, "The Battle of New Orleans," filled the air and Duke David appeared moving with the music, as was the crowd. This famous song was made popular by Johnny Horton, an American country music, honky tonk and rockabilly singer and musician. Mr. Horton, billed as "The Singing Fisherman," was a regular on the radio show "Louisiana Hayride" in 1955. "Honky Tonk Man," "When it's springtime in Alaska," "Johnny Reb" and "Sink the Bismarck," were several of his hit recordings.
Duke Jeane, may have been a "dead ringer" for Mr. Horton, as he was carrying the standard Louisiana Hayride well used guitar while wearing a white Western shirt with pearl buttons, a black Bolo tie, black jeans, black boots and an eye-popping, light grabbing, sparkling red jacket! And…. he looked like a good guy for he was sporting the "good guy movie symbol" – a white hat!
At this point the audience was asked to participate in a sing-a-long. The words to an old time favorite, "You are my Sunshine," were placed earlier at each table and the crowd excitedly chimed in.
When the exalted fan-fare rang out, all eyes turned to the stage and on clue, King Artemis XVII Kevin Dinkins and Queen Artemis XVII Kari Dinkins appeared as if by magic with their beautiful crowns sparkled under the lights. She was, indeed, her royal highness in demeanor and style, wearing a very long exquisite mantel and face-framing stand up collar. The King extended his royal arm and gloved hand and The Queen, ever so gently and shyly, placed her dainty hand on his for him to lead her around the auditorium as their subjects admired them. The mantel boosted the Queen's name ornately embroidered on it and could be seen as Queen Kari was swept around the room by her enchanting King Kevin, ever bit the ruler, impeccably groomed in his ultra formal tuxedo and equally proud of His beautiful Queen, in her silver gown, lavishly embellished with lace and encrusted with what must have been diamonds.
These two regally strolled and danced around the room to another of the Louisiana Hayride's notables, Elvis Presley's "Jail House Rock" and "White Lightning," and finishing just in time to embark once again on an awesome journey. This time they stepped aboard Mardi Gras bedecked lighted golf carts for the annual, much anticipated, ARTEMIS INDOOR GOLF PARADE! As the Captain and Royalty sped around the room in their motorized carriages, they threw trinkets to out reached hands when they heard, "Throw me something, Mister!
Once more on stage, all the Krewe's of the Ark-La-Tex were "called out" and given the opportunity to pay their respects to the Captain and all the Royals before Captain Marie, lifted her decorated umbrella, blew her whistle and enthusiastically led everyone on a dance, The Second Line Dance, all the while, smiling and pumping her umbrella up and down!
The live band for this "Artemis Hayride De Louisiane" was the phenomenal Johnny Earthquake and the Moondogs.
***************
Seeing and Being Seen:
John Jandebeur, Mike Reeves, Bert Harris, Leonard and Virginia Blanton, Jerry and Linda Hayes, Donna Waring, Saundra Grillot, Mack and Kristie Morgan, Susan Keith, Melissa Pickard, Ron and Patty Matlock, Caroline Ryan, Haden Talley, Eric and Judy Talley, Clay and Nikki Reeves, Bill and Zan Beagley, Elijah List, James and Carol List, Shan Robinson, Dee and Margaret West, Dennis and Kimberly Tobin, Tim and Lynne Talbot, James and Misty Poe, Charles Jacobs, Jackie Farrington, T. J. Carter, Savanna Stiles and Chris Carter.