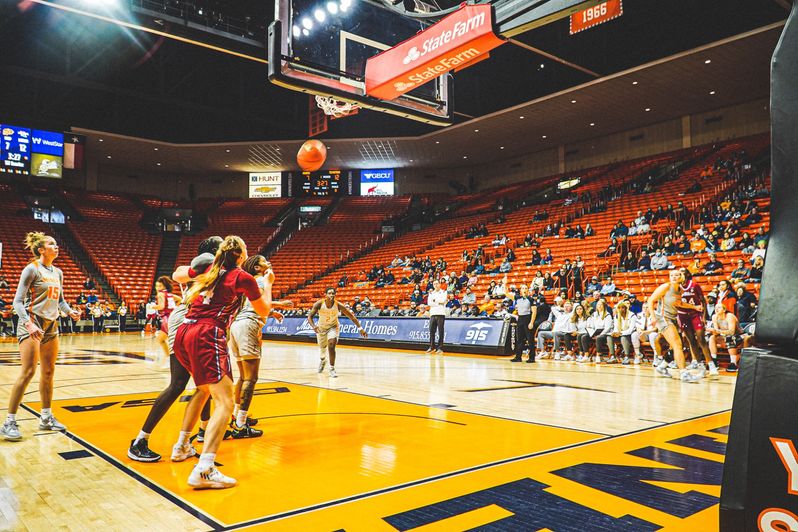 Louisiana Tech Athletic Communications
EL PASO, Texas — Louisiana Tech women's basketball team battled back from a 12-point fourth-quarter deficit in El Paso Saturday afternoon, but fell to UTEP 72-66 in a game that featured alternating runs from both squads.
Three Techsters reached double figures, led by Keiunna Walker, who had 24 points, three assists, and two steals, followed by Salma Bates and Amaya Brannon, who had 14 and 13, respectively. Brannon chipped in five rebounds, while Bates added four assists, three rebounds, and two steals.
LA Tech (9-6, 2-3 C-USA) took the early initiative in the first stanza after a 7-7 start with an 8-0 run to pull ahead 15-7, but UTEP (10-3, 3-1 C-USA) responded with a 9-2 run of their own, courtesy of three Tech turnovers. Keiunna Walker finished the quarter with four straight free throws to give Tech a 21-16 to end the quarter.
Walker continued with a three to start the second quarter and extended Tech's lead to eight, but the Miners strung runs together of 9-1 and 9-2 over the next six minutes to grab a 32-28 lead with 3:18 left in the half. UTEP ended the half up three, 36-33.
It was the Techsters' turn to start the third as they regained the lead with a 6-0 start (39-36) over the first two minutes, but Tech would struggle to score the remainder of the period, with Walker spending most of the quarter on the bench with three fouls. UTEP would finish the period 17-5 for a nine-point cushion after three (53-44).
After finding themselves down 12 early in the fourth quarter, Tech was able to battle back off runs of 9-3 and 8-0 to cut the Miner's lead to three with two minutes remaining.
After two buckets from the Miner's, Gabbie Green's three and a layup from Walker got Tech within two with 10 seconds remaining, but UTEP's Elina Arike hit two free throws to stop Tech short of completing the fourth quarter comeback.
Tech shot it well again, hitting 53 percent of their looks, going 22-41 from the field including tying a season-high with nine threes. Tech also hit 13-16 (.813) from the line.
UTEP would not be outdone, hitting 10 three-pointers (10-21) and connecting 16-18 free throws (.889) while shooting 41.8 percent for the contest (23-55).
QUOTABLES
Head Coach Brooke Stoehr…
"I think our team showed up ready to play and competed hard, but our execution in the third quarter was not good, and it eventually cost us, allowing them to string together stops that led to them scoring. You have to give UTEP credit, they shot it very well today. We shot it well enough to win today and did enough scoring, but the lack of communication in some spots defensively gave them too many chances.
This one stinks because we were in a position to win, but the turnovers in the third didn't give us enough possessions. We just have to continue to battle and take advantage of these chances we have to win. Eventually, we will get everyone back healthy, but we believe this group is good enough to win now. We have to continue to fight, we have to continue to go to work for them and put them in the best positions possible to be successful. I know this group isn't going to quit, they never do."
— Featured photo courtesy of Louisiana Tech