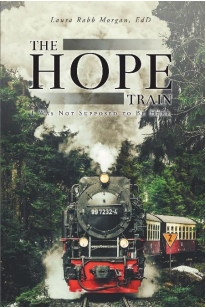 Author Laura Rabb Morgan, EdD., a former resident of Minden, Louisiana and a 1965 graduate of Webster High School announces the release of her first book: "The Hope Train:  I Was Not Supposed to Be Here" and will hold her first book signing in her hometown and Crichton Hill, the community where she was raised.  The public is invited to the book signing on Saturday, July 9, 2022, 5-7 p.m. at Jean's Diner located at 913 West Street, Minden, Louisiana.
Laura Rabb Morgan, EdD.'s newly released "The Hope Train: I Was Not Supposed to Be Here" is a moving exploration of life lived in faith and hope for the future.
Morgan shares, "Even though I can't hear the trains every day like I did when I was growing up, I still live across the train tracks. When I was growing up, you had to cross the train tracks to get to my house; and even now in my twilight years, you have to cross the train tracks to get to my house. However, I never thought of living across the tracks as a negative thing like it is in the movies. I am sure it is because negativity was not a part of my life growing up. We were never harshly beaten or yelled at for the littlest thing like some children. We realized we were poor, but that didn't define us because we were surrounded by love in our own home and in our community.
Our parents, David and Dinkie Rabb of 511 High Street raised their eight children in a church community dedicated to educating children and working hard. No, we weren't overly praised either. We didn't get anything for good grades or for our birthdays. Yes, we were hungry sometimes, but we never starved because we trusted our parents to provide for us, and they always did. Simple peanut butter and cracker sandwiches could make eight little children on Crichton Hill in Minden, Louisiana, smile as if they didn't have a care in the world—because to them, they didn't.
What we always had was hope. It was this realization that gave me the impetus to call my memoir The Hope Train. Hope because of all the prayers my mom sent to heaven on her kids' behalf and the trains that passed by each day—and even provided passage for me as I was the first in my family to go to college, and the seven other Rabb children would board the train also."
Dr. Laura Rabb Morgan is an active senior, whose family has lived in Minden since 1952 when they settled on Crichton Hill. Sisters Vickie Rabb and Carrie Rabb still reside in Minden and David Rabb and Juanita Rabb Johnson live in the vicinity in Haughton and Shreveport, respectively. Even though her other siblings, Dorothy Rabb Cook and Bobbie Rabb live in other parts of the country like Dr. Rabb-Morgan, they all consider Minden, Louisiana their home. She is a former college professor/administrator at Kennedy-King College and Triton College. She shares her life story in the hopes that it will be an encouragement to others to never give up and to rely on their faith in God.
Dr. Rabb-Morgan, shares: Growing up on 511 High Street in Minden, Louisiana, I never would have guessed that I one day would return as a published author. I was never the best student in English, but documenting my family's existence (Rabb-Herron) became a passion of mine. I am so happy it did because it documents the happenings in Minden and Webster High School, which gave me a foundation that I am so proud of.