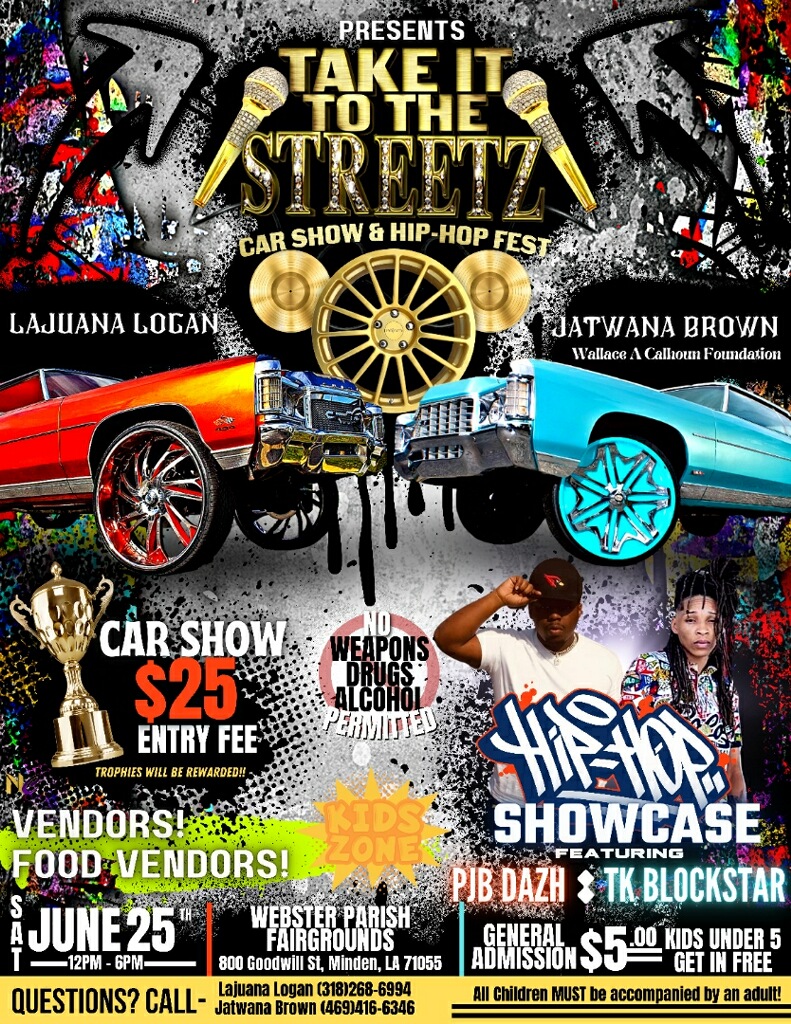 The Take it to the Streetz Car Show and Hip-Hop Fest will be taking place this Saturday at the Minden fairground from noon till 6 p.m.
The car show will feature all kinds of custom street cars and other vehicles, from simple upgrades to more elaborate designs. "I want to provide a platform for men and women to showcase their creativity with designing or customizing their vehicles, motorcycles, ATVs, slingshots or any other type of vehicles," said event organizer Lajuana Logan. There will be a $25 fee to enter the competition, and trophies will be awarded.
PJB Dazh and TK Blockstar will be the featured performers for the Hip-Hop Showcase which will begin at 3 p.m. "The hip-hop portion of this event provides men and women an opportunity to tell their stories to the world," Logan said. "A lot of people are intimidated when they hear artists rap. Hip-hop is just poetry."
This event will also have a KidsZone. The first 5 kids will get a free one-hour pass to Altitude Trampoline Park. The first 50 kids will get a buy-one-hour/get-one-hour pass. There will be a bounce house, kid entrepreneurs and more!
There will be food and vendors as well, so be sure to bring some cash, but leave your weapons, drugs, and alcohol at home because those items are not permitted at this event.
Admission is only $5, and kids under five years old get in free. All children must be accompanied by an adult.
This event was created by Lajuana Logan and Jatwana Brown in partnership with the Wallace A. Calhoun Foundation. This foundation helps people who have been incarcerated transition back into society. For more information about the Wallace A. Calhoun Foundation, you can contact Mrs. Jatwana Brown at (469) 416-6346.
Lajuana Logan and Jatwana Brown would like to give a special thank-you to the sponsors and donors including the Entrepreneur Game, Travel with Purpose, 1848 Ice Cream Company, Bossier Fun Jump Rentals, Bud's Trophy Case, NeNe's Corner, Altitude Trampoline Park, Party Central Family Fun Center, PJB Dazh Photography, Mr. Shaw, DJ Smoke, and all the volunteers.
For more information about this event, you can contact Lajuana Logan at (318) 268-6994 or Jatwana Brown at (469) 416-6346.