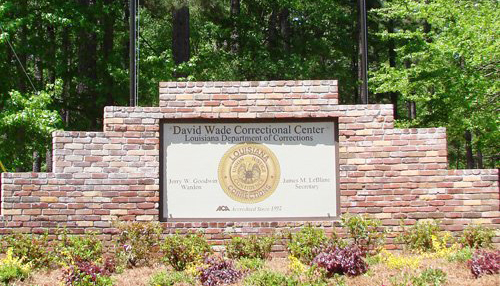 BATON ROUGE — Louisiana prison officials blocked attorneys from investigating "alarming" allegations of inmate abuse, including claims that mentally ill prisoners were forced to kneel or bend down and bark like dogs to get food, a lawsuit alleges.
The federal suit, filed Thursday by the Advocacy Center, said the New Orleans-based nonprofit also has received reports that disabled prisoners at David Wade Correctional Center in Homer have been slapped, punched, kicked, sprayed with mace and bleach and stripped of clothing during the winter.
Attorneys from the Advocacy Center and the MacArthur Justice Center visited the north Louisiana prison in June to investigate those abuse and neglect claims. But the suit says prison officials prevented them from interviewing inmates and staff members.
The suit seeks court-ordered access to the prison so attorneys can fully investigate conditions at the facility.
"We're very alarmed about how people are being treated," said Katie Schwartzmann, a New Orleans-based attorney for the MacArthur Justice Center. "There are some serious allegations that we're trying to get in there to investigate."
Corrections Secretary James LeBlanc said he hadn't read the suit yet and couldn't immediately comment on it. Corrections department spokesman Ken Pastorick said the agency doesn't comment on pending litigation. The prison's warden, Jerry Goodwin, didn't immediately respond to a call seeking comment.
LeBlanc, Goodwin and a colonel at the prison are named as defendants in the suit.
The suit says federal laws give the Advocacy Center "broad access rights" to prisoners and prison records so it can investigate allegations of neglect and abuse involving inmates with disabilities.
For months, the suit says, the center has been receiving complaints of "serious abuse" of inmates at the Homer prison, which opened in 1980 and can house up to 1,244 inmates.
During a June 21 visit to the prison, the warden told attorneys that a Department of Corrections lawyer decided they couldn't speak with prisoners during a tour of the facility. The colonel who accompanied them on the tour instructed staff members not to answer any questions from the visiting attorneys, the suit adds.
"Some inmates pleaded for help, others asked questions, some shouted," the suit said. "At no time during any of these exchanges did any inmate express any threatening or disruptive intent; they simply wanted to speak with the Investigators."
Schwartzmann, one of the visiting attorneys, handed a piece of paper with her name on it to a prisoner. A security staff member took the paper from the prisoner, a prospective client, the suit says.
Attorneys returned to the prison on July 17 to see a prisoner who was believed to be "extremely suicidal" but were barred from seeing the man, according to the suit.