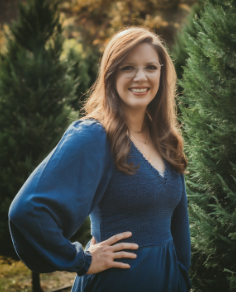 Lindsay Gouedy has served as the face of the Sparta Groundwater Commission for the past thirteen years, initially with a focus on education and later as the organization's managing and representative Executive Director. Mrs. Gouedy holds a Master's degree in Engineering and Technology Management and Bachelors of Science degree in Agriculture Business both from Louisiana Tech University.  She also holds both a black and green belt six sigma certification in quality control engineering. Not only is she soon to complete her Master of Business Administration degree but is also working on her PhD dissertation in Engineering Education.  Lifelong learning is of great import to this professional who was raised by her grandparents, a high school math/English teacher and a college professor in Ruston, La.  
She has called Louisiana home her entire life and is pleased to have had the opportunity to support north Louisiana's resource planning and management over her career. Mrs. Gouedy has written and managed numerous funding projects for the Sparta Groundwater Commission, with the most recent being a $500,000 Economic Development Administration research project. She has worked with a number of organizations such as BetaFlix Inc., Farm Bureau's Ag in the Classroom, LA Gearup, LA-SiGMA, Shell Collaborative, NeuroNEM, Louisiana Tech University, and Keep Lincoln Parish Beautiful Organization, to coordinate education events, fundraisers and provide general public relations and communications support. Her resume includes everything from grant writing, government affair communications, curriculum development and correlation, to event coordinating and fundraisers such as 5K runs and sporting clay competitions.
Mrs. Gouedy has represented north Louisiana's water interests across the state. She was named a governor appointee to the Louisiana Water Resources Commission in 2016 and maintains the appointment to this day. Mrs. Gouedy also served as a member of the Louisiana Water Infrastructure Region 1 Steering Committee.
Mrs. Gouedy resides in rural Dubach, LA with her husband, Joe, and their three sons, Jayden (16), Dallas (10), and Rory (6). They are active and avid outdoor and sports enthusiasts. When football, cross country and baseball aren't on the schedule, the family enjoys camping and kayaking together.