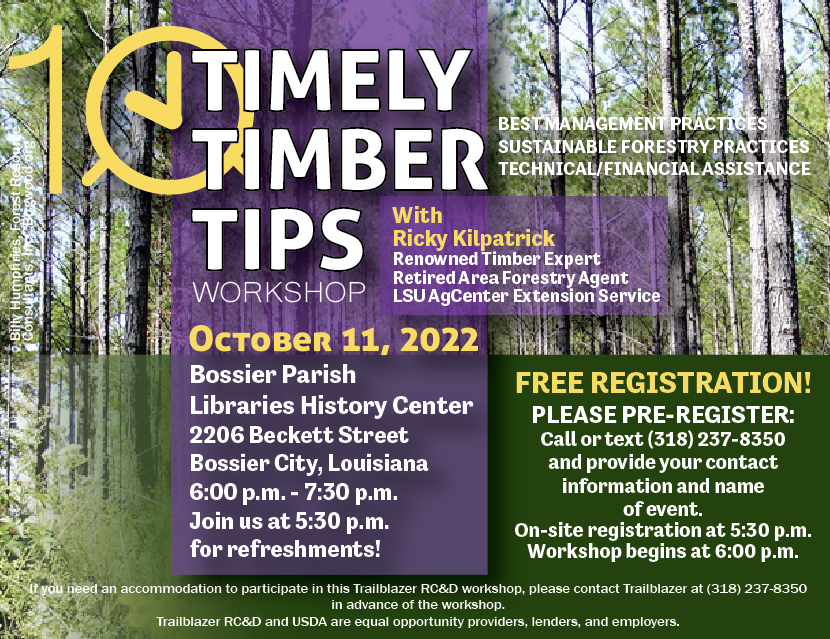 Join Us to Gain the Edge in Timber Production:  10 Timely Timber Tips
Bossier City, Louisiana, September 15, 2022 – On October 11, 2022, in Bossier City, timber expert Ricky Kilpatrick will share ten timely tips to help timber producers navigate the current timber market and avoid potential problems. This workshop is open to the public, and all who are interested in timber production should attend. This presentation will be hosted at the Bossier Parish Libraries History Center at 2206 Beckett Street in Bossier City. It is sponsored by the USDA Natural Resources Conservation Service (NRCS) and Trailblazer RC&D.
For over 30 years, Kilpatrick served the people of this area through the LSU AgCenter Extension Service. "Over the years of working with forest landowners in the region, there are some items that seem to 'pop up' time and time again," said Kilpatrick. "Some are commonly encountered problems, some are unfavorable situations that could have been avoided with better planning, many are simply due to the economy and current market situations, and some are just ideas that might be helpful."
On-site registration begins on October 11, 2022, at 5:30 p.m., with refreshments at the Bossier Parish Libraries History Center, 2206 Beckett Street, Bossier City, Louisiana. The interactive presentation begins at 6:00 p.m. and concludes at 7:30 p.m.
Please pre-register to attend. Workshop registration is free of charge, but because refreshments will be served, workshop organizers need to know how many people will attend. To pre-register or for more information on the workshop, call or text (318) 237-8350 and leave your name and contact information plus the name/date of the event.
This workshop is provided free to the public by the partnership and support of Energy Transfer; Hunt Forest Products, LLC; Mudd & Holland Consulting Foresters, LLC; Weyerhaeuser; Allstate Land & Timber Co., Inc; National Wild Turkey Federation; Burnham Construction; Canfor Southern Pine; Louisiana Forestry Association; LSU AgCenter; Bossier Parish Police Jury; Bossier Parish Library; USDA Natural Resources Conservation Service; and Trailblazer RC&D.
Trailblazer RC&D is a nonprofit organization that provides leadership, coordination, partnership development, and technical assistance projects to encourage strong communities, sustainable agriculture, and a healthy environment.