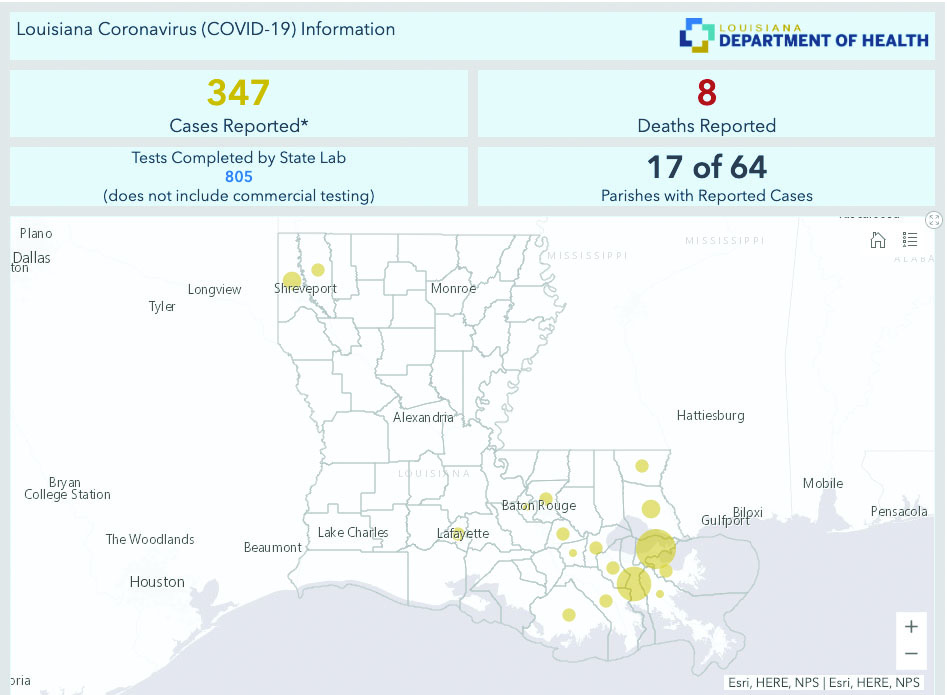 Webster Parish School System School Breakfast/Lunch Pick-up
Beginning Monday, March 23, the feeding program hours will be from 9 a.m. to 12 p.m. on Monday through Friday. People may pick up both breakfast and lunch at the same time. Also, the site at North Webster Junior High School will be moved to North Webster Upper Elementary.
"When you see a School Food Service worker, tell them 'thanks!' They love seeing their kiddos!" said Robin Tucker, Personnel Director/School Food Service Supervisor.
Webster Parish
Libraries start
Curbside Service
Due to the guidelines provided by the Governor's office, all branches of the Webster Parish Library System will be closed to the public. Instead, libraries will be performing curbside service pickup only. Their entire collection, including laptops, will be available for pickup. Copying, faxing, and PrinterOn service will still be available.
People can browse their Library's collection for their specific location by going to catalog.websterpl.org/polaris/
Normal hours of operation will continue. Call in when you arrive, and your materials will be delivered to your vehicle. Wi-Fi is available at each location. When returning items, with the exception of laptops, please place materials in that location's drop box. Materials will be collected and quarantined before they are made available for circulation again.
"Thank you all for your cooperation. Your safety remains a top priority for the Webster Parish Library System," the WPLS stated.
Lake Bistineau & Chicot State Park Staging Areas
Chicot State Park near Ville Platte and Lake Bistineau State Park near Doyline have been tagged as additional regional staging areas for the current medical situation in the state. As a service to the health and medical facilities in those areas, these state parks will be unavailable for public use effective Wednesday, March 18.
"Unfortunately, we understand that this is going to impact our visitors with plans to visit Chicot State Park and Lake Bistineau State Park," said Lt. Governor Billy Nungesser, whose office oversees Louisiana State Parks. "But I would like to repeat – the greater mission right now is to do everything possible to get this situation under control so we can all resume normal operations. These are two of our most beautiful parks, and we will thoroughly clean them before reopening for the enjoyment of our visitors. Louisianans have always come together in time of need and I'm sure we can get through this together."
Current visitors will be evacuated from the parks, and guests will be contacted by Louisiana State Parks reservations agents to transfer to another park or request a gift card or refund for the amount of their stay. All other Louisiana State Parks are open and operating normally for the enjoyment of the public.
For more information about Louisiana State Parks visit LaStateParks.com, or follow Louisiana State Parks on Facebook and Twitter.
Minden City Court, Ward One Emergency Partial Court Closure
In accordance with the inherent power of this Court, considering the recent outbreak of Coronavirus Disease 2019 (COVID-19) in Louisiana, Governor John Bel Edwards' declaration of a State public health emergency, and President Donald Trump's declaration of a national emergency on March 13, 2020, and after receiving guidance from the Louisiana Supreme Court, and in consideration of public health recommendations to reduce the risk of exposure to the virus and in order to slow and reduce the spread of the disease while balancing the need to maintain access to Louisiana courts,
IT IS HEREBY ORDERED, effective 8:00 A.M. on Tuesday, March 17, 2020 through 5:00 P.M. on Friday, April 10, 2020, that:
(1) All civil trials, civil hearings and civil court appearances set for any date starting on March 16, 2020 through April 10, 2020 are hereby continued to a date to be reset by this Court;
(2) All criminal trials, criminal hearings and criminal court appearances are hereby continued, to be reset by order or notice from this Court, with the exception of initial appearances, arraignments for incarcerated persons, and bond hearings;
(3) All juvenile and drug court matters are hereby continued with the exception of continued custody hearings for juveniles who have been arrested and are being held in a juvenile detention center;
(4) This order does not affect the ability to consider civil, criminal, or juvenile matters that can be resolved without a hearing or as otherwise agreed.
At this time, the Minden City Court Clerk's Office will remain open during regular business hours. The public may continue to utilize Court services and file civil proceedings in accordance with this Order. The Court will follow and adapt to public health guidelines and protocols, which may change frequently, so please be patient and understand that the procedures and protocols may change from week to week based on the current risk assessment and changing guidelines and protocols.
All community service requirements involving face to face in-person contact or litter abatement services are hereby suspended for the effective dates of this Order.
The Court may issue further Orders regarding this matter as necessary and will post such Orders on the door to the Courtroom and on the door of the City Court Clerk's Office.
This Order remains in effect until 4:30 P.M. on April 10, 2020, or until further orders of this Court.