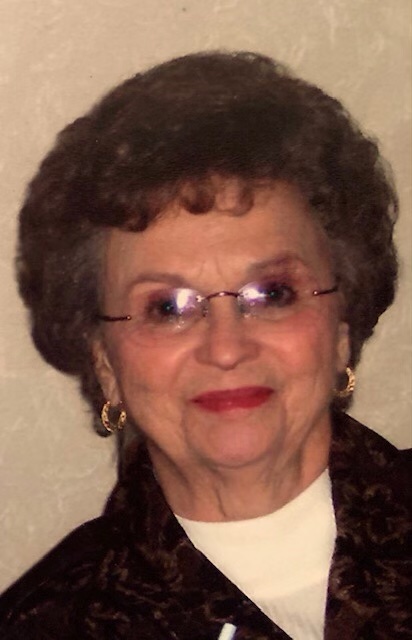 Funeral service for Mrs. Rita Barnes Curtis, age 91, will be held at 11:00 am, Friday, October 2, 2020, at the Central Baptist Church, Springhill, LA, with Rev. Terry Hughes officiating. Interment will follow in Springhill Cemetery under the direction of Bailey Funeral Home, Springhill.
Visitation will be held Friday, October 2, 2020, from 10:00 am until 11:00 am at Central Baptist Church.
Mrs. Curtis was born on October 25, 1928 to Arthur Earl and Edna Posey Barnes in Corsicana, TX and passed away on Tuesday, September 29, 2020 at her home in Springhill. She was a lifelong resident of this area and a faithful member of Central Baptist Church. She taught in the children's Sunday School department for 23 years and was a co-owner of Food Town Grocery in Springhill. She and her husband, Joe Curtis, avid travelers, were a member of the Good Sam travel club.
She is survived by a daughter, Terri Jo Tripp and husband, Craig of Cotton Valley, LA; son, Danny Curtis and wife, Rhonda of Springhill, LA; two granddaughters, Kelley Shamblin and husband, Scott of Plano, TX, Heather Berry and husband, Chris of Shreveport, LA; grandson, Kyle Prewitt and wife, Michelle of Bossier City, LA; great-grandchildren, Grant, Lauren, Hannah, William, Abrahm, Chandler, Brooks and Jaxson; and a host of nieces and nephews.
Mrs. Curtis was preceded in death by her husband of 73 years, Joe Harrold Curtis, on June 20, 2020; her parents; grandson, Joel Curtis; sisters, Earline Barnes Toms, and Patsy Barnes Kendrick.
Pallbearers will be her grandsons and great-grandsons, Kyle Prewitt, Scott Shamblin, Chris Berry, Grant Shamblin, William Berry, Brooks Prewitt, Jaxson Prewitt, and Abrahm Berry.
The family would like to thank the following special people for the loving care that they provided both Joe and Rita in the last few years: Lou Lewis, Carla Cooper and Anita Hawthorne.
Sign our online guest book at www.baileyfuneralhome.net.
Bailey Funeral Home
Springhill, LA
318-539-3555