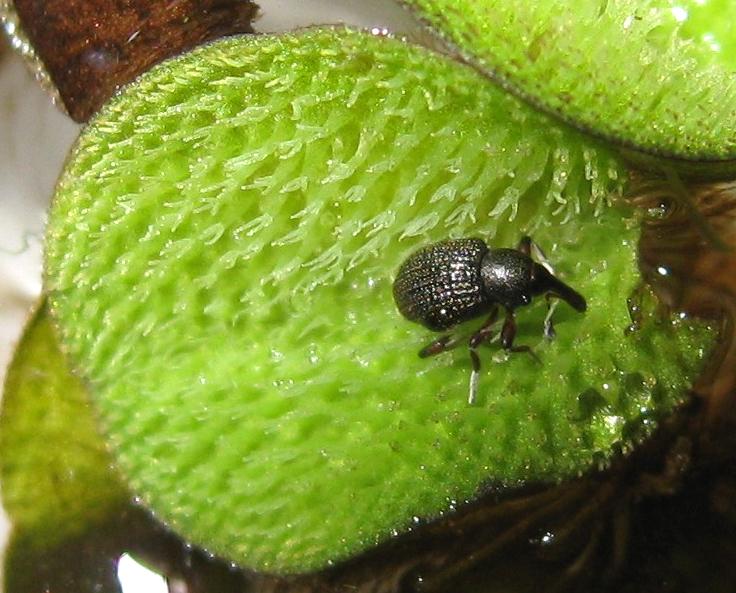 Louisiana is giving weevils to property owners who want to help control an invasive, fast-growing, herbicide-shedding water weed that infests a long, narrow lake.
The Louisiana Department of Wildlife and Fisheries says it will be giving away plants with live weevils on June 24 in the Lake Bistineau boat launch parking lot in Doyline.
They should be placed in deep pockets that hold water even after the lake is drawn down to strand and kill the weed, called giant salvinia, said Ricky Moses, the department's inland fisheries biological director.
He said this year's mild winter let salvinia spread so fast and so early that the department began drawing down Lake Bistineau in May — two months earlier than usual on the 14-mile-long (23 kilometer) lake, which runs through Webster, Bossier and Bienville parishes in northwestern Louisiana.
Giant salvinia is hard to kill because tiny eggbeater-shaped "hairs" on the nickel-sized leaves let them shed droplets of herbicide and other liquids.
The weevils have worked well in south Louisiana, but the cold winters farther north kill the flea-sized insects. However, the department now has a population that has survived two winters in central Louisiana's Iatt Lake, and biologists hope they'll be better able to survive the cold farther north.
"We're hoping that the weevils up there may be increasing their cold tolerance," Moses said.
He said that while giant salvinia still covers nearly half of Iatt Lake, the mat isn't as thick.
Lake Bistineau has been a popular boating and fishing spot for decades. But boating is on the decline, partly because of salvinia, which has been a problem since 2006, according to the state's management plan. The department has even installed oil spill containment boom to hold back salvinia at two boat launches, one of them in a state park.
"In Lake Bistineau, coverage expands at a tremendous rate, doubling every week to 10 days during the prime growing season. A single plant is estimated to expand to cover two-thirds of an acre during a single growing season," the plan says.
For instance, last year the weed covered more than 1,700 acres (about 700 hectares) last July 13 in spite of aggressive herbicide treatments.
Because the lake was relatively clear, residents asked for a delay of the annual drawdown, then scheduled July 25. It was put off until Aug. 15 — but by that time, it covered more than 5,800 acres (2,300 hectares).
Interested people will get sealed bags of salvinia containing both adult and larval weevils, and directions for releasing them.
To ensure there are enough weevils, people who plan to participate should email or call biologist supervisor Kevin Houston at khouston@wlf.la.gov or (318) 371-5214, before close of business on June 21.