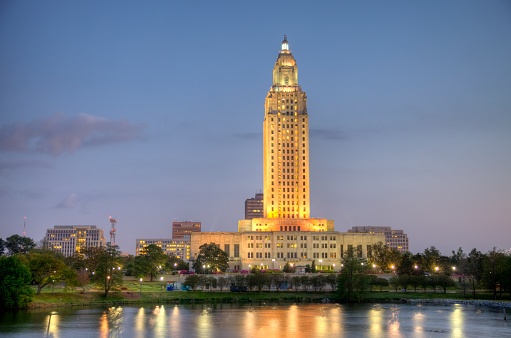 (The Center Square) – The Louisiana Legislature will hold a special session beginning Wednesday to attempt to override Gov. John Bel Edwards' veto of the congressional redistricting map approved by lawmakers last month.
Senate President Patrick Page Cortez, R-Lafayette, and Speaker of the House Clay Schexnayder, R-Gonzales, issued a joint letter Monday announcing the veto override session will begin at noon Wednesday.
A total of 12 senators and 32 members of the House filed declarations deeming the session unnecessary, meaning the majority support a shot at overriding Edwards' veto of House Bill 1 and Senate Bill 5, identical measures that create new congressional districts for the next decade.
Edwards vetoed the congressional map March 9 "because it does not add a second majority minority district and runs afoul of federal law," he wrote in his veto message.
"This map is simply not fair to the people of Louisiana and does not meet the standards set forth in the federal Voting Rights Act," Edwards wrote. "The Legislature should immediately begin the work of drawing a map that ensures black voices can be properly heard in the voting booth. It can be done and it should be done."
Edwards sided with voting rights advocates and Democrat lawmakers who argue Louisiana's growing Black population, which now represents about one-third of state's population, deserves the opportunity to elect a candidate of its choice in at least two of the state's six congressional districts.
HB 1 and SB 5 maintain the status quo of one minority majority leaning district. All other redistricting maps for the state House, Senate, board of education and Public Service Commission approved by the Legislature in February also maintained the current number of minority majority districts, though Edwards only vetoed the congressional map.
Republicans argued throughout last month's extraordinary session that spreading the Black population among more districts could result in no opportunity for minority voters to elect a candidate of their choice.
Senate Republicans hold a supermajority in the upper chamber and are expected to approve an override. In the House, three Republicans voted with Democrats in opposition to the congressional map.
Rep. Blake Miguez, R-Erath, voted against the map over splits in St. Martin and St. Mary parishes, while Rep. Beryl Amedee, R-Houma, opposed over the split in St. Mary. Rep. Michael Firment, R-Pollock, also voted against the congressional map over a split in Grant Parish.
Miguez and Amedee told USA Today Network they remain undecided on the override vote, while Firment said he will vote with Republicans to overrule Edwards.
If all three ultimately align with their Republican colleagues, the House would have 68 of 70 votes needed to override, with Independent Reps. Malinda White of Bogalusa and Joe Marino of Gretna still undecided. White and Marino voted for HB 1 in February, as did Rep. Francis Thompson, D-Delhi, who told USA Today Network he plans to vote to override Edwards' veto.
Schexnayder told Talk 107.3-FM on Monday he is expecting the special session to begin Wednesday, with hopes of returning to the regular session Friday, according to The Advocate.
"We won't necessarily take two votes unless we have to," he said. "We should be able to wrap it up in one or two days."
Lawmakers last year fell two votes shy of the threshold to override an Edwards veto of a bill to ban transgender athletes from competing on sports teams that do not correspond to their biological gender.
Louisiana lawmakers have overruled a gubernatorial veto only twice since 1973, the last time in 1993, according to USA Today Network.