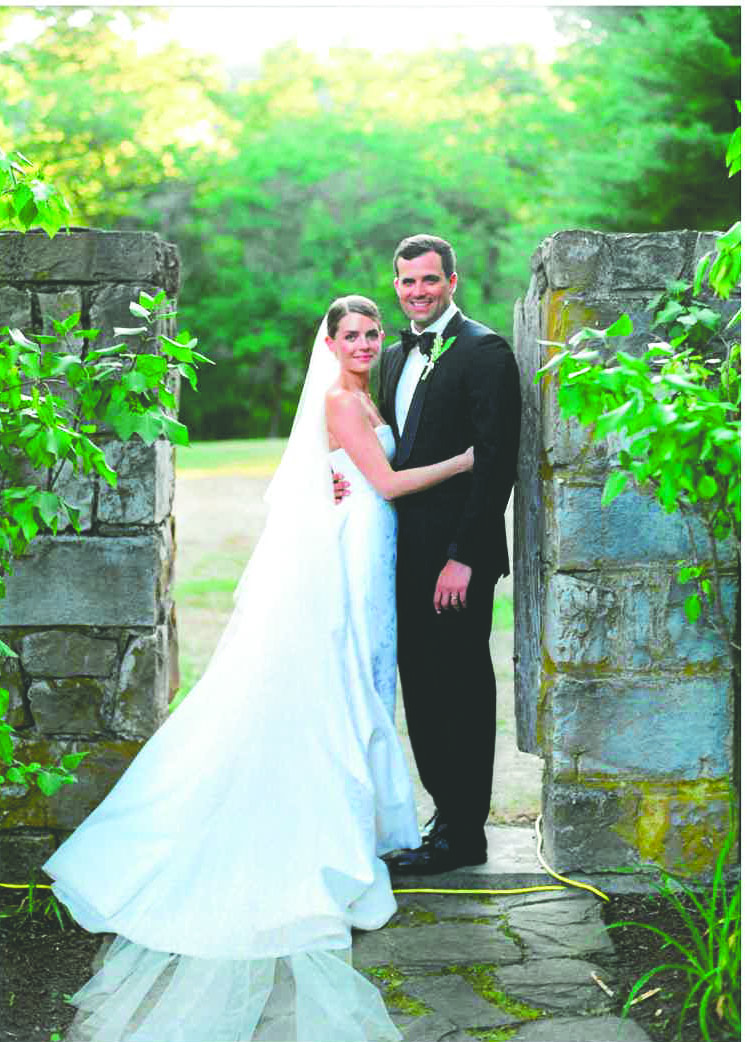 Miss Caroline Hope Madden and Mr. Pedro Frade Rodrigues were united in marriage on Saturday, July 13, 2019, at six o'clock in the evening at the Troutbeck Estate in Amenia, New York. The ceremony was officiated by Reverend Brian Mercer. Music for the ceremony was provided by New York Virtuosi. Alex Alben, Bradley Oberlin and Donnie Ray Rushing, Jr. served as ushers for the ceremony. Adrienne Legg Hartford, Olivia Elizabeth Legg, Catherine Trawick Willis, and Savannah Margaret Willis served as greeters. Caroline's parents hosted a seated dinner catered by Blue Hill followed by dancing. On the eve of the wedding, the Rehearsal Dinner and Welcome Party were catered by Heirloom Fire.
Caroline is the daughter of Mr. and Mrs. David and Connie Madden of Minden, Louisiana. She is the granddaughter of Mr. and Mrs. Russell and Ruth Adams and the late Harold Johnson and Mr. and Mrs. James and Lyda Madden all of Minden, Louisiana. Pedro is the son of Sr. Frederico Rodrigues e Sra. Cristina Lima and Sr. Luiz Souza e Sra. Laura Frade of Brasilia, Brazil.
Given in marriage by her parents and escorted by her father, Caroline wore the Hayden gown from the Spring-Summer 2019 Carolina Herrera Bridal Collection. The strapless gown featured a floral jacquard column with a full pleated train and was complemented by a cathedral length veil and blusher also by Carolina Herrera. Caroline carried a hand-tied bouquet of Lily of the Valley wrapped with vintage ribbon.
Kathleen Ann Curley of New York, New York, served as Maid of Honor and Melissa Manuel Rawl of Wilmington, North Carolina served as Matron of Honor. Bridesmaids included Hadley Walker Black, Mariana Castello Branco, Mariana Piccoli Lins Cavalcanti, Maclay Catherine Coldren, Sloan Armstrong Hart, Elizabeth Kincannon Madden, Kelly Leann Madden, Nancy Moran Murphy, Monica Ragni Sharma and Brittanny Marie Sturgess. The flower girls were Grace Poppy Madden, niece of the bride, Aurora Leigh Madden, niece of the bride, Alice Frade, niece of the groom, and Betina Frade, niece of the groom. The Maid of Honor, Matron of Honor and bridesmaids wore gowns of french blue by Amsale. Each carried a hand-tied bouquet of white roses and peonies.
Pedro Campos of São Paulo, Brasil served as Best Man. Groomsmen included Francisco Gil Branco, Rafael Coimbra, William Madden, brother of the bride, Matthew Madden, brother of the bride, Robert Montgomery, Alexandre Frade Rodrigues, brother of the groom, Eduardo Frade Rodrigues, brother of the groom, Ricardo Lima Rodrigues, brother of the groom, Tiago Santo, Thomas Stoddard, Jr., and Jaime Vega. Master James Louis Madden, nephew of the bride, served as ring bearer.
Caroline is a graduate of Cedar Creek School in Ruston, Louisiana and Southern Methodist University in Dallas, Texas. She works in Public Relations for the fashion industry in New York, New York. Pedro is a graduate of the University of South Carolina in Columbia, South Carolina and the Wharton School of Business at the University of Pennsylvania in Philadelphia, Pennsylvania. He works for the Brazilian bank, Itau headquartered in Manhattan and Sao Paulo, Brazil. Following a honeymoon in South Africa and the Seychelles, Caroline and Pedro will reside in New York, New York.