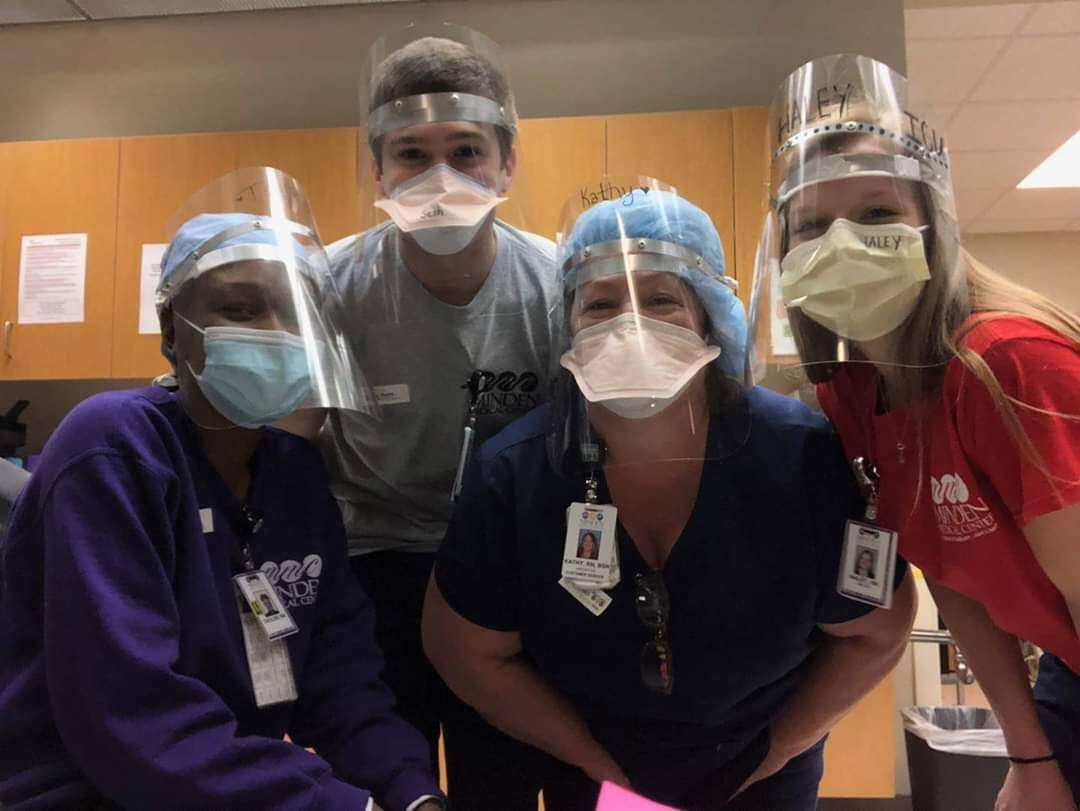 After hearing about how local healthcare workers need masks, Jason Sunderland, of Sunderland Chiropractic, collaborated with Travis Watkins and businesses to hand-make 280 plastic face masks.
Sunderland felt the urge to make the masks himself after he heard about the need from his wife, Jennifer Sunderland.
"My wife is a nurse at Minden Medical Center. She was the first one to bring this need to my attention. She discussed the possibility of making shields with some people at work and later that day, she showed me a picture of a face shield and we figured it should be easy enough to make, so we just ran with it," said Sunderland.
He purchased the plastics necessary from Regal Plastics in Shreveport. Initially he contacted Travis Watkins knowing he had a 3D printer, and thought that would be the way they could make the masks.
"Ultimately it took too long to make the shields with 3D printing, so we went a different way which was ultimately faster since we needed 300 of them A.S.A.P. for the front line workers at Minden Medical. We collaborated a little about design, but that was mostly Travis' department. My wife and I bought the materials and Travis set up a whole workshop in his house and we would put them together at night," said Sunderland.
Adding details about how the masks were made, and noted the businesses that helped to make the production of these masks possible, Watkins said, "I was able to cut the vinyl on a CNC router courtesy of All Builders Millworks in Ruston, and we were able to design a few different versions that could be laser cut by Blocker Torch Works in Shreveport. Ultimately we settled on a simple design that could be manufactured and assembled relatively quickly."
They ended up making a total of 280 masks before they ran out of materials, and plan on making more, but currently, the materials are hard to come by.
When asked why they felt the need to do what they did, Watkins responded, "As for the why, I believe we all recognize there is a need to keep our front line workers safe. If they fall we all suffer. So whether it's making PPE or practicing social distancing we can all do our part to help flatten the curve and keep each other as healthy as possible. I also owe Enable Midstream Partners a big thank you for allowing me to volunteer on company time. That helped bump up the delivery timeline by a couple of days on its own."
To the same question, Sunderland responded, "Honestly, we all just felt like it was the right thing to do. In times of crisis anyone who can help, should do so. And many people are stepping up in many different ways, but right now, who better to help than those on the front line. The doctors, nurses and all employees at the hospitals around the world deserve our love and respect because what they are doing is truly remarkable."