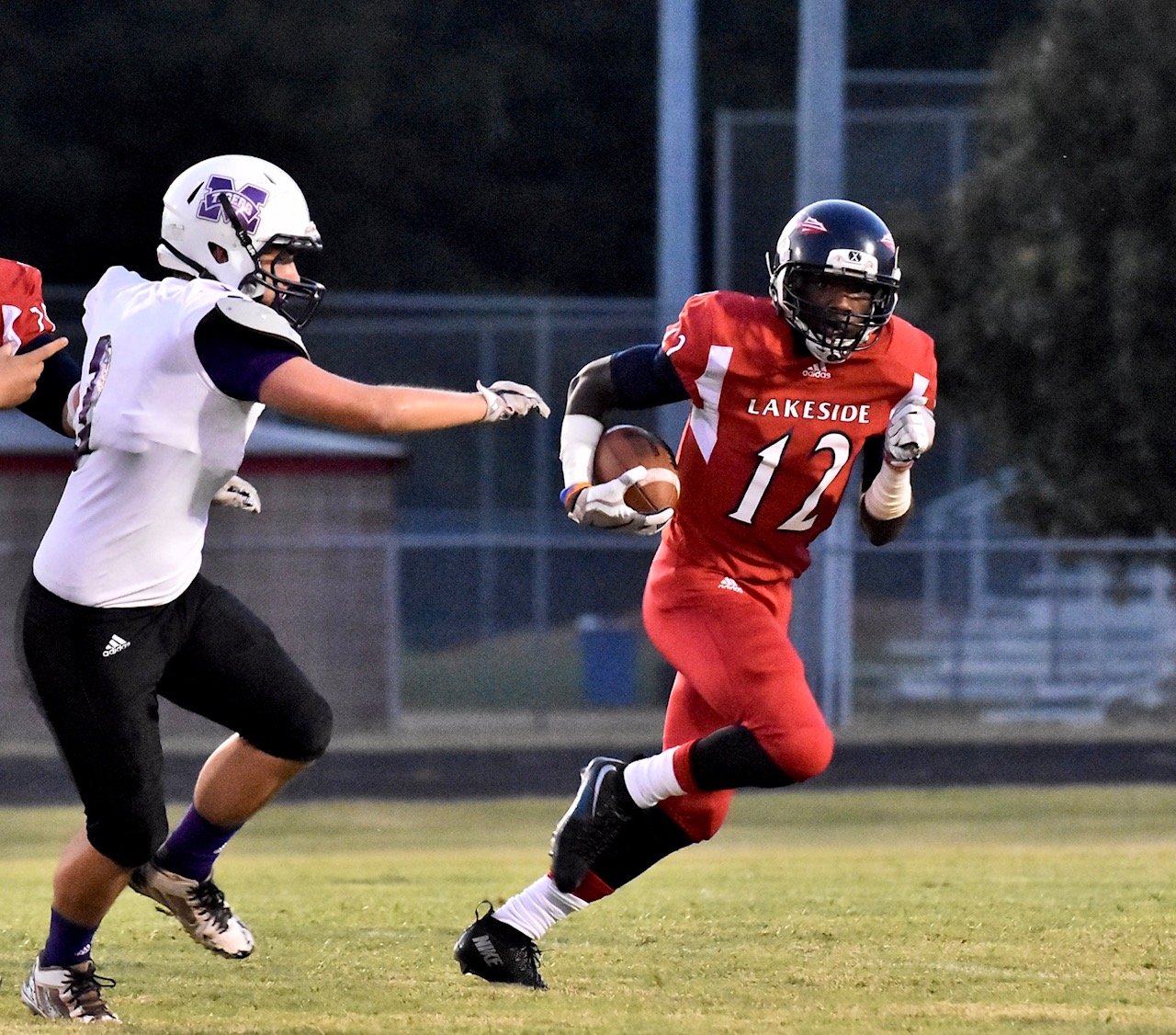 Lakeside head coach Jason McClendon does not see this week's clash with Rosepine as a measuring stick game.
He doesn't believe in that sort of thing.
"I don't really put any stock into any of that," McClendon said. "It's just one week at a time. We're trying to be the best version of ourselves as we can be and last week we weren't. This week the challenge is playing with more passion, more purpose and more emotion than we usually play with because honestly, we're a pretty talented football team. We have size, we have speed, we have athleticism; we have a great mix of the things you would want to have to be a great team, but right now our biggest problem is ourselves and our mentality."
Last week Lakeside cruised to a 28-6 win over Beekman Charter, giving the school its first 3-0 start since 2013. The only problem is that McClendon expects elite, and elite doesn't cruise. Elite dominates.
The Warriors face their most complete opponent to date Friday night in Sibley, as the Eagles (2-1) are experiencing a rebirth of their own after snapping a 20-game losing streak in week one. Rosepine head coach Johnny Cryer is in his fourth stint with the school and has the Eagles soaring, albeit on the ground with running back Seth Shirley working behind a behemoth offensive line.
"They have a lot of big linemen on both sides of the ball," McClendon said. "I can tell they're coached better. They are playing with heart and good technique; they're big and physical, not a lot of team speed, but they're strong. We're going to have to match that and if we can do that, I think we'll be in great shape."
The trenches are an area of concern for Lakeside, as McClendon said the team's play up front was "mediocre" last week, particularly on the offensive line.
"When they choose to have an elite mentality," they're pretty good," McClendon said of his OL. "But when they take plays off and they get lazy and tired, they're below average. We saw a lot of the latter last Friday night. The effort was just very, very poor. We're challenging them and trying to create some depth behind them. "
The matchup of the night could end up being Lakeside's defensive line working against the Rosepine front five.
"That should be fun to watch," McClendon said. "We have a couple of guys on the mend from last week. If we get those guys healed up then it should be a really, really good matchup."
On offense, the Warriors are looking to put together four quarters. Quarterback Jordan Preuett connected on only 10-of-24 passes last week, although he did finish with 227 yards, 2 touchdowns and no interceptions.
The receiver corps continues to share the wealth, as Chase Mitchell had 5 touches for 50 yards and a score, Gavin Jones had 4 catches, 112 yards and a touchdown and Dalton Crumpler turned 3 catches into 62 yards.
Buffate Coleman carried 7 times for 81 yards (11.6 ypc) and Brian Jackson Jr. found the end zone once again.
"We have some advantages their with team speed and how they lineup to some things that we do," McClendon said. "I really think it comes back to our offensive line. If they're good, I feel good about the rest of it."
Lakeside and Rosepine kickoff in Sibley at 7 p.m.