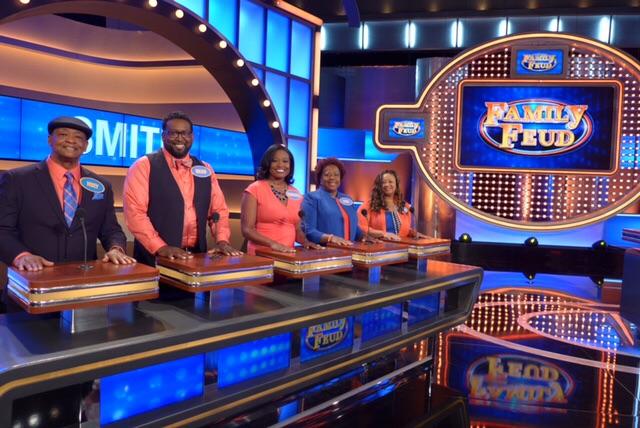 A Sibley couple will make their debut on "Family Feud," hosted by actor Steve Harvey, this week.
Huey and Ethel Smith along with their children will compete on the game show on Wednesday in hopes of outwitting another family and taking home a cash prize.
"It was scary," the Smiths said with a laugh about being on stage. "It was fun, we got a chance to meet Steve Harvey. The emphasis was to have fun and not worry and it was a lifetime experience."
The Smith family auditioned in December 2016 in Dallas and after multiple rounds of auditions was selected to be on the show, which was filmed in Atlanta in April.
As part of the process to be selected for auditions, the family had to make an audition video to be submitted to producers.
"It took us about four hours to put a video together at our son's house in Dallas," Ethel Smith said. "This was right about the time the mannequin challenge was becoming popular and we were the first family to submit an audition video using it."
The family will be recognized as from Dallas, but Ethel Smith said she wanted to give the area some recognition.
"Whether or not it will make it on the show, I am not sure. I wanted to give Minden and Sibley a shout out," Ethel Smith said.
"Steve (Harvey) even knew where I was talking about. He knew Monroe, the Peacanland Mall and Minden because of his travels to and from Vicksburg, Mississippi."
It took the family about 2 hours to film a 30-minute episode, but spent a whole day in the studio, Ethel Smith said. Even though the families are at the studio to be filmed for the show they still might not make the cut.
"Every family has to play practice games, but just because you are there, doesn't mean you will be on the show," she said. "If you don't look good on TV or act excited, you won't be selected for the show, but you have to play another family on stage."
While she wasn't able to give any details about whether the Smiths beat out the other family and won the cash prize, the experience, both on and off-camera was fulfilling, Ethel Smith said.
Both Huey and Ethel Smith said host Steve Harvey was down to earth and made the family feel comfortable.
"While we are watching commercials at home, he (Steve Harvey) is out in front of the audience cracking you up with stuff," Ethel Smith said. "In addition to being funny, he also gave some life lessons. He talked about when he was homeless and
telling people to not give up on their dream."
To find out how far the Smith Family went on the game show, tune in Wednesday night at 6 p.m. on KPXJ CW-21.