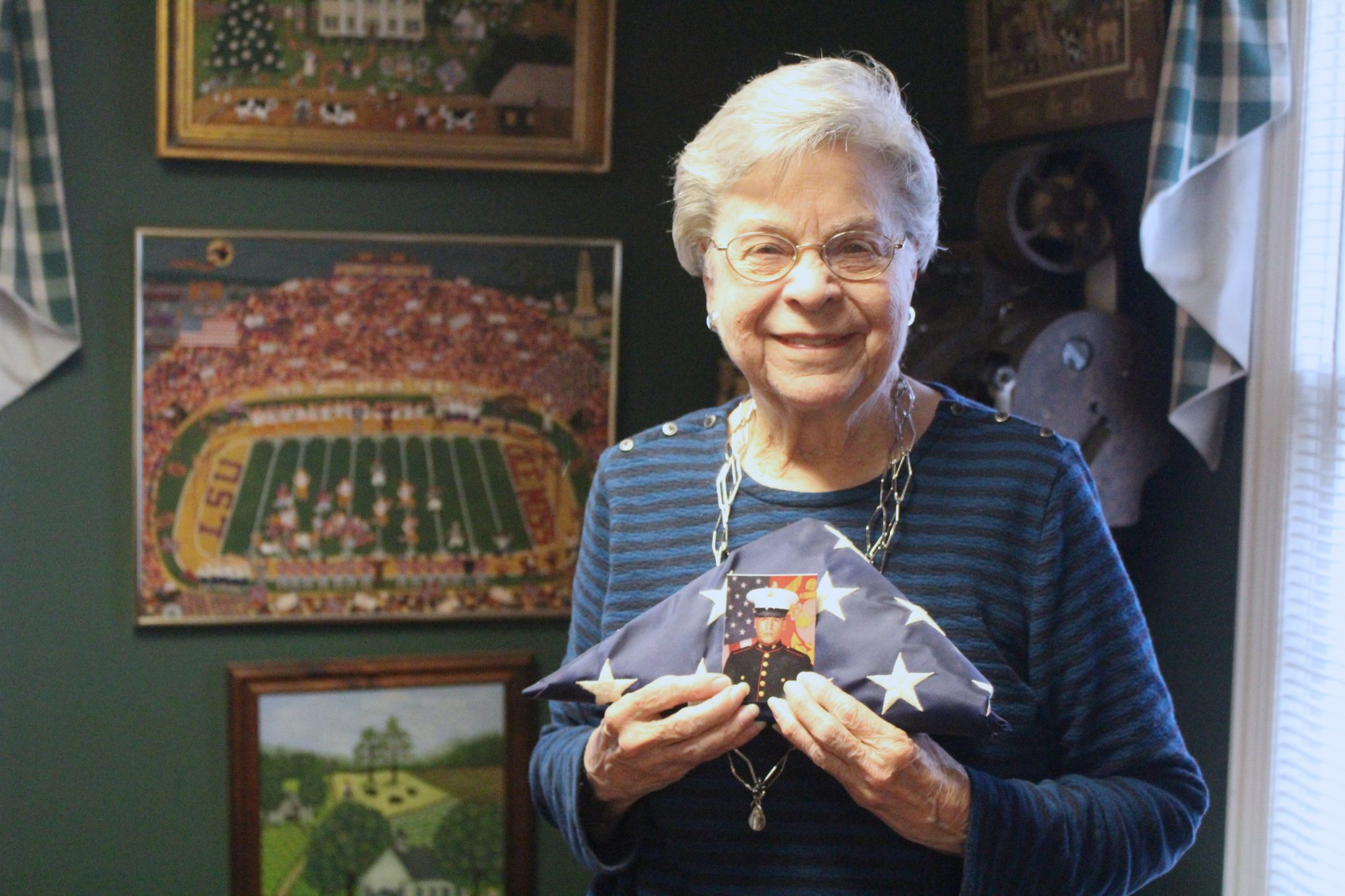 The body cannot survive without a heart.
Among the hundreds of volunteers who selflessly offer their time and resources year-after-year to making the Minden St. Jude Auction a success, there is one person that binds them together each year, offering well-established and up-and-coming auction workers alike with the motivation required to complete the four-day event.
Her name is Cora Lou Robinson, and she is their heart.
Robinson's life with St. Jude began 25 years ago like many St. Jude stories start, with a loss.
"I have been associated with the auction ever since Denise Whaley, who was one of my students, died from cancer," Robinson said. "Before she passed, she was a patient at St. Jude. That's when this became everything to me."
Robinson was teaching at E.S. Richardson Elementary School in 1992 when Whaley lost her battle with leukemia. Searching for an outlet for her pain and a way to honor her former student, Robinson decided to paint a picture of Whaley with her twin sister Lori and several friends to be raffled off at that year's auction.
The painting, "Friends Forever," was such a hit at the auction that prints were given to everyone who purchased a raffle ticket. The raffle raised almost $5,000 for the children of St. Jude, which made Robinson happy, but it was only the beginning of a fruitful relationship between educators and the St. Jude Auction.
"At Richardson, we were the first school that gave," Robinson said. "I can't remember what we made. It wasn't a whole lot, but it was something. Now the schools give more than $100,000."
Robinson, who likes to say that everything has a story, tells the same one every year to remind herself and others what the St. Jude Auction is all about.
"Back when I was still teaching at Richardson, I would get on the speaker every morning and I would ask the children to bring or do something to support the children of St. Jude. I told them they weren't to do it for any prizes, but only to help the children. That was the main thing."
This story takes place in 2005, the same year Hurricane Katrina ravaged the Gulf Coast, displacing more than 400,000 people from the New Orleans area and Mississippi Gulf Coast.
One second-grade boy, who's name escapes Robinson and those she has spoken with in efforts to find him, had evacuated New Orleans with his mother during Katrina and come to Minden in search of refuge. Robinson said the two were forced to live out of their car while picking up the pieces of their lives.
As the St. Jude fundraising efforts continued that year, the boy's teacher volunteered to give on his behalf.
"Every morning he would tell his teacher, 'I'm going to bring my money tomorrow,'" Robinson said. "And every time she would ask him if he wanted her to give some money for him. This went on for about two weeks, and he would never let her give any money."
Then, one day the boy walked through the school's doors beaming. As it turns out, he had found 50 cents under the floor mat of his mother's car. Then the second-grader who had lost everything walked up to the front of the classroom and gave that 50 cents to St. Jude.
To me, that's everything St. Jude is about," Robinson said. "It's something I will never forget as long as I live, and I would give anything to find out who he is and how he turned out."
Chris Xifos, a former St. Jude patient and cancer survivor, is another student that had a profound impact on Robinson, and vice versa.
Xifos won his battle with Aplastic Anemia as a fourth-grader at Richardson Elementary with Cora Lou watching and encouraging him every step of the way.
Despite warnings from doctors that treatments could negatively affect his growth, Xifos was tall and strong enough to enlist in the Marine Corps after graduating from Minden High School in 2007. He would serve as a radio operator in Iraq in 2009 before coming home for a short stint and shipping back out to Afghanistan in 2010.
Robinson kept in touch with Xifos through both deployments, writing letters of her own and even having her students write to him. Xifos returned the favor, sending Robinson a picture of himself in uniform, along with the American flag his battalion flew over their base in Ramadi, Iraq.
"Our deployment in Afghanistan was less peaceful than Iraq," Xifos said. "We lost a good bit of guys; I'm just glad I made it home. My mom always told me everyone has a purpose, and when I look back at my life after beating cancer and surviving two wars overseas, I see the good Lord has blessed me. I just hope that I can be a blessing to others the way Mrs. Robinson was to me. She's just one amazing person."
Xifos now lives in Brookhaven, Mississippi with his wife Layne. The couple are expecting their first child, a daughter, in two weeks.
Robinson, who has never missed an auction meeting according to friend and former auction organizer Laura Hollingsworth, lists painting among her many talents.
The walls of her home are lined with remarkable pieces of art and each brushstroke is intended to tell a story.
Among the scenes Robinson has painted are Louisiana Tech and LSU football games, rural farm scenes, old-time grocery stops run by family friends and old Minden High School. Robinson even recalls being a Minden High student when only three students in the entire school had cars.
This year, she will bring her newest painting "God and Country," to the auction in hopes of helping the next generation of children who will have to fight the disease. She will be amongst the madness all weekend, selling prints inside the Minden Civic Center.
The painting features Minden's four main street churches with the Minden Police Department, Minden Fire Department, Minden Youth Challenge Program and many other Minden residents celebrating their faith and freedom.
It is her favorite story, and a reflection of what she loves about the city that gives.
"Minden always comes through," Robinson said. "It's a special place."