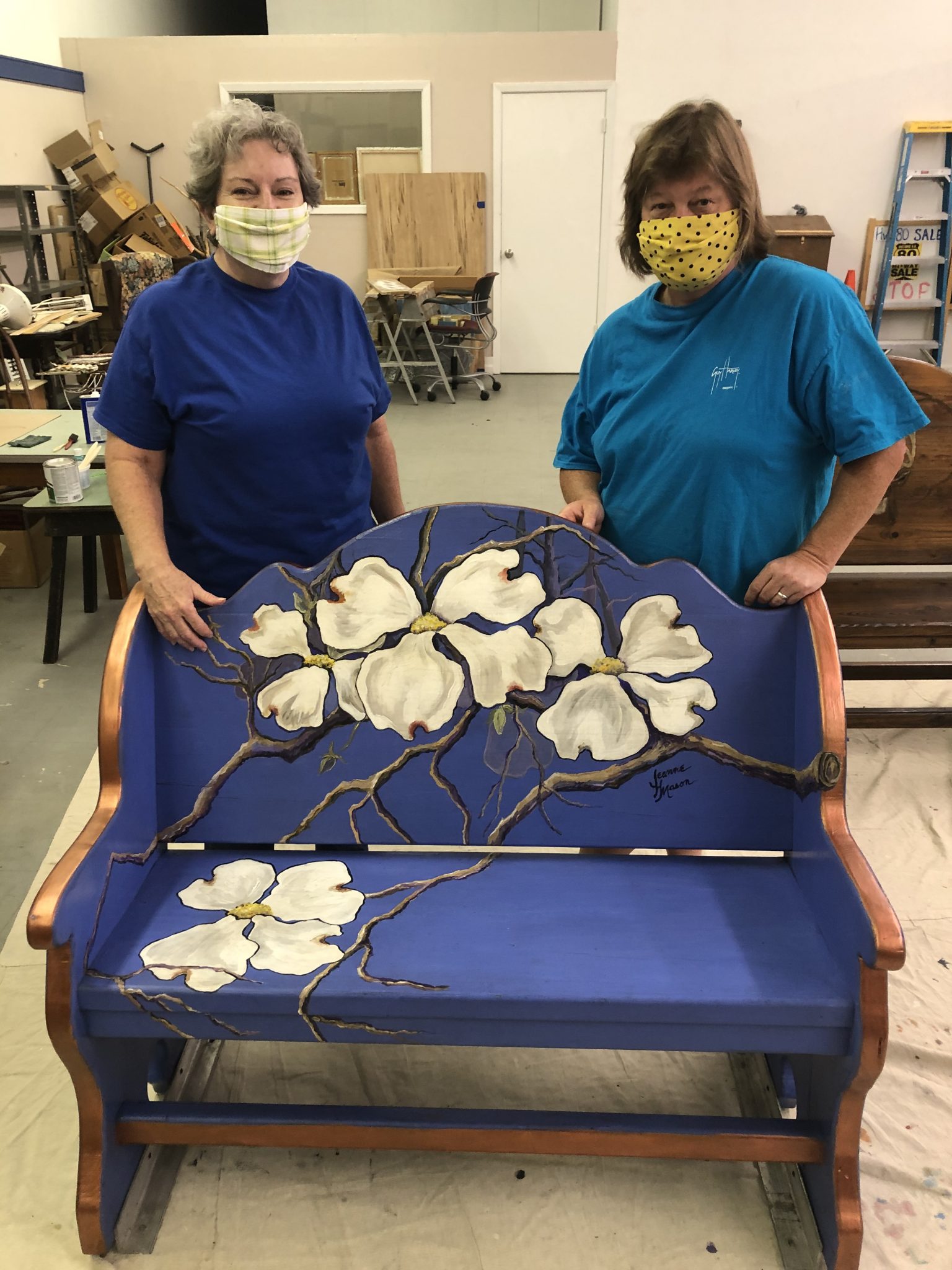 City Artworks has recently undertaken the task of refurbishing benches from all over Downtown Minden. Be mindful of the fact that these aren't just normal benches. These benches were purchased several years ago by Midnen Mainstreet, created locally and were painted over by local artists.
Danna Hassell and Mary McKinney from City Art Works have been working multiple days throughout the past weeks in order to get these benches restored. They originally began the project on July 1st and have been working since to get the benches back in pristine condition.
"Basically, these are paintings, and we're restoring the frames," said Hassell.
It's been quite some time since the wooden benches were originally put out, and the benches have been worn from their exposure to weather and the elements. The restoration process is also more delicate because they have to fix the parts that are broken while also keeping the initial artwork in-tact. 
"We washed and washed and washed, and the more you wash, the wood gets saturated, and you have to give it a break or you're just not getting anywhere. And you don't want to rub the paint off, you're trying not to scratch it, so there's a balance to it," said Hassell.
"The cleaning took about three to four days, because you have to do it in layers and wait for it to dry, and do it again or else you're getting into the wood," said McKinzey.
After washing, they went about restoring the wood itself, being careful not to disturb the original art, and after that it was a matter of staining in order to help protect the wood whenever they get reintroduced to the public.
As mentioned previously, these benches feature local artists. Which artist painted which bench is as follows. Sherry Collins painted the bench with the bayou scene bench, Jeanne Mason painted the dogwood bench, EJ Collins painted the deer bench.
Anita Goodson painted the jonquils bench, and Becky McKenzie painted the poppies bench.
These benches will start to be put back up around downtown in the coming weeks, with whatever benches are left remaining at City Art Works until they find their proper place.