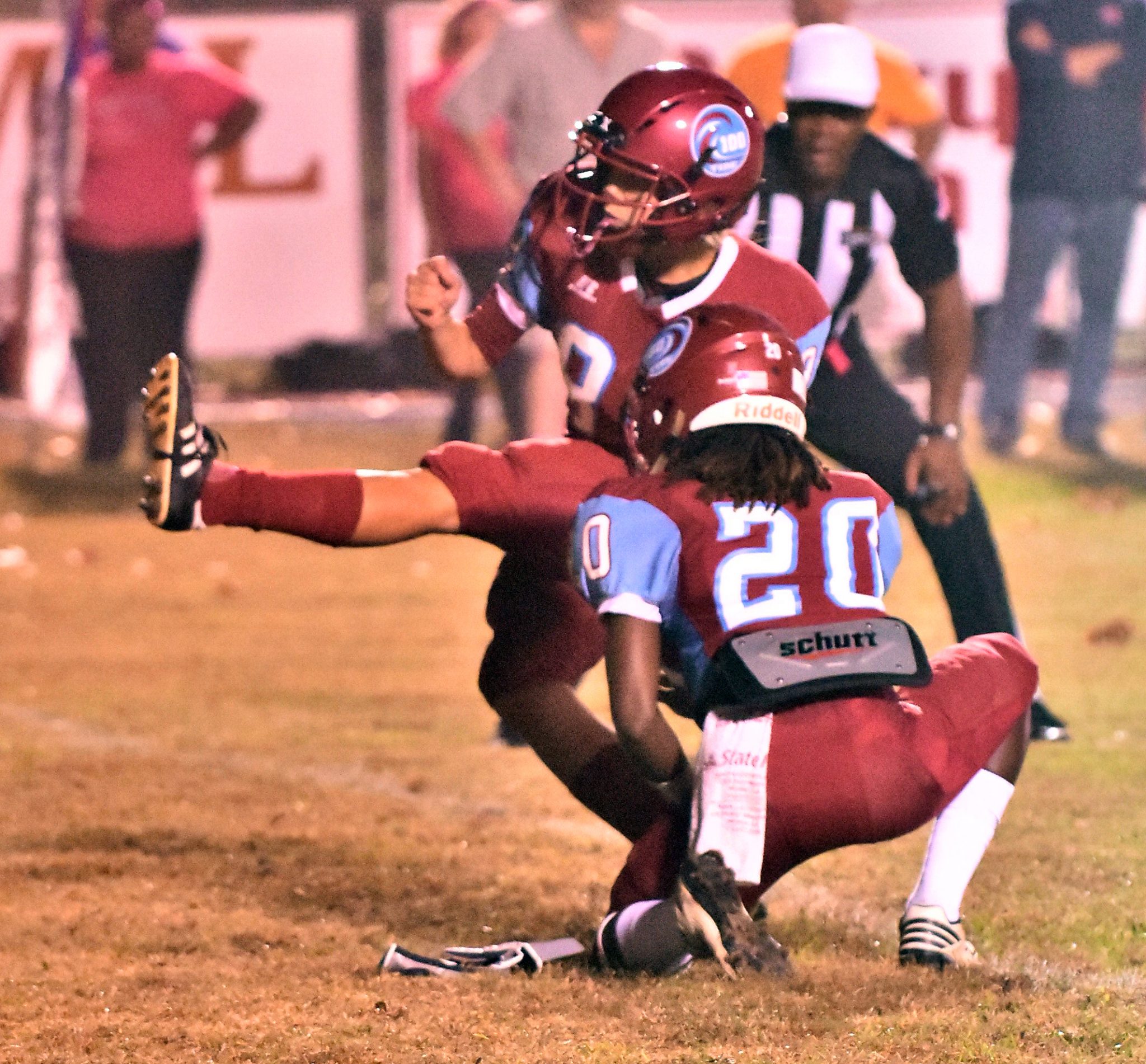 Minden's thirty-fifth and final point against North DeSoto came off the foot of the Crimson Tide's first-ever female football player, Emily Frye.
It was the perfect way to cap a convincing 35-20 victory over the visiting Griffins for the Tide, as they moved their record to 9-0 on a historic night at W.W. Williams Stadium.
"I told Emily if we got up on them I'd give her a chance," Minden head coach Spencer Heard said. "She took her time, lined it up and put it through. To her, I don't think it was that big a deal. She's an athlete and she made a play."
The extra point try was a big deal to those in the stands, as Frye's kick drew the largest roar of the night from the packed-out home side bleachers.
Minden (9-0, 6-0) jumped out to a 35-7 lead on North DeSoto behind a dizzying first-half scoring frenzy keyed by Tide QB Antonio Rivette.
Rivette started the scoring with a 71-yard run on Minden's second-play from scrimmage. The shifty senior made a man miss in the hole, cut back against the grain to his left and sped his way down the visiting sideline for the touchdown.
Patrick Heard went next for Minden, breaking loose for a 15-yard score to cap a nice drive. Then, Rivette got into the open field once again for a 35-yard rushing touchdown, his second of the night, to put the Tide ahead 22-0.
North DeSoto finally got on the board via a 99-yard Delmonte Hall receiving score that silenced the home crowd, but only for a moment.
Five minutes later, Rivette hooked up with Tavarius Edwards for a 44-yard touchdown through the air to put Minden ahead 28-7, and chants of "Let her kick" began raining down on the Minden sideline from the home stands.
With 1:20 to play in the first half, Rivette found paydirt for the third time on the ground, this time from 20 yards out, to give Minden a 34-7 lead. That's when Heard called on Frye, who answered by splitting the uprights with plenty of leg to spare.
"In the first half we played great," Heard said. "Everything was working for us: offense, defense and special teams."
In a sloppy second half, the Griffins would score twice as Minden seemed to take their foot off the gas pedal.
"I think it's human nature when you're up that much to kind of relax a little bit," Heard said. "We made some mistakes and they took advantage of it. We were able to pull it together near the end and hold on to get a win; going forward, we need to be sure to put the nail in the coffin, so to speak."
Minden doubled North DeSoto's offensive output, racking up 511 yards compared to just 258 for the Griffins.
Rivette finished 10-of-17 with 246 yards and one score through the air, adding 143 yards and 3 TDs on the ground.
"He was really on," Heard said. "He threw some beautiful deep balls, got the ball out quick and commanded the offense; really proud of the way he played for sure."
Edwards finished with 4 catches for 102 yards and a TD, Kelcey Miller and Patrick Heard finished with 54 ad 74 yards receiving respectively, with Heard adding 107 yards and a score on the ground.
Next up for Minden is the district championship game at Independence Stadium against upstart Woodlawn (8-1, 6-0).
"We'll have to play well for four quarters," Heard said. "We've played pretty well over there. Hopefully we can put everything together and get solid play."