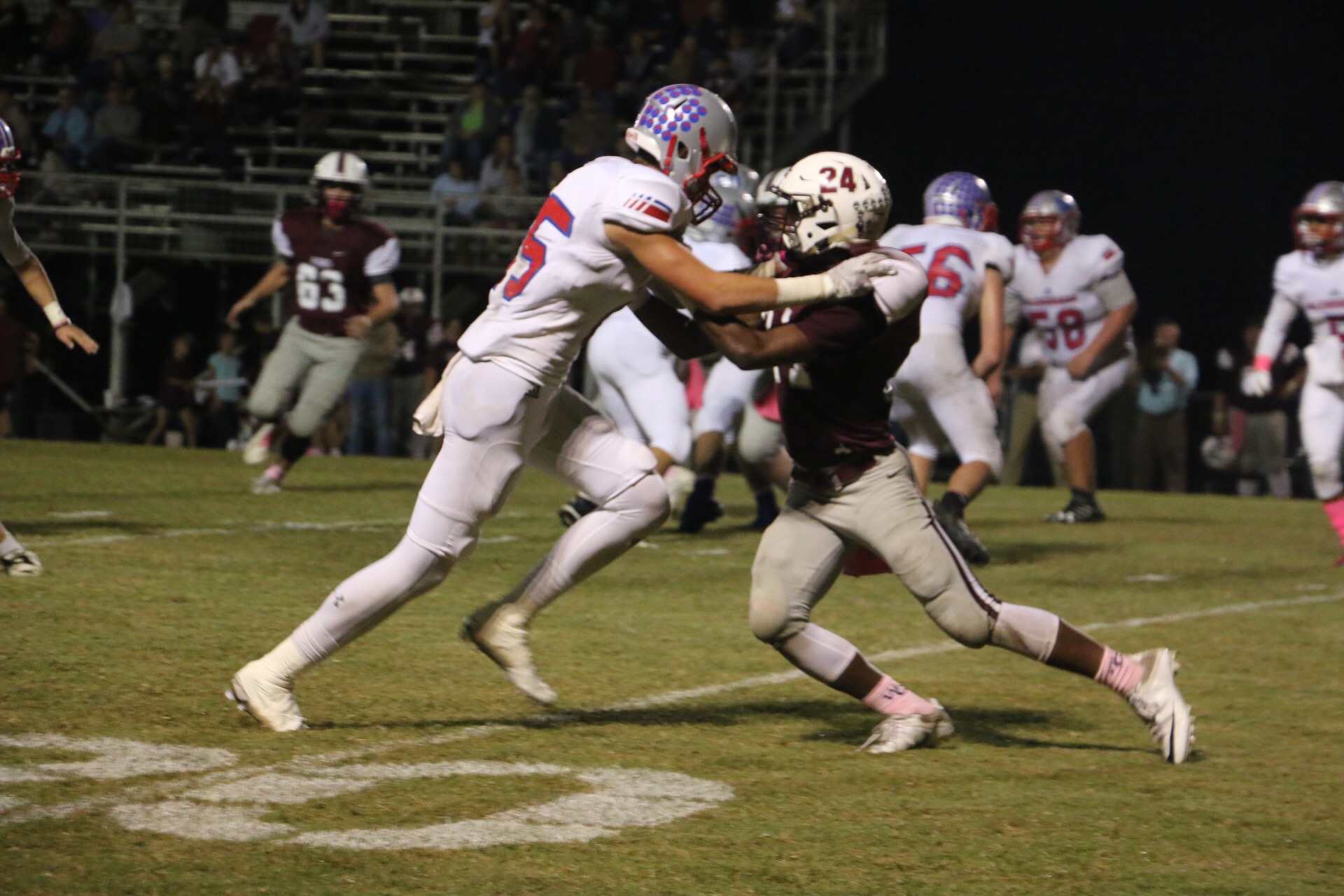 WOODVILLE, Mississippi – Glenbrook's much anticipated return to postseason play looked like it might pay off with an upset bid early in Friday's matchup between the Apaches and the Wilkinson County Christian Academy Rams.
Trailing 10-7, the Apaches had a chance to take the lead near the end of the first quarter, but couldn't cash in, instead watching as the Rams drove 95-yards following the stop to extend their lead and cruise to a 44-14 win to end Glenbrook's season.
Second-year head coach of the Apaches, Caleb Carmikle, did an excellent job of leading this team into the playoffs after a slew of injuries led to a 1-4 start, but against the battle-tested Rams, four turnovers proved to be the difference.
"The story of the game was turnovers," Carmikle said. "I was really proud of the way we came out. There was no doubt we were ready to play. We force a three-and-out on the first drive, but get pinned deep on the punt and they get a safety. Then we punt it to them and they drive to score. We immediately answer with a score, get another stop and looks like we're about to take the lead early in the second quarter, but we can't find a way to get points."
The 14-point swing crushed Glenbrook's momentum as the turnovers began to pile up.
By the time the two teams reached halftime, WCCA had built their lead to 38-7.
"Couldn't quite take care of the ball," Carmikle said. "And a lot of that had to do with how good they were. Defensively, we had a tough time tackling their quarterback; he was a very, very talented football player, and that was a very good football team that we lost too."
Glenbrook's first score of the game came on a Seth Tyler pass to Mason Hood that saw Hood weave his way through several Rams' defenders for an impressive run after the catch for a touchdown. Cameron Fread scored the Apaches' other touchdown on a short run, something he did plenty of times in his only season for the Apaches.
Senior Joseph Windham led the receivers with 6 catches for 82 yards and senior Trent Albritton led the defense with 12 tackles (3 TFL, 1 FF).
"The kids played hard, there's no doubt about that," Carmikle said. "Knowing that was the last time I'd talk to my 10 seniors as their coach was tough. Those guys accomplished a lot this season, all in the face of adversity with some terrible injuries. They kept it together and got on a run. I'm so proud of the year we put together, and realistically, if the ball bounces our way a couple times this year, we're a 7-3 football team and things are different."
Glenbrook's cupboard is hardly empty, as key players like Seth Tyler, Da'maza Robinson, Lemoris Jackson Jr., Parker Christy and Nick Moses will be back next season to lead the Apaches.
"I'm encouraged with where this football team is at," Carmikle said. "We're definitely losing a few key pieces, but we have a lot of talent coming back. I feel really good about where we are as a program."