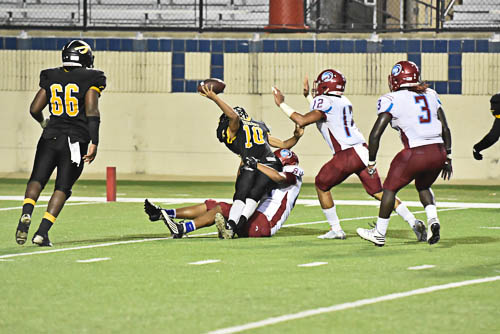 Minden and Benton are set to square off in a battle of Class 4A heavyweights.
The Crimson Tide (5-0, 2-0) are off to their best start in 10 years, while the Tigers (5-0, 2-0) are enjoying equal success.
"I think we've played pretty well overall," Minden head coach Spencer Heard said. "I think it's gone kind of how we expected it to. We've played really well on defense, especially in the box, and the secondary has really come along.
Offensively, we've maybe started a little slow because of the offensive line and new additions, but we've picked up the pace the last few weeks. The effort has been really good by all the players across the board."
When breaking down the offensive side of the ball, the scales tilt in Benton's favor.
The Tigers, coached by Reynolds Moore, have a high-octane offense led by All-Area quarterback Garrett Hable and a wide array of weapons.
"It's a lot of the same things as last year," Heard said. "The quarterback is extremely accurate. He's calm in the pocket and they do a really good job of protecting him. He gets the ball out of his hand really fast so they don't have to protect very long. His receivers do a good job of catching and blocking out in space, and the running backs know how to find a crease."
Minden counters with senior signal-caller Antonio Rivette and a diverse supporting cast of their own.
Spencer Heard's offense has been unpredictable in terms of touches. The Tide are comfortable handing the ball to Kolby Jackson, Patrick Heard, Jamin Oliver, Rykarrion Robinson, Tavarius Edwards or letting Rivette keep it. In the passing game, Rivette favors Kelcey Miller and Edwards most, but Patrick Heard is beginning to emerge in the passing game as well.
"Coming in I felt like it was going to have to be this way," Heard said. "Being able to spread the ball around and put the defense in a position where they can't key on one guy. It's been important and it will be again on Friday night."
The Tide will be up against a Benton defense that limited North DeSoto's All-Area running back Delmonte Hall under 100 yards last week and held the Griffins to 7 points.
"They have a couple of good-sized kids inside on the line," Heard said. "Pretty comparable to what we have inside, and we've played bigger fronts, so I don't expect their size to be an issue. The thing they do is line up really well and read their keys and execute. They fly to the ball and they're rarely caught out of position, which is often the case with them."
Special teams could play a key role in the game as well.
"Field position is extremely important," Heard said. "If you block a punt or have one blocked, it can change the
game in one play. We have to cover well and make sure we get good returns out as far as we can."
The Tide and Tigers square off Friday at 7 p.m. in The Pit.