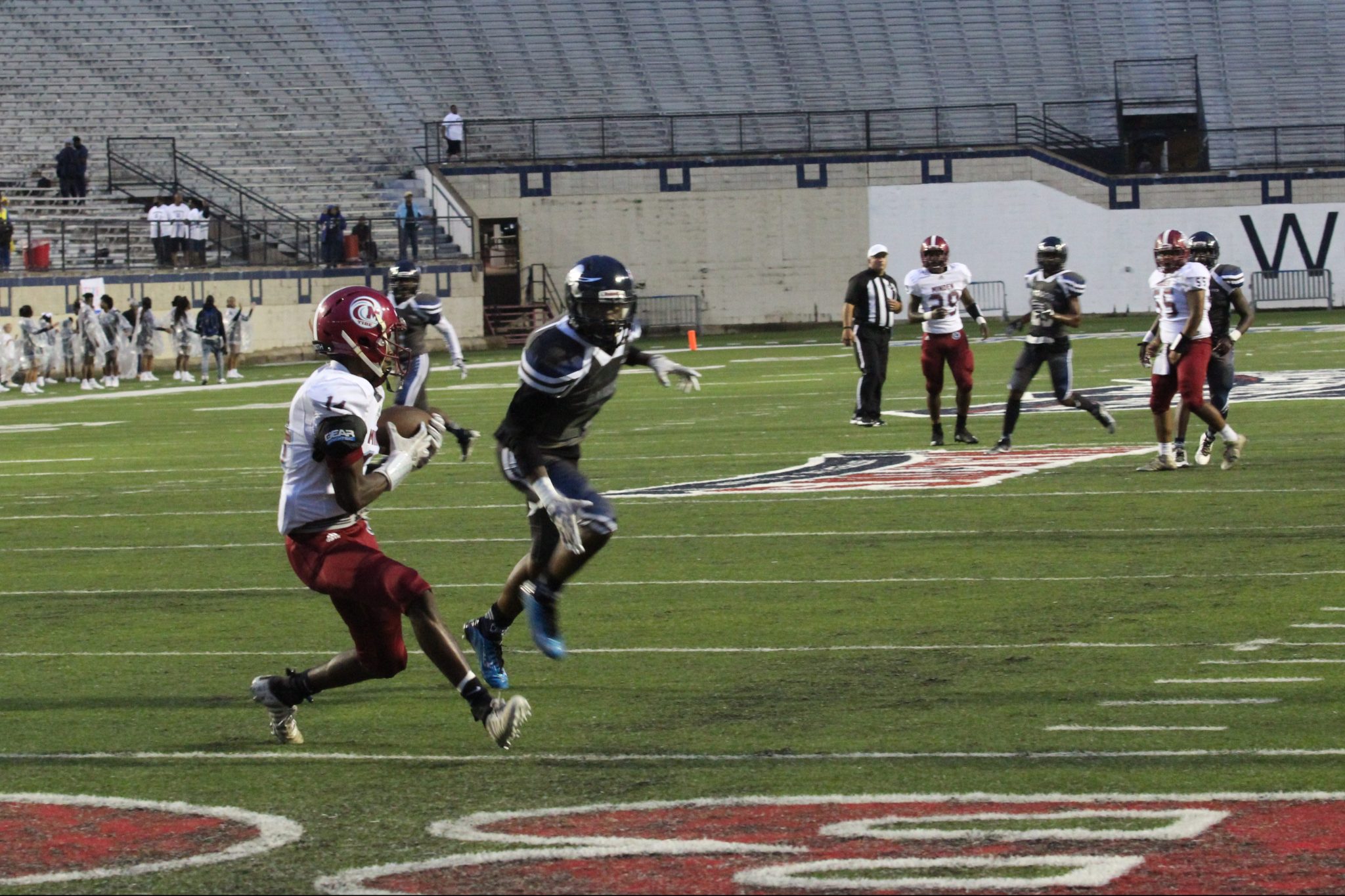 Minden 35, Huntington 0
The ball finally started bouncing Minden's way after weeks of bad luck and an inability to get over the hump for a win. All of that luck shifted in the Tide's favor on Friday night, as they stomped Huntington to open district play, 35-0.
"I thought our guys were pressing too much in the last few games," Minden head coach Spencer Heard said. "I told them before this game, no matter what happened before, everyone is 0-0 now that district is starting. Let go of the past thoughts and relax. I thought our guys really took that and listened."
It was the Tide's first game outside of The Pit, and the new scenery and white uniforms seemed to give the appearance of a new team taking the field.
The uniforms weren't the only changes made since Minden's heartbreaking loss to North Webster last week. Standout defensive back and kick returner Jacareon Lathan was inserted into the offense during this week's practice, and he was able to give the Tide offense more of the explosive playmaking ability that head coach Spencer Heard had been looking for.
"We always gameplan for each team, but we just stick to our stuff. The only real personnel change was putting Jacareon on offense," Heard said. "He just gave us that explosiveness we have been needing on offense. He will still play defense some."
After AJ Lister came up with an interception on Huntington's first drive, Minden found themselves inside the Raider red zone. New offensive weapon Lathan caught a 22-yard touchdown pass on a long third-and-17 that put Minden up 7-0 with 7:50 left in the first quarter.
On the following Raider possession, a high snap ended up costing Huntington more points as Stefan Wheeler scooped up the fumble and ran five yards for a touchdown. Minden was up 14-0 after less than six minutes of play.
The Raiders had more bad snaps to deal with even after that possession, one of them almost costing them a safety were it not for a personal foul called against Minden in the Raiders' end zone. Huntington was forced to punt shortly after, and Lieric Robinson quickly turned the next Tide possession into points. Robinson ran for a 30-yard touchdown that put Minden (1-3) up 21-0 with 4:34 left in the first quarter.
"We just take what the defense gives us usually. We like to establish the running game because we feel like that opens up everything else for us," Heard said.
Robinson was a major part of establishing the run game against Huntington, rushing for 119 yards on 22 carries and two touchdowns.
Huntington put together a decent drive that put them at the Minden goal line, but another poor snap was recovered by Lister, and Minden scored on a three-yard run by Lister to put Minden up 28-0.
Robinson scored a ten-yard touchdown in the second half that all but put the game away.
"We are a battle-tested team. In all of our games we have played good teams and been in the games all the way until the end," Heard said. "Each of the teams we lost to won their games this weekend, and we had a shot at beating all of them."
The Tide are now 1-0 in district play and return home next week for another district battle against Washington.
"We're ready and where we need to be rolling into district," Heard said. "BTW have been in their games until the end also. They lost to Woodlawn by a touchdown, played Haughton well. We don't look at the opponent's record. We just want to take it one game at a time."
North Webster 28, West Oauchita 14
The Knights continued to build off of last week's impressive victory over Minden by toppling another bigger school in Springhill on Friday.
Lorenzo Johnson put up just shy of 200 yards in total offense as North Webster hung on to beat the Chiefs.
"It was a big night for Lorenzo, he played hard and did well," North Webster head coach John Ware said. "Scottie Johnson played well too and scored a few touchdowns."
One of Scottie Johnson's touchdowns was an 80-yard pass from quarterback Tyrell Markray.
Markray started the season injured, but since his return, North Webster (2-2) haven't lost a game.
"Our receivers dropped a few passes, but Tyrell played pretty good," Ware said. "He's getting more and more comfortable with his knee and with being out there with the team and being in control."
Markray was 5-for-14 passing, but made those five completions really count as he threw for 167 yards total, including one touchdown and one interception.
His favorite target was Johnson, who caught four passes for 147 yards.
North Webster enjoyed a two touchdown lead through most of the game before Brendon Crawford scored a 10-yard rushing touchdown with two minutes left in the third quarter that brought the Chiefs within seven points.
West Ouachita intercepted Markray on the next possession but couldn't turn it into anything and were forced to punt.
The Knights put together a drive that ended with an Eddie Rollen touchdown on a 15-yard run that gave the Knights a 28-14 lead to seal the game.
"West Ouachita is not a bad team, they're big, strong, and physical," Ware said. "We took our beating on the line and got after it. We just made plays in the end."
North Webster will be at home next week as they play host to Southwood on Friday.
"They're another bigger opponent," Ware said. "Southwood may be 1-3 but I tell our guys that they are still a 5A football team. They are still playing higher competition. The records mean nothing.
"This is our fourth year in a row playing them, and I think the biggest margin of victory was a touchdown each time. It's always a close game with them."
Rosepine 45, Lakeside 12
After starting the season 3-0, Lakeside seemed to be rolling when they drove down to Rosepine for a non-district game on Friday. But the streak ended as the Warriors fell 45-14.
"We only had four possessions in the first half," Lakeside coach Jason McClendon said. "They played keep-away from us to try and take the ball out of our hands offensively. We knew they would do that going in."
The Warriors were held to their lowest offensive output of the season.
Trailing by only ten points at halftime, the Warriors still had a shot at making a game of it in the second half.
"They came out and scored to start the third quarter," McClendon said. "We get the ball and had a bad snap that led to a fumble. That was pretty much that."
McClendon said it was a frustrating experience all around.
"The moment was too big for us," McClendon said. "I thought we were more talented, but they were tougher. We didn't hit back."
Lakeside (3-1) plays host to winless Block this Friday at 7 p.m.
Acadiana Christian 22, Glenbrook 11
Last Friday marked the first time that Glenbrook has been back to full strength since early in their season. Struggling with numbers due to injuries, the Apaches made strides again but failed to secure their first win as they lost to Acadiana Christian, 22-11.
"It was a game we should have won, we just got sloppy," Glenbrook head coach Drew Maddox said. "We had five turnovers, they had one. We shot ourselves in the foot again and it cost us."
Glenbrook went into the second half down only three points.
"The momentum was ours at that point," Maddox said. "Then we had a mishandled exhange between center and quarteback that led to a fumble. They scored off of that to make it 14-3."
Glenbrook put together a nice drive following the score, but turned the ball over again to Acadiana with another fumble.
"Our defense hung tough," Maddox said.
Marshall Meek scored a running touchdown shortly after that brought the score to 14-11.
Two more turnovers to follow killed the comeback hopes for the Apaches, and they fell to 0-6 on the season.
"Winning teams don't panic in big situations," Maddox said. "We have to figure out how to win games. We have to learn, and it is certainly a process.
"The effort was there from our guys, for sure."
The Apaches have been dealt a few blowouts from much larger teams, but three of the losses this season have come in games which the Apaches were more than just competetive.
"There's been a few games that we have been in this season where we just do stuff at the worst possible time," Maddox said. "But we have to stay true to our gameplan and just get better at what we do."
Quarterback Jackson Powell was 16-for-28 passing with 165 yards and two interceptions for the game.
Meek carried the ball 13 times for 61 yards and one touchdown.
Cade Clemons caught five passes from Powell for 59 yards, while Sammie Feaster had four receptions for 56 yards.
Wes Dennis added a 32-yard field goal for the Apaches.
Fortunately for the Apaches, the roster numbers are finally filling out after weeks of being ravaged by injuries.
"We got most of our guys back from injury last week," Maddox said. "That's probably why we played a whole lot better on Friday. We're better at full strength obviously."
After six straight losses to begin his tenure at Glenbrook, Maddox maintains that he has to continue to go with what got him here.
"We just have to stay the course," he said. "What we're doing is the right stuff, it's how we have won ball games in the past and at other places.
"We just can't panic in big situations. We're not going to change our whole outlook, we just need to get better at what we do."
It won't get any easier for the Apaches as they now head on a road trip, beginning this Friday at Farmerville (4-2).
"They have a great tailback," Maddox said. "They're a pretty good team and we will be on the road.
"If we play like we did last week, and we don't turn the ball over five times, I think we will be in pretty good shape."