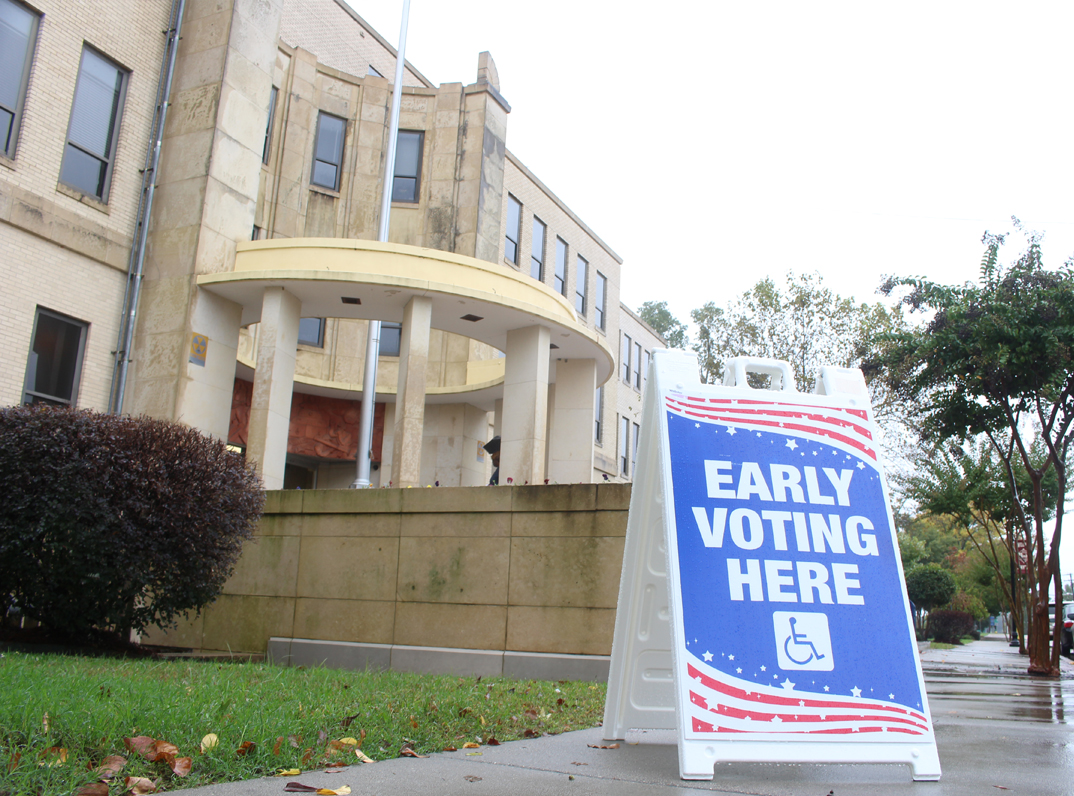 Tuesday, the citizens of Webster Parish went out to the polls to cast their votes for who they would like to represent them in local politics, doing their part in shaping the course the parish will take throughout the next four years.
First, the winner of the Mayoral Election for the City of Minden was Nick Cox, winning 53% of the vote. Cox said about his win, "Our campaign slogan was Moving Forward Together. Tonight's election results prove that, all across our community, that message resonated with our fellow citizens. I'm humbled by the support from our residents. Thank you, and I look forward to Minden's future."
In the race for Minden Chief of Police, Jared McIver won the race, receiving 56% of the vote. McIver said of his win, "I try to look at the positive, and one of the things I see is the amount of folks that believed in us. But then I see the amount of people we still need to reach. I see that there were 44% out there that voted the other way. Hopefully, in the next four years, we'll persuade that 44% and do the best job that we can. I want to do everything I can to continue to build upon Chief Cropper.
"She [indicating Tokia Whiting-Harrison] is going to be my right arm. She's going to be helping me up there at the police department. She knows that that was my first appointment — to appoint her as the first ever deputy chief position. And together she and I are going to continue to build up the department, build relationships in the city, fix whatever needs fixing, and just make it as professional as we can.
"I would like to say to my opponent, best wishes to him. He ran a good, clean race, and I appreciate his consideration."
When it comes to City Council, some of the seats will be determined with runoff elections, but a few were determined outright in Tuesday's election.
Levon "Charlie" Thomas won the race for City Councilman District C, receiving 50% of the vote. Michael Roy won the seat for City Councilman District D in yesterday's election, receiving 53% of the vote. Andy Pendergrass won the seat for City Council District E, receiving 66% of the votes for that district.
Runoffs occur when one candidate does not get at least 50% plus 1 vote. In the event of a runoff, the top two candidates will run against each other. Councilman of District A will have a runoff between Wayne Edwards, who received 46% of the vote, and Carlton "Buddy" Myles who received 41% of the vote in last night's election. There will also be a runoff for District C Councilman between Vincen Bradford who received 46% of the vote and Latasha Mitchell who received 25% of the vote.
For the wider population of Webster Parish, votes for a handful of School Board seats were up for grabs. In the race for Webster Parish School Board District 2, Debbie Thomas won receiving 61% of the vote.
In the race for Webster Parish School Board District 4 the race was won by Jonathan "Goose" Guthrie receiving 64% of the vote. Guthrie said, "The election results far exceeded my expectations! The support and encouragement received throughout the campaign was overwhelming. I started this effort to repay a debt owed to those that invested in me throughout my life. I must now make every effort to earn the trust that has been bestowed upon me. I will continue to work for staff and student safety as this is the foundation for giving our children the best opportunity to receive a quality education.
"My opponent has given eight years of time and energy providing honorable service to the Webster Parish School Board. JJ, her family, friends, and supporters should be commended for their efforts. Our competition was conducted with integrity and respect for one another.
"The election may be over but the hard work is just beginning. I will work passionately to help make our system better when addressing problems and concerns. I will be accountable to those that elected me. However, my effectiveness requires your participation as well. It is widely believed that geese honk to encourage one another when in flight. That sound is also believed to help maintain the integrity of the flock and to coordinate position. This "GOOSE" does not fly alone! Join the "FLOCK" so we can work together!! I covet your thoughts, prayers, and encouragement as we move ahead!"
The race for Webster Parish School Board District 6 was won by Jana Watson receiving 63% of the vote. "I would like to thank the voters for their support. I am looking forward to working for our schools to make them the best they can be. I look forward to representing the kids and our teachers," said Watson.
The race for Webster Parish School Board District 8 was won by Glenda Broughton receiving 64% of the vote. "I just want to say thank you to everybody; I was just overwhelmed. We will continue to do everything we can for the kids of Webster Parish," said Broughton.
In Springhill, the Mayoral Election will have a runoff between Ray Huddleston who received 47% of the votes and Ronnie Hearnsberger who received 34%. 
For the Springhill Alderman's races, District 1 was won by D. Nicole Frazier with 69% of the votes, District 2 was won by Dennis Smith with 66% of the votes, District 3 was won by Stacey Willard with 57% of the votes, and District 4 was won by Mike Whitlock with slightly more than 50% of the votes. This is an example that shows that every vote counts; Whitlock won by just one vote beyond the 50% plus one votes needed. District 5 was won by Derek Melancon with 60% of the votes.
In Doyline, Christie Gates won the Mayoral Election with 56% of the votes.
Nell Finlay was elected Alderman for Dixie Inn with a whopping 82% of the votes.
It should be noted that these are the "unofficial" results for Webster Parish. While expected to remain accurate, it typically takes until the end of an election week to verify all the votes and confirm them as official. Any races that defaulted to a runoff election will take place later this year on December 10.