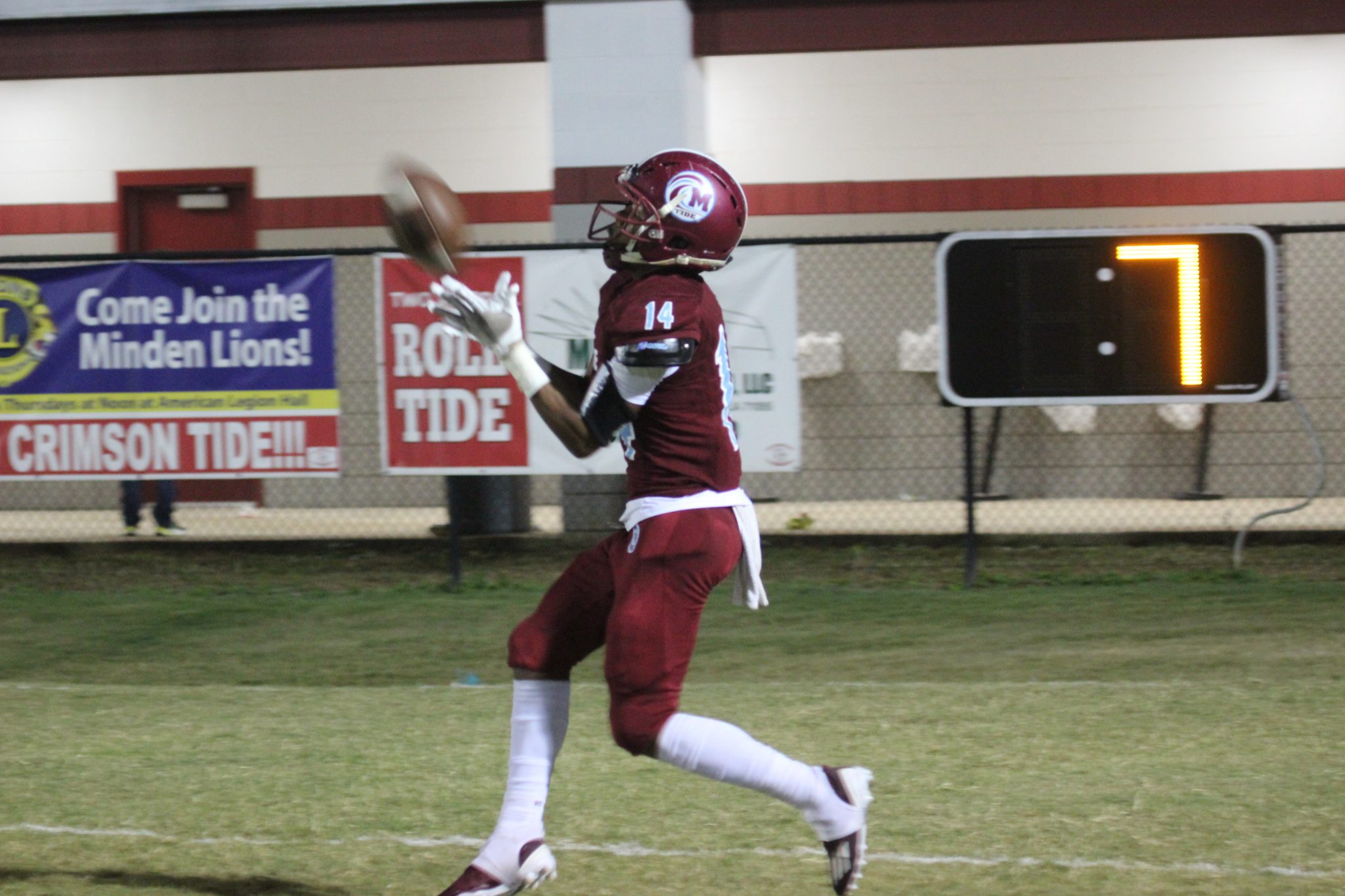 Minden High School made a little history to shake off last year's season-opening loss with a big milestone victory Friday night at WW Williams Stadium.
The Crimson Tide recorded the 500th all-time regular season win by dominating Green Oaks 48-6 on Friday night.
After falling 45-14 at home to Parkway last week, Minden dominated Green Oaks from start to finish, with the Crimson Tide defense flooding into the Giants' offensive backfield throughout the contest.
Minden only needed 148 yards of offense to secure the big win, thanks to a defensive effort that held Green Oaks to minus-11 yards of offense in the contest.
Tyrese Lane led Minden's defensive domination with three sacks and an interception for the Tide.
"I'm very happy with tonight," said MHS head coach Spencer Heard. "(I'm) pleased with the effort the boys gave. I feel good about it. I thought the defense played really well. We gave up the one score but there were some things that helped lead to that. But overall, the defense played awesome. I thought we got after the quarterback like we needed to, covered like we needed to, got some picks … the defense played well tonight."
Offensively, the Tide struck first after Green Oaks was held to a three-and-out series deep in its own territory to begin the contest.
The Giants' punt attempt ended up hitting one of their own players in the back, setting Minden up at the Green Oaks eight-yard line.
Daylen Robinson took the run to paydirt on first down to put Minden up on top 7-0 at the 9:43 mark of the first quarter.
After holding the Giants' to another three-and-out series, it took Robinson three plays to drive 64 yards as he turned in runs of 29 and 25 yards before powering his way up the middle on a four-yard scoring scamper to give the Tide a 14-0 advantage with 4:58 left in the opening stanza.
Minden followed that score by recovering an onsides kick and marching 54 yards on 12 plays with quarterback Andrew Cooper scoring on a one-yard sneak to push the Tide's lead up to 21-0 with 11:20 remaining in the first half.
Cooper later scored on a four-yard run at the 2:31 mark of the second quarter to give Minden a 28-0 advantage at intermission.
Lane turned in something special for Minden midway through the third quarter as he raced a punt return back 42 yards for a score to put the Tide up 35-0 with 7:21 remaining in the period.
Green Oaks' lone score came at the 3:24 mark of the third quarter to cut the Minden lead to 35-6, but the Tide defense answered four players later as Isaiah Thornton picked off a Tovoros Lee paced and turned it into a 50-yard pick six that put Minden on top 41-6.
On the ensuing offensive snap Lane grabbed the ball right back for Minden as he added an interception of his own with 1:35 left in the third quarter.
Minden's offense finally got back on track in the final 12:00 as Cooper lofted a 21-yard scoring strike to a wide open Cameron Mitchell, who literally turned around near the Green Oaks three-yard line and waited for the ball like he was going to return a punt before hauling it in and walking into the end zone.
"We were efficient and moved the ball well early on, especially in the run game," Heard said. "I thought the O-line did a great job opening holes for Daylen. Andrew and (Kentravion) Lister had some good runs also.
"The only thing I was disappointed with was right after the half we came out. I guess we weren't focused because we had the big lead, but we didn't try to finish it off if possible. We just weren't focused enough on offense to do that. We didn't kind of get back on track there at the end. But I would have liked to see us come out and put the game away for good early in the second half, because we created that opportunity in the first half."
Robinson led the Tide with 107 rushing yards on 11 carries, averaging 9.7 yards per attempt.
Flags flew all over Williams Stadium in the second half, with the Giants being penalized 15 times for 139 yards while the Tide was flagged eight times for 97 yards.
"You're going to get some of that, especially early on in a season," Heard said. ""We didn't have a lot of it early in the game. There was a stretch especially there in the third quarter where it seemed like there were a lot of penalties called. But you're going to get called for some holds when you're playing hard. The flags that bother me are things like coming off the line of scrimmage and jumping offsides or any kind of unsportsmanlike calls — stuff that's totally in your control. Discipline things. We didn't have much of that going on tonight, so I was happy with that."
Next up for the Crimson Tide is a battle for Webster Parish bragging rights as the Tide plays host to North Webster at 7 p.m. Friday.