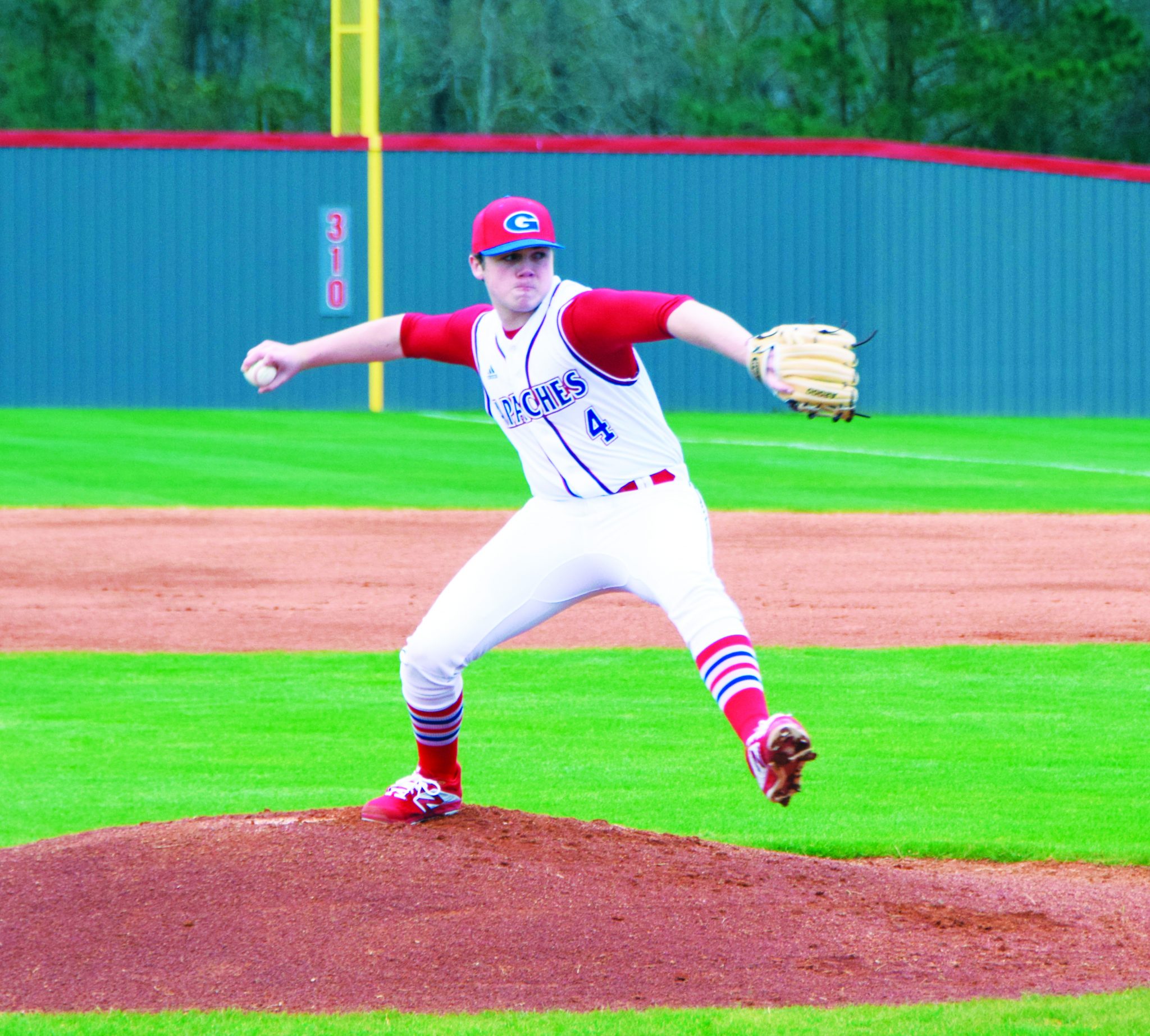 Minden 16, Huntington 1
Asa Greer was brilliant on the hill on Tuesday as he threw a no-hitter to lead Minden past Huntington 16-1.
Minden got on the board in the first inning when Haynes Mandino singled on a 1-1 count, scoring two runs.
Minden (5-1) tallied eight runs in the second inning. The big inning was thanks to walks by Trevor Mclean and Gage Edwards, a single by Greer, and a sacrifice fly by Ryan Sheets.
Greer took the win for Minden. He allowed zero hits and one run over five innings, striking out four and walking one.
Greer also went 2-for-2 at the plate to lead Minden in hits.
The Tide stole 12 bases during the game as three players stole more than one. Austin King led the way with four.
Minden will play in the Lakeside Tournament beginning this Thursday afternoon in Sibley.
Glenbrook 10,
Columbia Christian 0
Cale Hollis was the second Webster-Parish thrower to notch a no-hitter on Tuesday as he led Glenbrook past Columbia Christian 10-0.
"Cale was excellent on the mound," Glenbrook head coach Tony Sanders said. "He was hitting his spots and got stronger as the game went on. I've been very impressed with his start to the season."
Glenbrook secured the victory thanks to seven runs in the third inning. The Apaches' big inning came courtesy of singles by Hayden Harmon and Thomas Parnell, a groundout by Jackson Powell, a fielder's choice by Hollis, and an error on a ball put in play by Sammy Feaster.
"With such a young team and this being my first year at Glenbrook, getting off to such a good start has been very rewarding," Sanders said. "These young men are buying into what myself and Coach Holden are trying to instill in them."
Glenbrook got on the board in the first inning. Peyton Wells grounded out, scoring one run.
Hollis went five innings, allowing zero runs on zero hits and struck out eight.
Maddox Mandino led Glenbrook with three hits in four at bats.
The Apaches were sure-handed in the field and didn't commit a single error.
"They are continuing to work hard and grow," Sanders said.
Doyline 19,
Plain Dealing 3
James Smith struck out Josh Williams to get the last out of the game, as two pitchers teamed up to a throw a no-hitter in Doyline's 19-3 win over Plain Dealing on Tuesday.
Plain Dealing scored three runs in the fourth inning, but Doyline had plenty of offense in the tank to come.
Doyline opened up scoring in the first inning, when Hayden Engel singled on a 3-0 count, scoring two runs.
Doyline notched seven runs in the third inning. Chrstian Stevens, Jacob Sutton , Jacob Disotell, Smith, Frankie Mixon, and Cole Frazier powered the big inning with RBIs.
Trey Ware pitched the Panthers to victory. He allowed zero hits and zero runs over two innings, striking out five. Smith threw two innings in relief out of the bullpen.
Doyline tallied ten hits on the day.
Engel and Jake Pepper all collected multiple hits for the Panthers. Noah Stanley led the way with three steals.
Doyline improves to 5-2 this season with the win and will play D'Arbonne Woods in the Lakeside Tournament on Thursday.
North Webster 15,
Simsboro 1
North Webster may not have fallen in line with the rest of the parish and thrown a no-hitter, but they had everything working on Tuesday, winning big over Simsboro 15-1.
The Knights got things moving in the first inning. An error scored two runs, and the Knights went on to tag five runs on Simsboro in the opening inning.
North Webster put up six runs in the fifth inning. Cade Mclain, Cason Mahaffey, Tyrell Markray, and Blayne Farrington each drove in runs during the inning.
Mason Haynes was the winning pitcher for North Webster. He surrendered one run on three hits over five innings, striking out nine.
Andrew Cole took the loss for Simsboro. He lasted two innings, allowing two hits and six runs while striking out one.
Farrington led North Webster with two hits in four at bats.
Jesus Solorzan went 2-for-3 at the plate to lead Simsboro in hits.
Mclain and Nate Williams each had multiple RBIs for North Webster on the day.
The Knights improve to 6-2 this season and play next on Thursday at 6 p.m. against DeRidder in Springhill.
Evangel 14,
Lakeside 2
The Warriors fell to 3-5 as they came up against a mighty Evangel team on Tuesday.
Lakeside will play host to the Lakeside Tournament beginning this Thursday in Sibley.