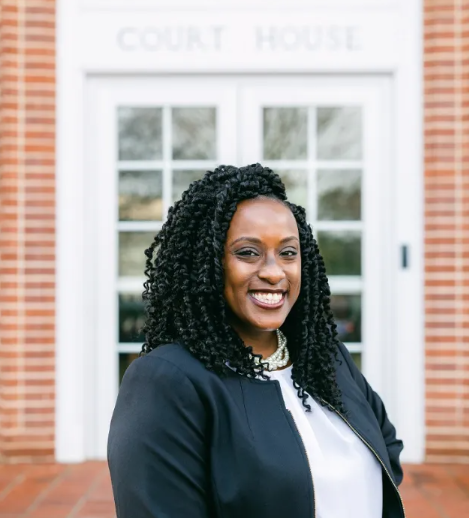 Ashley Sowls, a native of Minden, was appointed as the first African American prosecutor for St. Mary's County in Maryland on January 3, 2023. While Sowls moved from Minden with her mother, Daisy Sowls, she still has many family members who reside here as well as cherished memories of visiting the City of Minden. 
"I used to visit Minden every year, mainly summers," said Sowls. "Some of my fondest memories were seeing all the different places my family lived and visiting cousins that I didn't see very often."
Sowls' strong family relationships and faith have molded her into a capable woman who seeks to help others.
"One thing that has always sustained me is my faith in God and my Uncle Otis telling me to reach for the moon because if I miss I'll still land amongst the stars. I've been reaching for the moon since," Sowls said. "My family's support is everything to me. My Uncle Cle, who has since passed, was always encouraging to me and stressed making wise decisions. My Uncle Charles has always stressed that I can be and conquer anything if I keep God first and keep my head in the books. My mother and grandmother have always supported me and reminded me that I am a Sowls and there are no limits to what I can do with God on my side. They're strong women in their own rights and have pushed me to be better at every stage of my life. I am grateful to have a slew of cousins and aunts that also have always lifted me up and stood in the gap when I needed something. It took a village to raise me, and my village was strong and loving.
"I've lived in Maryland for about 30 years. My mother was in the Air Force and, after we were displaced by Hurricane Andrew in Florida, she received the opportunity to relocate. She chose Maryland because it was close to Washington, DC, and the federal government had great opportunities for former military."
Sowls' mother always knew her daughter could achieve great things, and started encouraging her early.
"My mom used to read a lot of John Grisham books, which are based on lawyers. She wanted me to be a doctor, so we watched a lot of ER episodes when I was younger. At some point, I realized I wasn't a fan of needles, so that wasn't going to work for me. I loved books about powerful lawyers fighting for the underdog. I especially loved movies with lawyers that took on big corporations to fight for a community that had been wronged. That's when I knew I wanted to serve the community and fight for those that didn't have a voice. I chose the public service route, and I love the work that I do. I get to help people while keeping the community safe.
"I received my Bachelors of Arts degree in Criminology and Criminal Justice from the University of Maryland, College Park. I then moved to law school and attended the Charlotte School of Law where I obtained my Juris Doctorate degree."
At the time of her appointment as prosecutor, Sowls did not realize she was also making history.
"I am honored to be a part of this historic moment. I never would have imagined that I would be making history by just doing the thing that I love, and I pray my appointment as the first African American prosecutor encourages others to step into new spaces. I also hope it encourages those already occupying those spaces to make room for change and growth as State's Attorney Sterling has made for me; she's such a trailblazer. I admire her as a person and I am honored to be serving the residents of St. Mary's County under her leadership," said Sowls.
State's Attorney Jaymi Sterling said, "I am confident Ashley will make an immediate positive impact to our county and this office. Ashley's breadth and depth of knowledge and her compassion for crime victims will serve the people of St. Mary's County very well."
Ashley Sowls plans to continue her work in the Special Victims Unit, but will also be adding additional types of violent crimes to her caseload.
"Although I just started in this position, I plan to continue to work in the Special Victims Unit pursuing justice for victims of rape, child abuse, and domestic violence," Sowls said. "Since joining the St. Mary's County State's Attorney's Office, I have added violent crimes, to include homicide, to my caseload. I look forward to putting my mark on these areas and finding ways to better my skills as an attorney so I can be more effective for the community. I don't know what the future holds, but I am open to wherever God leads me."